For my family, spring signals the beginning of little league baseball and a renewed level of busyness that makes staying on top of nutrition a bit of a challenge. Recently, I've been using
berries
, another spring/summer favorite, to keep my kids fueled up. Using a simple blender, I can have a tasty treat whipped up in minutes that includes many greens that my kids wouldn't normally eat.
Berries
are sweet, but also contain a boost of disease-fighting antioxidants, fiber and vitamins. It's fun to hear my kids ask for a second glass, especially when I know it's loaded with spinach, kale, or
chia
or flax seed to add fiber, protein and healthy omega fats. I make it a goal to get at least three servings of fruits and vegetable in each smoothie I make.
When I see deal on berries, I buy double what I need and put half in the freezer. Then I can just pull out what I need, whenever I need it, and clean up is easy too: just pop the blender parts in your dish washer or hand clean with hot soapy water. Fuel yourself with berries and other great smoothies by trying these SparkRecipes.
Read More ›
There's no more perfect time of year than right now to start cooking with blueberries. This Native American gem is flavorful and loaded with outstanding nutrients, antioxidants, fiber, and vitamins.
A recent study from a Harvard School of Public Health found
that eating three or more servings per week can reduce a woman's risk of heart attack by as much as 33%. Research is also finding that eating blueberries helps with
mental wellness
and can improve your memory too. Even when they're not in season, I keep them in my freezer and pop them into my hot cereal or right into the Vitamix blender for smoothies. The next time you are at the market, grab a basket of blueberries and enjoy how these recipes will help you become a healthier and happier you.
Read More ›
Editor's Note: This is a part of a series about how to re-create some of your favorite healthy foods at home.
A double-dose of blueberries (frozen and dried) gives these muffins extra flavor, and whole-wheat flour adds fiber. Although they're not the oversized, mile-high sugar bombs you might find at a gourmet bakery, these double-blueberry muffins are pleasantly light-textured in spite of being made with nearly half white whole-wheat flour. 
At just 125 calories each, these blueberry muffins make a not-too-guilty treat to start your day. Add a carton of low-fat yogurt, and you have a satisfying and delicious breakfast of under 300 calories. (Compare that to a "low-fat" blueberry muffin from your favorite coffeehouse, which has 430 calories!)
Read More ›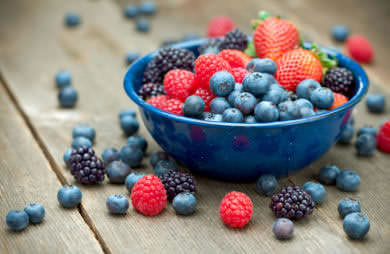 By now, you've probably heard about antioxidants, the wonder molecules that may help prevent cancer and other chronic diseases. In recent years, many exotic, antioxidant-rich foods like goji berries, mangosteen, and acai have cropped up in the media and have sparked a lot of conversation. However, there hasn't been significant research to back up the hype for these foods, and it's easy for advertisers to make false claims and charge an exorbitant amount of money for them.
Instead of shelling out mega bucks for these crazy fruits and supplements, why not stick to what you know? After all, you can find an abundance of antioxidant-rich foods right in the produce section of your grocery store—without the sky-high prices or unfounded claims.
We know that berries are good for you, but are some better than others when it comes to antioxidant content? If you had to choose between common
blueberries
and
blackberries
, both touted as
vitamin-rich cancer-fighters
, which one would you guess
has the highest antioxidant content
?
Read More ›