All Entries For
barre workouts
Barre, the ballet-inspired workout that focuses on isometric strength training, continues to gain new fans around the country due to its quick results and unique, graceful movements. Get a taste of this increasingly popular way to work out with this routine developed by
BarreAmped
creator and fitness instructor Suzanne Bowen. The total-body barre workout can be done anywhere you have a ledge or some other support for balance. These six effective moves will have your muscles shaking and working. Grab your mat, some light hand weights and a stopwatch, then warm up for five minutes and try it for yourself!
Up & Back with Arm Sculpt
To begin, hold on to something sturdy for balance and grip a light weight in your left hand. Extend left leg forward while keeping the right knee soft and hips squared. Take your left arm straight back behind rib cage as you feel your triceps contract.
On your inhale, hinge at the hips, bend your left leg and move the torso to face down as you reach the left leg straight back and your left arm forward. Exhale and return to start move. Continue for one minute.
Make it easier:
Decrease range of motion, hand weight size or duration.
Make it harder:
Increase time to 90 seconds and, with each move, pause and pulse arm and leg 10 times.
Troubleshoot:
Be careful not to lock out the standing knee. Make sure that the leg is moving straight. When you hinge to move the leg back behind your body, bend the knee and press it back.
Works:
Quads, hamstrings, glutes, shoulders and triceps.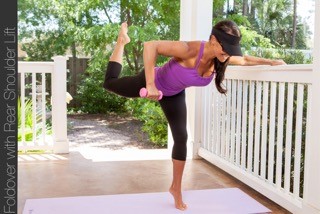 Fiddler with Rear Shoulder Lift
From the last rep of "Up and Back" above, hold that hinge. Bend your elbow and face palm to the back, keeping the arm in line with your shoulder. Bend your left knee and point toes, then lift your right heel. Pulse left knee and elbow up in tiny moves up and down for one minute.
Make it easier:
Drop right heel down, drop the weight and stay more upright.
Make it harder:
Hinge more parallel to the floor, dip down a little lower in the right knee and increase duration to 90 seconds.
Troubleshoot:
Keep hips square, right knee soft and core tight so that you don't move the lower back at all.
Works:
Glutes, hamstrings, calves, rear deltoid, lower back.
Read More ›
Whether you are curvy, muscular, or slim, chances are you want to have a swimsuit-ready backside, especially in the area where the buttocks meet the upper thigh (called the gluteal fold). Strengthening this area can help lift, tighten and tone our bottoms. But despite endless repetitions and time spent on toning this area, many women aren't getting the results they want. Why is it so difficult to strengthen and tone this key area? And what are the secrets to getting a strong and sculpted bottom?
For better or worse, I have become an expert on getting toned buttocks— mainly because my own backside needs constant toning to stay lifted and firm. Many fitness experts and trainers seem to be born with airbrushed bodies. On the other hand, I tell my clients I probably had cellulite when I was in diapers! Even at my thinnest throughout my teens and 20's my thighs were riddled with
stubborn cellulite
no matter how many
butt toning exercises
I did. And believe me; I did every single one I could find
every day
. It wasn't until I started working out smarter, not harder that I finally saw the results. Now I use
Pilates
and (ballet)
barre
techniques and each year, I get a little more lifted and toned. You can't ask for better than that, right? I love sharing these tightening and toning techniques with other women—and hearing about your results!
Read More ›
Editor's Note (Nicole Nichols): I've been getting bored with my usual strength-training workouts lately, so I started experimenting with barre workout DVDs. I truly love the new challenge and variety that they provide. Barre workouts are super trendy and don't appear to be going away any time soon, so I asked Andrea Rogers, creator of the Xtend Barre workouts (and the
Xtend Barre DVD I recently reviewed
) to share her insight with you. Here's a little more info about barre exercises and what you can expect when trying your first class.
By Andrea Rogers, Xtend Barre workout creator
If you are staying on top of fitness trends you know that "barre workouts," which are designed to give you a long, lean dancer-like physique, are all the rage these days. Barre studios are popping up in every major city across the globe, along with a variety of DVDs you can do at home. While all barre workouts differ slightly in structure, most methods incorporate exercises done at a ballet barre (you can use the back of a chair at home) combined with elements of ballet, Pilates, and yoga. Barre exercises rely mainly upon one's bodyweight for resistance, and the moves challenge your core stability and balance. Barre workouts are designed to help an individual achieve a "dancer's body" — strong, sleek, and streamlined.
So why are barre workouts so popular among celebrities (think Madonna and Kelly Ripa) and regular folks alike?
Read More ›
Barre workouts are HOT, and this workout trend doesn't seem to be going away anytime soon. Once available only in posh gyms and exclusive studios, barre workouts are not popping up in big box gyms across the country, and they are as varied in their moves and styles as their instructors and branded names.
What I love about the barre workouts and DVDs I've tried is the variety. I've been doing strength training since I was in middle school, and quite frankly, it gets boring to me over time. So for me, a barre workout is a new and different way to strengthen and challenge my body that isn't the same old stuff I've done for years. Plus, barre workouts are infused with so many of the
elements of Pilates
(my favorite workout of all time), like core engagement; lengthening of the limbs, spine and muscles; control and precision. I love these things about Pilates; they allow you to constantly push yourself to a new level of mastery, and forget about your day because you're so focused in the moment.
Acacia recently sent me one of their barre DVDs, Xtend Barre®: Lean & Chiseled ($12.49,
amazon.com
). This 55-minute DVD is the creation of
Andrea Rogers
, a professional dancer and choreographer turned Pilates and fitness instructor. Find out if it's right for you.
Read More ›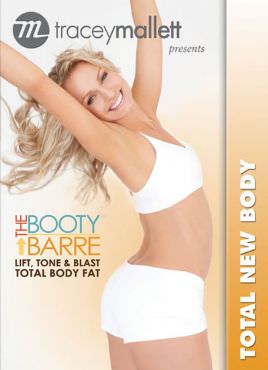 As a fan of both
Pilates
and dance workouts, I have been dying to try one of the latest fitness trends: barre workouts. Many celebs (
including Kelly Ripa
) are reported fans of these toning workouts that combine ballet, Pilates, calisthenics and yoga movements into one workout, usually using a ballet barre as a prop—or a chair if you're exercising at home. Some barre workouts use just your body weight, while others incorporate some props like light hand weights or bands. The premise behind these workouts is to trim and tone and achieve the long, lean body of a dancer. They heavily focus on the lower body with focused movements and high repetitions with little to no added weight (besides your own body).
At first glance, these may look or even sound easy, but everyone I know who has ever tried a barre workout has said the same thing: that they are
very
challenging.
I was ready for a new challenge! So when Tracey Mallett's
Total New Body: The Booty Barre
($14.99) workout DVD landed on my desk, I was eager to try it.
Read More ›