All Entries For
amy dixon
I try a lot of workout DVDs. But few really meet my standards for delivering a good workout with good cueing that's easy to follow and safe. But every workout DVD I've ever tried by Amy Dixon has been a winner.
I was SO excited to receive her newest titles ("Breathless Body Volume 2: The Edge" and "Give Me 10: Core Cuts"), but my busy schedule prevented me from trying them sooner—which is too bad. Because when I made the time, I adored these workouts just like I had previous her previous titles. What's more, I think YOU will love them, too. Here's a rundown on what to expect in each one.
Read More ›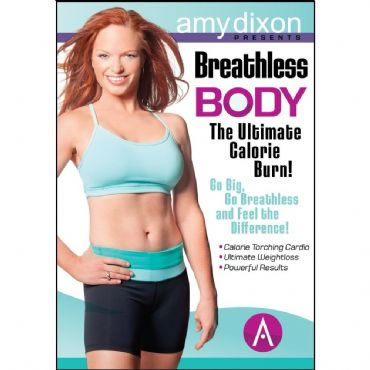 I heart
Amy Dixon
. She's a veteran fitness instructor, master trainer and creator of many wonderful workouts you've probably seen in fitness magazines and DVDs alike. I had the pleasure of meeting her last year at the
IDEA World Fitness Convention
and she is a real treat: super sweet, super fit and down to earth. It makes it hard for me to hate her when she kicks my booty in her DVDs, which
she always does
(in a good way).
Amy's latest DVD "
Breathless Body: The Ultimate Calorie Burn
" ($14.99, amazon.com) capitalizes off the trendy "Tabata" style interval training, which involves 20 seconds of intense effort followed by 10 seconds of rest, repeated for four minutes.
Tabata training
is touted as one of the most efficient ways to boost aerobic endurance and fat burning, and although I had read about it, but hadn't experienced it until I tried this DVD. I have to admit, I was a little scared. So how did I fare? And is this DVD right for you?
Read More ›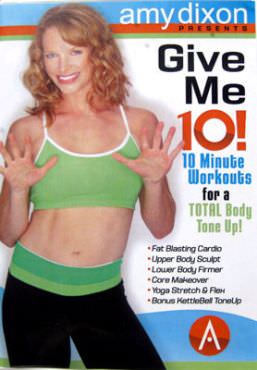 Adopting my dog
a few months ago has changed my life in many ways, and that includes my exercise routine. While I'm even more active than before since I share dog-walking responsibilities with my fiancé, I'm not able to spend as much time at the gym. That means at-home workouts make up the bulk of my routine now, so I've been strength training at home, usually with a few of my favorite workout DVDs.
When Amy Dixon's "Give Me 10!" workout DVD showed up on my desk at work, I was excited to try it.
Amy Dixon
may look familiar to many of you who are avid readers of women's fitness magazines. She's a regular contributor and fitness consultant for magazines like "Self," "Shape," "Women's Health" and more. She knows her stuff, too. With a bachelor's degree in exercise physiology and a boatload of fitness certifications, she's been training and designing workouts for 15 years.
This DVD features a nice mix of six 10-minute workouts: Fat Blasting Cardio, Upper Body Sculpt, Lower Body Firmer, Core Makeover, Yoga Stretch & Flex, and a bonus Kettlebell Tone Up. So are these workouts for you?
Read More ›