All Entries For
10 ways to eat
Whipped cream-laden Thanksgiving pie notwithstanding, pumpkin has a healthy nutritional profile, with more than 200% of our RDA of Vitamin A, plus about one-third of our daily Vitamin C and nearly one-quarter of our fiber requirements. And it has just 40 calories per serving. (Without that whipped cream, of course.)
Canned pumpkin is widely available in grocery stores during the fall/winter holiday season. (
Note:
Be sure to grab plain pumpkin puree, not pumpkin pie mix in a can, which includes sweeteners, spices and other ingredients to make a pie.) One can of pumpkin contains about 1 3/4 cup. Some canned pumpkin can have a slightly bitter taste, so it's best suited for sweet recipes. For pumpkin-based dips or sauces, try making your own pumpkin puree; it's super easy.
Read More ›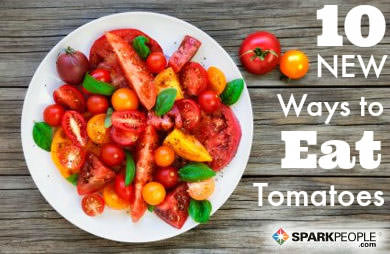 Tips for Best Tomato Taste
Choose unblemished ripe tomatoes from a farmers' market or your family garden. Heirloom varieties come in different flavors and colors—for example, yellow tomatoes are generally milder and less acidic; some types remain green when fully ripe. Never store tomatoes in the refrigerator; they'll lose flavor and get mealy. To make peeling easier, core the tomato, then scrape the blade of a small paring knife over the skin to loosen it.
Oven-Dried Tomatoes
Halve ripe tomatoes lengthwise and scoop out the seeds. Place on a rimmed baking sheet lined with foil; drizzle with olive oil and sprinkle with salt and pepper. Place the sheet in the oven on the lowest temperature (150 to 170 degrees) and let the tomatoes dry for 8 hours, until they're shrunken but still a little plump. Store in the refrigerator for up to 2 weeks, or freeze for up to 6 months.
Keep reading for nine more ideas!
Read More ›
Why does brown rice get such a bad rap? Sure, rice can be a little bland. And yes, the brown version does take longer to cook. But here's the thing: In addition to being one of the healthiest foods in the human diet—rich in fiber, cholesterol-lowering fats and nutritious minerals and antioxidants—brown rice has a deep, nutty flavor and hearty texture that's anything but boring.
White rice is highly processed brown rice that's been stripped of its bran—and nearly all its nutrients. You'll find short- and long-grain varieties; short-grain rice tends to be more sticky and compact when it's cooked, while long-grain rice is fluffier. You may also be able to find quick-cooking brown rice (which is partially cooked and then dried). Brown rice is different from wild rice (which is actually a grass, not a rice), though they're delicious together. Here are some great ways to enjoy brown rice:
Cooking brown rice.
To make 3 cups of cooked rice, bring 1 cup of brown rice, 2 1/2 cups of water and a pinch of salt to a boil; cover, reduce heat to low and simmer gently for 40 to 50 minutes, until the water is absorbed and the rice is tender. Turn off the heat, leave the lid on the pan and let the rice sit for 5 minutes. Fluff the rice with a fork before serving. (You can also make brown rice in the
slow cooker
.)
Oven-Baked Brown Rice.
This
SparkRecipes member recipe
is dubbed "foolproof"; it's baked in a foil-covered dish in the oven for an hour.
Prepared And Make-Ahead Brown Rice.
You'll find already-cooked brown rice on your grocery shelf, and it's a quick and easy way to enjoy this staple. Too, cooked rice freezes well, so if you plan to cook a batch of brown rice for a recipe, make double what you need and freeze the rest for up to 6 months.
Now, onto those recipes and meal ideas...
Read More ›
Got zucchini? Make the most of this prolific veggie, with easy and healthy main dishes, sides and yes, even dessert.
Read More ›
Whether you serve it for breakfast, brunch, lunch or dinner,
quiche
can be a healthy, go-to meal that all in the family will enjoy. That is, after you give is a drastic yet easy makeover.
Traditional quiche--with its ingredient list of fatty meats, too much cheese, whole eggs, and heavy cream--should stay away from your kitchen, but a new healthy, flavorful, and versatile quiche will fit right into your healthy eating plan.
Let's compare a traditional quiche recipe with a simple slimmed-down version that will save over 500 calories per serving.
Read More ›
Don't love lentils? We're here to convince you otherwise. People have been eating
lentils
for millennia; they're common in Mediterranean, Asian and Indian cuisines.
That's no surprise: These tiny legumes are packed with dietary fiber, protein and valuable nutrients including folate and magnesium, so they're healthful additions to your plate. In fact, they are one of the best
meatless protein sources
.
Beyond those benefits, though, they're just delicious: pleasantly earthy in flavor, with a hearty texture that's really satisfying. (In fact, if you don't love lentils, you may have found them mushy and overcooked.) Lentils are typically sold dried—you'll find black (Beluga), red, green or French (du Puy) varieties—and they're super easy to cook and incredibly versatile. Here are 10 great ways to make lentils a healthy part of your diet:
Lentils 1, 2, 3
Think 1, 2, 3: 1 cup of dried lentils plus 2 cups of water yields about 3 cups of cooked lentils. You can double or reduce the amounts to suit your recipe. Lentils freeze beautifully, so you're smart to cook a double batch and freeze what you don't use right away.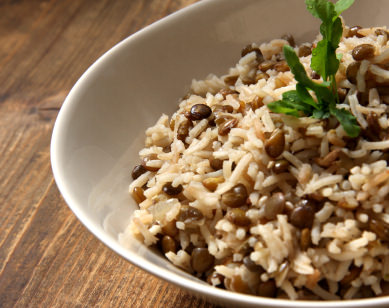 Cooking Lentils, Part 1
To cook black, green or French lentils: Place the dried lentils in a colander and rinse under cool water; pick out any debris or shriveled lentils. Bring lentils, water and a generous pinch of salt to a boil; reduce heat, cover and simmer for 20 to 30 minutes. Begin tasting for doneness after 20 minutes; you want the lentils cooked al dente, like pasta—cooked through, but not at all mushy.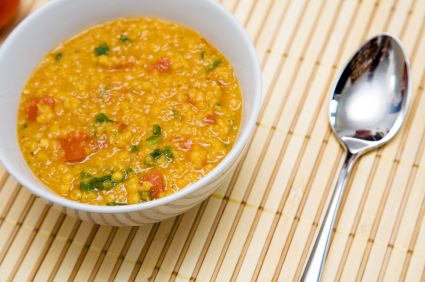 Cooking Lentils, Part 2
Red and orange (and some green) lentil varieties are commonly split, so they cook much faster than their darker cousins. Also, they get softer with cooking, almost disintegrating, so red and orange lentils are great for soups or for Indian dishes. Use the same proportions of water and lentils, and cook for about 10 minutes.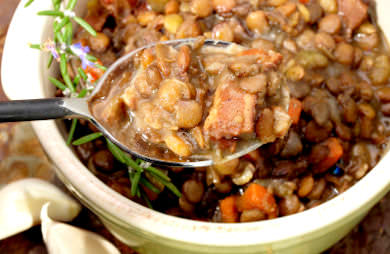 Lentil Soup with Spicy Italian Sausage
Bacon or sausage are flavorful partners to lentils, and this easy soup features big chunks of root vegetables and rounds of cooked Italian sausage; substitute chicken sausage if you'd like.
Read More ›
When it comes to the protein portion of a healthy diet, boneless, skinless chicken is a hero. It's versatile, easy to prepare and naturally lower in fat and calories than many other meat options. But by itself, chicken can be, well, a little boring.
Baked, grilled or roasted chicken is probably a regular part of your dinner rotation. So you'll need some great side dishes for chicken that add a little spark to the plate. We've gathered 10 side dish recipes to help you bring new life to that chicken dinner.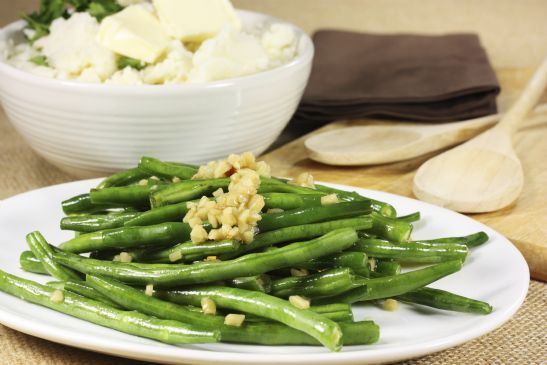 Green Beans with Miso and Almonds
If you haven't tried miso, the flavorful, fermented Asian ingredient made from soy, then you should. Miso adds
umami
, or savory flavor, to any dish. Serve this recipe as a side dish for grilled chicken marinated in soy sauce, fresh ginger, garlic and lime.
Read More ›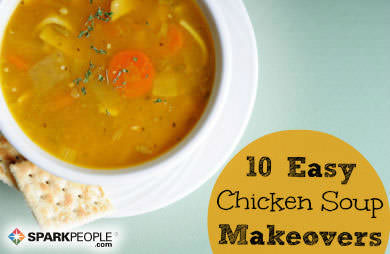 Chicken soup has seemingly mystical properties; moms swear by its ability to cure anything that ails you.
While its medicinal attributes are still being tested,
the Mayo Clinic does report
that chicken soup can reduce inflammation and speed up the loosening of mucus in the nose and sinuses, which makes it a good-for-you remedy when you're not feeling well. Add in some spice (like ginger or chile), for more relief of that stuffed-up feeling that comes with a cold. Plus, a batch of homemade chicken soup tastes a whole lot better than over-the-counter cold medicines.
Try these alternatives to classic chicken-noodle soup next time you're under the weather—or you just want something to eat that's warm, comforting and delicious.
Chicken Stock
Any good homemade chicken soup starts with good stock. For store-bought chicken stock, we recommend Swanson's low-sodium organic chicken broth. But really, it's so easy to make your own homemade stock that you should try this recipe—make a big batch and store it (in 3- or 4-cup containers) in the freezer for soup-making.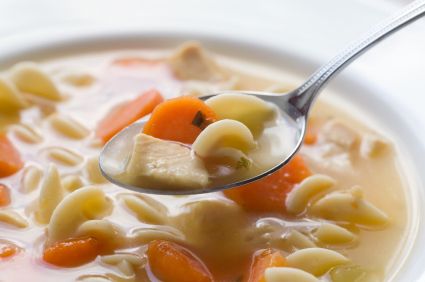 Basic Chicken Noodle Soup
We'll start with this simple recipe for chicken noodle soup. It has everything you want: chunks of chicken, carrots, celery and slurp-able noodles.
Read More ›
Squash is one of those vegetable categories that spans a whole range of colors, flavors, shapes, textures and growing seasons. From acorn squash to zucchini, this veggie family has it all, including nutrients, fiber and fewer than 75 calories per serving.
Summer varieties (like zucchini and yellow squash) are nutritious, with antioxidants and carotenoids; they're ideal for sautéing. (Try:
10 New Uses for Zucchini
)
Hard-skinned winter squashes (acorn, butternut, pumpkin) are packed with antioxidants and vitamin A and roast beautifully. And
spaghetti squash makes a delightfully different (and super low-cal) substitute for pasta
.
Read More ›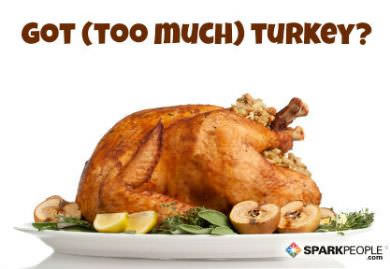 Ahhh, roast turkey: that centerpiece of the Thanksgiving table. How frequently do we prepare turkey throughout the rest of the year? Not as often as we might; turkey can be very straightforward to cook and, thanks to its high-quality protein and low levels of fat (particularly lean turkey breast) can be a healthful option, too.
If you find yourself with a pile of turkey leftovers this holiday season, we have a few clever ways to make next-day use of the Thanksgiving bird. And if you're looking for good year-round turkey recipes, we've got you covered there as well.
Read More ›