ONE MORE WEEK TO ENTER: Win a Free Year of Yoga (in Your Own Home)!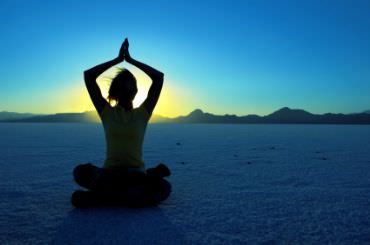 And the winners are… MOONLITCHELLE and KITKAT2010!

UPDATE: This contest is SO popular that Yoga Download has generously agreed to extend it for another week--and offer another lucky reader a yearlong subscription to this fabulous website. WooHoo! What a great way to start the weekend!

Editor's Note: The dailySpark hosts weekly "Welcome to the Weekend" giveaways! Each Friday night visit dailySpark.com to enter to win great prizes that make healthy living a little easier--and a lot more fun. Every contest will be open for one week, so return every Friday night to enter a new one and see who won! We hope these contests (and the time you spend on the dailySpark and SparkPeople) get your weekends off to a healthy start! (Click here to find out who won last week's giveaway.)

A couple of months ago, I was offered a monthlong subscription to YogaDownload.com. As most of you know, I'm a certified Ashtanga yoga teacher, and along with teaching weekly, I practice at a studio two to three times a week (usually Ashtanga primary and part of second series) and at home. I rarely have the time to take other classes, and truth be told, I don't like most yoga DVDs. I only review them for the blog; I don't do them for pleasure because I find most have too much talking/instruction for my liking.

That said, I do like yoga podcasts. I'm a fan of Dave Farmar's power yoga podcasts, but again, I don't seem to have time to do them each week. Yoga Download, in addition to several other styles and teachers, has some Dave Farmar classes. My other favorites? Any of the hip-opening classes (always great for runners) and the abs-centric classes.

The site offers classes that range from 20-90 minutes, with audio and video available (I only reviewed audio); most 20-minute classes are FREE! Listen once for $1.49; download for $1.99-$6.99, depending on class length. There are prenatal yoga, meditation, and sculpting classes; power and hatha practices; and even specialty classes like Jivamukti and Forrest yoga.

I liked it! I would recommend Yoga Download to anyone who regularly practices yoga. The great part is, you can do short 20-minute classes to see if you like a particular teacher or style without shelling out any money. (Can't really do that at a yoga studio!)

(I recommend that anyone who is brand-new to yoga take a class. There is no substitute for a great teacher, who can explain poses, answer questions, and offer modifications to suit your unique needs.)

They say: Was om'ing your way to better health in 2011 a resolution but is your schedule, location or finances keeping you from the studio? The newly refreshed www.yogadownload.com makes it easier than ever to say yes to your daily down dog in the comfort of your home, on the road or evenoutdoors (so what if it's the middle of winter) with the simple click of a button.

Serving as your personal online yoga studio, open 24 hours/day, Yoga Download provides yoga classes of all levels and lengths that are accessible, affordable and portable—from 20 minute flows to 60 minute intensives that are catered to your personal needs (yoga for buns, anyone?). With options to download audio-only, video, and slide shows of top quality yoga classes, meditations, music and other fitness workouts directly to your iPod, mp3 player, computer or mobile device—Yoga Download allows you to focus on your practice as often as you like, where you like and with who you like. It's the closest thing to being in a live yoga class, without all the sweaty savasaners.




Yoga Download is giving a yearlong subscription to one TWO lucky readers.

To enter, click here! Be sure to read the rules. This contest will end next Friday at noon!

What kind of yoga do you prefer? Do you have any questions pertaining to yoga that you'd like answered in a future blog?





You will earn

5

SparkPoints

Like what you read? Learn more

about SparkPeople,

or

sign up

for your free account today!
Got a story idea? Give us a shout!