Why Women in Other Countries Live Longer than We Do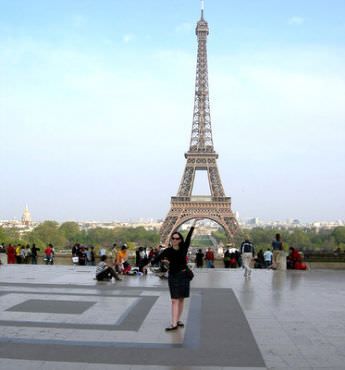 I've been quite fortunate to have traveled quite a bit throughout my 20s. I studied French in the Loire Valley, where I learned to appreciate good wine and fine food. I was an English teacher in South Korea, where I taught junior high students how to write essays for standardized tests. My best friend and I visited Japan together, and I've taken several weeklong trips to Europe. (Next up is a trip to Turkey to visit a dear friend who's slowly circumnavigating the globe, but I digress!)

I brought back trinkets and photos, but I also brought back some healthy habits as well. These vacations abroad are not only a chance to see places and cultures unlike my own, they're also a great way for me to observe how other people balance the good life and daily life.

My host mother in France, Colette, frequently told me, "Il faut profiter de la vie." Basically, it means that you have to take advantage of all that life gives you.

Oh I profited from life, all right.

Living in France was the first time I gained weight. Her endless portions, free-flowing wine and nightly multi-course meals were definitely "the good life" for a sheltered 19-year-old from the Midwest, but I returned home in tight pants with an affinity for strong cheese and red wine.

Unfortunately, I hadn't yet learned the delicate art of balance and moderation. (Those seeds were planted during my time in Korea.)
This week, I came across an interesting article in Women's Health: Secrets of the World's Healthiest Women.
It had some pretty good tips, some of which I've learned through experience and others that were new to me.

The highlights:

Eat more garlic No Korean meal is complete without kimchi— a side dish that's heavy on raw garlic. The secret to its heart-protecting power is an enzyme in the garlic that prevents cholesterol from sticking to artery walls. But it's released only when the cloves are finely chopped or crushed, and heating weakens its effects. Top fish, pasta, or veggies with chopped fresh garlic just before serving, or get kimchi in the supermarket or online at koamart.com.


Go wild with greens "Diet is the most important factor when it comes to preventing colon cancer," says Daphne Miller, M. D., author of "The Jungle Effect: A Doctor Discovers the Healthiest Diets from Around the World." She found that most Cameroonian dishes call for folate-rich wild greens, which may slash colon cancer risk by 60 percent.


Cook more fish Despite long, dark winters, Iceland boasts low rates of seasonal affective disorder. Their recipe for happiness: Icelanders eat a hefty 225 pounds of cold-water fish per person per year—more than any people in the world, Miller says. "Eat two or more servings of fish a week and you'll reduce your risk of depression by 50 percent."


Read the entire article to find out in which countries women are the happiest, least likely to get colon cancer, rarely have a heart attack and more. (The U.S. and Canada aren't on any of those lists.)

Is there anything you've learned from other cultures than can help you in your own healthy lifestyle? Have you picked up any healthy habits while traveling?

How do you balance the good life and daily life? (Meaning, how do you stay on track while living life to its fullest?)


Photo: Me in Paris, 2007



You will earn

5

SparkPoints

Like what you read? Learn more

about SparkPeople,

or

sign up

for your free account today!
Got a story idea? Give us a shout!