We Tried It: Yogaletics DVDs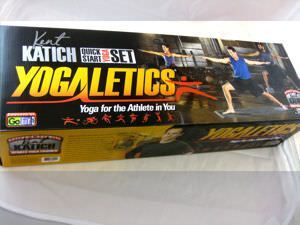 A few months ago, GoFit reached out to us and asked us to try YOGALETICS, a collection of yoga products and DVDs by Kent Katich. They said: "L.A. based Katich is the industry's premier sports yoga trainer for top professional athletes, and lends over 15-years of experience training numerous NBA teams as well as hundreds of professional all-stars, first round draft picks, hall of fame athletes and Hollywood celebrities."

One of the complaints that I hear in my yoga classes from my male students is that they think many DVDs are aimed only at women, so this seemed like a good product for us to try. I asked Paul, our resident ninja UFC and martial arts expert, to give it a try.

It took him a LONG time to try this product, and we both thought that meant it wouldn't be good. But, after trying it once and liking it, he told me today that it is his regular weekend exercise. Instead of using Saturday and Sunday as rest days from grappling, running, lifting kettlebells and circuit training, he does yoga, which helps round out his fitness routine.

Read what he said to say:

"I think the product has a lot going for it. The art direction is obviously aimed at men - but I think it really succeeds. Everything from the box, the mat, the brick, the DVD printing, the DVD menu, and the location they filmed for the workout are all very masculine. The mat and brick are a muted gray. The DVD location is a nuts and bolts gym with brick and concrete. It also has all other kind of sports equipment around - heavy bags and boxing ring, etc. Even if it is an obvious attempt to remove hesitation for a guy to try yoga but thinking it is too girly - it still works.

The DVD itself is excellent, I think. It has a couple of menu items, but the quick workout is really the only thing. It is a 17 minute follow along yoga routine. It shows different ability levels - as one of the athletes who is less flexible uses the brick at times. I think the DVD layout - making it very simple and obvious how to get to the workout (since as a guy - we just want to get to it) - is perfect, and I think the choice of 17 minutes is actually perfect. If it had been too short, I would feel like it wasn't worth doing it all. If it were too long, I'd feel like it was taking time away from strength training or cardio. But as is, I'd consider doing the routine any day along with whatever else I was already going to do.

The items that come in the package are a little more hit and miss, I think. In general, it is because they're not explained or utilized. For example, I know how a brick can be used to create stability when you can't fully reach the floor. Already knowing that, I recognized it in the background of the DVD workout. What if you didn't know that? I didn't see any written materials in the box--it isn't discussed on the DVD. The strap is one step less because I didn't even see it on the DVD.

I would rate the DVD very highly. I think it is aimed perfectly at an athletic guy. The mat is fine. The brick and the strap, though, could either be better integrated (it's not discussed or demonstrated in the DVDs) or left out, making the product (I would guess) much cheaper.




Our only complaint is that the mat is smelly. It had a plastic smell to it that was overwhelming. We also felt the real value was in the DVDs themselves. Though we received the entire kit for free (it's worth $79.99), you can also just buy the DVDs for $19.99 (Elite 45-Minute) and $14.99 (20-Minute Power).

The GoFit Yogaletics products include the exclusive Kent Katich signature yoga mats as well as straps, blocks, Katich's instructional DVD's and other accessories. Prices range from $29.99-$79.99 and is sold online at here, and in select retailers.

Have you heard about this workout? Would you be willing to try it?



You will earn

5

SparkPoints

Like what you read? Learn more

about SparkPeople,

or

sign up

for your free account today!
Got a story idea? Give us a shout!