We Tried It: Vibram Barefoot Running Shoes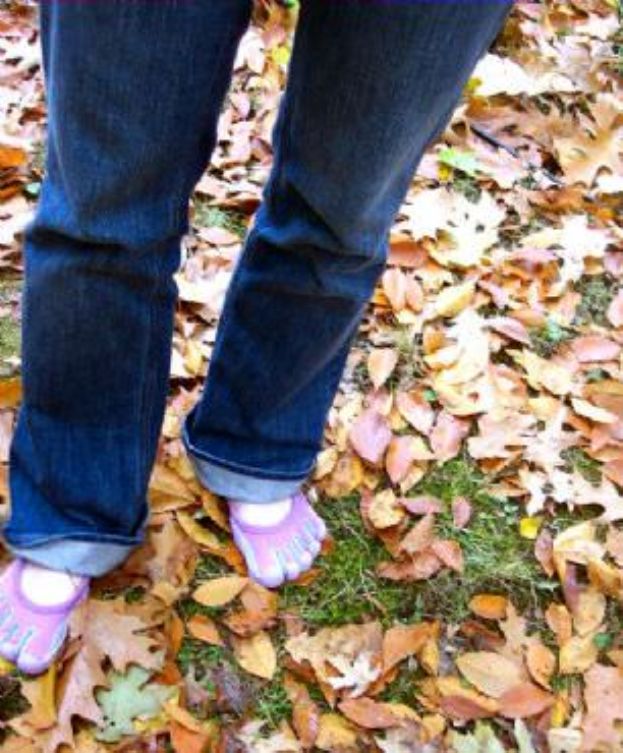 The Internet--including the SparkPeople Message Boards--have been abuzz for the recently with talk of barefoot running. Member CAMPB528 wrote me, asking to review her beloved Vibram Five Fingers barefoot running shoes. A few weeks later, she tracked me down at the Spark Your Life Convention in Cincinnati to show them off. She wasn't the only member to mention them.

At first glance, I thought Aimee was barefoot. The shoes are bizarre--imagine toe gloves--and they're not cheap ($75-$80 or more). But these women say they can handle the stares, questions and gentle mocking. They love their Vibrams and say their lower body feels stronger and they're standing taller, though they're quick to say these aren't miracle shoes. They won't do the work for you.

While they acknowledge these shoes aren't for every runner--and do require a careful breaking-in period, these Vibram lovers want to share their new favorite footwear with you.

Aimee (CAMPB528), Kris (KJNE8O), and Joy (SAVANNAHZMOMMA1) answered my questions about their Vibrams! Aimee has worn hers since summer, while Joy and Kris have had theirs two months and one month, respectively.

NOTE: Do your research before swapping your regular running shoes for Vibrams; these women are offering their personal experiences. If you have any ankle or foot issues, consult your health-care provider.




Why did you decide to buy them?

Aimee: My running buddy had purchased a pair from our local running store. We had been discussing the benefits of barefoot running on your body for some time. I was really excited to find a pair of shoes that gave my muscles the benefit of barefoot running while at the same time protecting my feet from glass, rocks, etc. I also decided they would be a good investment because I was also looking at investing in a pair of rock climbing shoes which the Vibrams can also be used for!

Joy: While listening to the audio book of "Born to Run" by Christopher McDougall, I started to ponder the idea that my persistent and often very bad ankle pain from a sprain two years ago (slipped on ice) might be served by having my feet bare more often. High heels and soft squishy shoes do cause my ankle to bend in unpredictable ways. I have noticed that going barefoot puts me right against the ground--very stable--and that more of my small muscles are enlisted in the foot. My hope is that I will strengthen my feet and supporting muscles, while not causing random wobbles that hurt me. Of course, I must still wear my work shoes, and love heels, so the threat's still there. But, I hope on my "off days" to get all the good I can out of these.

Kris: (Joy recommended that same book to her.) In this amazing real-life story full of crazy ultra marathoners a few "truths" spoke to me, and one is that athletic shoes change the way that millions of years of evolution have designed humans to run and could be the cause of most injuries. The author was in search of a reason he was always in pain when running – knee pain, feet pain – and his path of discover led him to barefoot running and the Tarahumara Indians of Mexico.

Earlier this year I was waylaid during half-marathon training by IT Band Syndrome, which cost me hundreds of dollars in Physical Therapy and a race a couldn't run. After that, every time that I tried to run I'd have some sort of pain and I was very bummed out because I really want to be a runner!

After reading the book I realized that maybe there was a way that I could run and that I could be and stay pain free.



Aimee

What was your fitness routine like before you got them? How has it changed?

Aimee: I would say my fitness routine is relatively the same. I have maybe added in an extra running day since buying them.

Joy: I am easing into the VFFs. I did not just take off on my customary 5 mile run with them. I'm allowing my body to adjust to being "barefoot" more. Believe me, just walking a day at the mall or grocery shopping or hiking with my little daughter was plenty to ask of feet that have been in heels much of the week.

I want to mention that I decided to just LIVE in these VFFs first, to see if I found any special soreness in muscles with these. I discovered odd little muscle pain and twinges the first few days--not tendon pains, but just in other places in my muscles I hadn't felt before. There was some discomfort right around the sides of my big toes where I've been prone to mild ingrown toenails. The baby toes felt a little uncomfortable. I had a hard time getting my feet to relax enough to spread the toes. This was the first 2 or 3 days, wearing them just 2 or 3 hours at a shot. Then, all of a sudden the shoes gave way, AND my own feet relaxed and the toes spread. I can slide right into them now!. They are so, so comfortable. The muscle soreness dissipated.

I ran my first race in the Vibrams, and they were nothing short of phenomenal. I have run a number of races throughout my life--this one felt the best, yet I am in poorer shape than in my Army days. The shoes are very, very light and I felt darn near like a gazelle in them. (My 5K time, starting from well back in a crowded and slow pack, was 24:37. My first race in years, and it felt great.)

Kris: I am an extremely active person already, teaching and taking classes at the local Y 3-4 days a week on average, cycling (finished a 180 mile cycling event in August), running a bit here and there and just general activity like gardening, hiking, etc. The VFF's haven't changed my routine at all because (other than Spinning) I can wear them for any of my fitness classes as well as general walking around.



Joy and her boyfriend after their 5K

Who would like these shoes?

Kris: Anyone who likes being barefoot! Also, I was a slight overpronator when I purchased them. I've found that having better awareness of my foot strike has helped me to correct that problem. They are also very versatile.

I ran a 5K on Halloween in my Vibrams. [Editor's note: Kris ran a 5K after having taught three fitness classes that morning, Joy told us!] It was at night, on road, golf cart path, gravel, and muddy, grassy areas. The Vibrams felt GREAT and not once did my knees hurt! In fact, all my runner's knee pain is GONE after running a few runs in the Vibrams. I think that using the correct gait for me, not changed by running shoes, has been what has helped me heal. I also had a very modest goal of 35 minutes since I haven't been running very much at all. I shattered my goal by running that 5K in 28:30! I couldn't believe it, that was one of my best 5K times ever and the whole race felt wonderful. I do have some calf soreness but as I get stronger I know that will stop. I really look forward to my next run now since I know I can run free of pain!

Joy: This shoe seems to demand toes that step down in length from big toe to pinky. If your second toe is the longest, you might have trouble. Another bit of advice. The shoe store will likely make you use a sock to try them on. That made my shoes feel a bit too tight, but I took a plunge and got them. They fit perfectly.



Kris, with her boyfriend and daughter, after that same 5K

For more information, check out this review from Runner's World or read the company's FAQs. We've spotted the Vibrams at many places running shoes are sold, but check the website for more info.

Have you tried the Vibrams? Would you? What do you think about barefoot running?



You will earn

5

SparkPoints

Like what you read? Learn more

about SparkPeople,

or

sign up

for your free account today!
Got a story idea? Give us a shout!