We Tried It: VersaStick Portable Fitness Equipment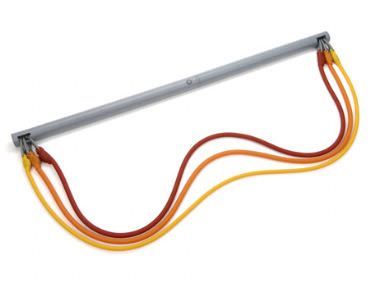 I saw an advertisement for the VersaStick a few months back, and I thought it looked like a promising piece of home workout equipment. After all, I love a good resistance band workout, and I think that resistance bands are great for strength training, especially when you don't have a lot of space (or money). I requested a free sample to test it out and the folks at VersaStick were kind enough to send me the whole kit. Score! To see the VersaStick in action, check out this video.

(If you have trouble viewing the video below, click here to see it on YouTube.)



So…what is it? The VersaStick is where the comfort and stability of traditional barbells meets resistance bands. While a standard resistance band has individual handles (that, in my experience, are often slippery or hard to control during some movements), the VersaStick provides a wide, comfortable bar instead of individual handles. It also comes with three different resistance levels: light, medium and heavy, which are interchangeable. You can even double—or triple—them up to increase the challenge. The kit also comes with a door anchor that allows you to do many more exercises than a lone resistance band can provide, as well as a DVD that contains a whopping 7 workout routines, in addition to 36 individual exercise demos. That's a lot of stuff (see below)!




Overall, I had fun using the VersaStick, and our testers did, too. We each got a great workout in a short amount of time by following the DVD and the instruction booklet that came with the kit. Here's a general list of pros and cons.

Pro: VersaStick is portable and easy to use. You could easily travel with it and it takes up very little space. Even if you've never used resistance bands, the instructions are easy to follow and there's a lengthy introduction on the DVD that explains how to use the VersaStick correctly. Our testers agreed, saying, "It was pretty self explanatory and easy to follow."

Con: Many of the exercises use a door anchor, which works if you have a sturdy door and space to exercise in front of it. Only two of the seven workouts on the DVD don't use the door attachment, and most of the exercise demos use the door attachment, too. None of our testers had a place in their homes where they could anchor the VersaStick to their door AND view the DVD at the same time. You could remedy this by watching the DVD to learn the moves and then following them from the printed instruction booklet, like one of our testers did. She also advised, "Make sure that the door fully closed. I suggest locking it, because on the first door I used it kept opening the door and falling off."

Pro: VersaStick provides a variety of workout intensities for people of various fitness levels. You can change the resistance tube to light, medium or heavy, and even after that, you can vary the intensity by changing your foot/body placement in relation to the resistance and/or your range of motion. "I felt the exercises were easy to follow and the resistance level was easily adjustable by stepping further away from the door," said one tester. In addition, people with limited mobility might be able to do many of the exercises—especially the door ones—from a seated position; individuals who have trouble gripping small handles on resistance bands might have an easier time exercising with the VersaStick, thanks to its wide, comfortable bar.

Con: It's surprisingly difficult to remove the bands once you get them attached. VersaStick's booklet says that is because of their high-quality hooks are safer. I would have liked to be able to use various resistance levels during the workouts I followed, but it's not really possible to change out the bands while following the workout routine. One tester agreed, "The clips were extremely hard to press in and take off."

Pro: VersaStick offers a good workout! I tested two of the workouts on the DVD: the Freestanding (door-less) workout, which was challenging and took less than nine minutes. I also did the Cardio Resistance workout, which took about 30 minutes and satisfied my need for both strength and cardio. My heart rate was up in an aerobic range for the entire workout (except the core segment near the end). Our testers, both male and female, also enjoyed the workouts. "I really liked the arm workouts. They were different than what I typically do and that made the workout fly by!" said one. Another tester admitted that he was skeptical at first, saying, "The workout was better than I expected! My heart rate seemed high the whole time, and there were times that I reached discomfort because of muscle fatigue in several muscle groups (my legs, biceps, triceps)."

Con: The Cardio Resistance workout was great, but it offered almost no modifications—they assume a pretty high level of fitness from the viewer, and some people might have a hard time completing this workout, even with light resistance. For me, changing out the resistance bands was a necessity—if I kept one on, it's just right for some exercises, but too hard or too easy for others. When you follow the workouts though, you pretty much have to use just one resistance level and stick with it, even if it's not the best level for all of the exercises in that workout.

Pro: Like resistance bands, the VersaStick is a relatively good value because it's so versatile. Although $80 seems steep for a few bands and a plastic bar, in my opinion, the real value of this product comes from the DVD—seven workouts plus additional demonstrations. You'd probably pay more than $80 to get that many workouts on DVD.

Con: Still, $80 is a lot of money when you can get a regular band and do all or most of the same exercises (sans the bar) for about $15. However, if you're savvy enough and well-versed in using bands, you can buy individual components of the VersaStick kit for less dough. For example, pick up the DVD for $25 in their online store, buy a standard resistance band that has a door hook, and you could pretty much follow all the exercises and workouts. "The price of the VersaStick is definitely a negative," said one tester. "I feel you could do the same workout with just a resistance band."

Overall, the VersaStick provides a fun and versatile workout, but price may be its biggest downside. However, if new fitness gadgets motivate you and you want to try something new to shake up your routine, try the VersaStick! You can buy it and learn more at www.VersaStick.com.

Are you a fan of resistance bands? Would you try the VersaStick?

Photo Source: VersaStick.com



You will earn

5

SparkPoints

Like what you read? Learn more

about SparkPeople,

or

sign up

for your free account today!
Got a story idea? Give us a shout!