We Tried It: The Gym Boss Timer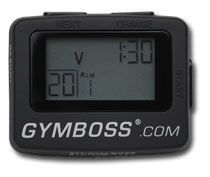 Editor's Note: We were recently sent the Gym Boss timer to review. SparkPeople's resident mixed martial arts expert, Paul, put it to the test.

By Paul Elfers

They say: The GYMBOSS is a small, easy to use, repeating interval timer. This multi-use timer has many versatile functions that make it beneficial to virtually any type of exercise program.

GYMBOSS will make any workout easier to plan and execute with more accuracy and consistency.




1 or 2 intervals - 2 seconds to 99 minutes
Repeat up to 99 times
Beep and/or Vibrate alarm
Alarm duration 1, 5, or 10 seconds
Stopwatch function
Secure belt clip
Compact Size (1 ¾ x 2 ¼ x ½ inches)
Water and shock resistant
AAA battery required
We say:
Pros
small and ultra portable
easy to use (but not at first)
very flexible and configurable
truly makes for great workouts
audible or vibration alerts (or both) allow for times you can't hear it or times you can't wear it
price is right ($19.95)
Cons
difficult to use the first time
no included workouts or specific suggestions, instead, general suggestions which puts it to the buyer to seek out or create their own

Some of us at SparkPeople had visited a certified kettlebell instructor and he swore by the Gym Boss. So, when they sent us one, I was excited to give it a try. Right out of the box, it looks hard to use. For example, you have to hold (not just press) the button "Next" to turn the unit on. Once it turns on, there are 7 different pieces of information the little 1" x 2" screen. When you first do this (even with the little slip of paper that it comes with and even though some usage hints are written on the unit) you think, "I'm not going to get this. I'm not going to remember how to do anything."

Fortunately, that's not really the case and quickly enough you learn how to do everything you need to. The learning curve is there... you do have to get up to speed... but it does not take as long as you'd guess. And it isn't really Gym Boss' fault, either. There is just a lot you (and it) need to know. How many rounds? How long is each round? Is there rest in between? Do you want an audible alarm or a vibration? Or both? Quickly enough it all seems to make sense.

My other complaint was that there were no actual workouts given along with the unit. I understand that everybody is going to be interested in different things, have different equipment, and be at different fitness levels. Knowing you're not going to please everyone, I would have liked to have seen maybe one beginner and one advanced workout suggested. They could have used exercises like pushups, sit-ups, jump squats, walking lunges... things that will get anyone fit and tired without equipment.

I began using it with kettlebells, and I also found it useful for keeping time in wrestling and boxing. We had used a handheld stopwatch in the past, but we had to break from the action to check the time. So, in both places, the Gym Boss has worked perfectly.

Overall, I'd recommend the Gym Boss to anyone who does high-intensity workouts where you need to keep track of time and rounds. I've gotten as much use out of it as any piece of equipment I've ever owned.

Have you tried the Gym Boss? Would you? Do you time your workouts?



You will earn

5

SparkPoints

Like what you read? Learn more

about SparkPeople,

or

sign up

for your free account today!
Got a story idea? Give us a shout!