We Tried It: Paul Katami's Kettlebell Workout DVDs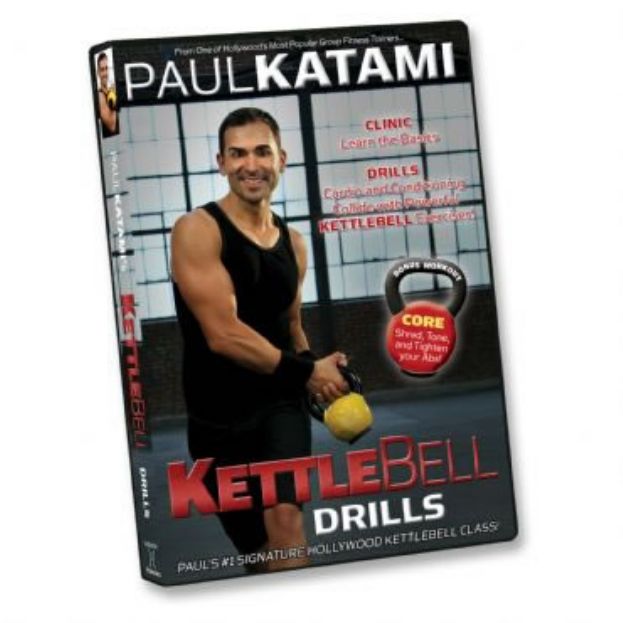 Although kettlebell training has been around for more than a century, they've only recently become mainstream fitness tools within the last few years.

I get questions about kettlebells, requests for kettlebell videos, and queries about the best kettlebell workout DVDs regularly—and for good reason. Kettlebells are popular because they offer a unique way to train for both strength and endurance in a single workout. They challenge your balance, allow you to move functionally, and strengthen your body from head to toe. Plus, kettlebell training may just be the highest calorie burning exercise there is, if this study by the American Council on Exercise is any indication.

When I review a DVD or fitness product and make recommendations to all of you, safety ALWAYS comes first. I don't care how popular, fun or even effective a workout is; if the instruction and demonstration doesn't emphasize safety and form, I simply won't endorse it. Let's face it: When you consider these factors, there are a lot of really bad DVDs out there! That's especially true with more and more people trying to capitalize off of the popularity of kettlebell training. I have tested MANY kettlebell workout DVDs, including the titles from famous trainers you know well, but I have never come across a kettlebell workout DVD that I would recommend—until now.

First let me say that I am not a certified kettlebell instructor. All of my knowledge on kettlebells has come from personal research and interaction with certified kettlebell trainers. I've had the opportunity to take a workshop from the internationally recognized kettlebell trainer Steve Cotter, one-on-one instruction from certified kettlebell teacher named Henry Marshall, and I've been using kettlebells on my own for almost three years.

When I recently asked an esteemed and experienced colleague in the fitness industry if she knew of any good kettlebell DVDs, she answered me with two words: Paul Katami.

I had the pleasure of meeting Paul Katami, a master kettlebell trainer, at the IDEA World Fitness Convention in August. We talked for over an hour! This guy knows his stuff—and he's just nice, too. Before we parted that weekend, he gave me copies of all of his kettlebell DVDs: Kettlebell Drills ($19.99, amazon.com), Kettlebell Kombos ($22.85, amazon.com), and Burn & Build ($22.48, amazon.com). And test them, I did! A group of 6-8 of my SparkPeople co-workers and I have been following his "Drills" and "Kombos" DVDs for the past few weeks. (We did not test Burn & Build because it uses an aerobic "high step" that we neither we nor most home exercises have access to.)

For a preview of our lives have been like for the last few weeks, check out this trailer for his Kettlebell Drills and Kettlebell Kombos DVDs on YouTube or below:



Kettlebell Drills and Kettlebell Kombos each contain three workout segments:

A 35-minute "clinic" in which Paul slowly and carefully demonstrates all the various holds/grips for the kettlebell and the core movements, such as swings, cleans, and presses. After he demonstrates each move, you practice the move along with him for 30 seconds. It doesn't sound like much of a workout, but this instructional clinic alone is tough and will give you a good workout. It's perfect for kettlebell beginners to master technique and form. Both DVDs include this same exact clinic.

An abs and core workout (18 minutes). A unique core/abs workout appears on each DVD. We actually didn't try it, but we did watch it. Personally, I thought it looked very advanced and had the potential for injury for people with lumbar (low back) issues—that includes me. So I opted out of this. It included moves like various crunches and full sit-ups holding the kettlebell in both hands—and sometimes in just one hand and seated "Russian" style twists holding the kettlebell. Not something for the faint of heart!

A 35-minute full workout, which is different on each DVD. The "Drills" DVD workout was definitely easier than the "Kombos" workout, but don't let that fool you. Both were FAR MORE intense than the clinic. Despite them being intense and challenging, they were also fun and interesting. Paul is a great instructor and is also encouraging, but what's best about these workouts is the unique combination of moves they include—things I have never seen and never tried before doing these DVDs. For a beginner to kettlebells, I'd recommend the "Drills" DVD. Its workout is slightly easier and each workout interval is shorter—around 30 seconds of a movement followed by a short rest. The "Kombos" DVD was far more challenging both in choreography and intensity. Rather than 30-second bursts, many of the segments lasted 60 seconds each and there was very little rest between intervals.
Before you read what my co-workers thought of Paul Katami's kettlebell DVDs, let me re-emphasize a few key points about kettlebell training safety. These are especially important if you have never tried kettlebells but are thinking about doing so in the future.

Following a DVD to learn kettlebell basics for the first time is still not ideal. Even though Paul Katami did an amazing job emphasizing form and safety in his DVDs, as I watched my co-workers trying kettlebell moves for the first time, I still saw bad and incorrect form that could lead to injury. If you have never received in-person (one-on-one or group) training with a certified kettlebell trainer, I would still recommend it before ever trying kettlebell moves on your own.

Generally speaking, kettlebell training is best suited for intermediate to advanced exercisers—and so are these DVDs. Not only do you need a base level of strength and cardiovascular fitness to use them properly, but kettlebell training requires a keen sense of kinesthetic awareness (intuitively understanding the position of your body in space) and decent coordination if you are to perform the exercises correctly and minimize your injury risk.

Start with lighter weights and work your way up slowly over time. Take the time to rest when you need it, and go at your own pace. Never EVER sacrifice form for speed or range of motion. It's not important for you to keep up with the exact speed that someone else is able to perform an exercise. Choose a pace that works for you and allows you to concentrate on the form you need to maintain to do it correctly. For example, some of our newbie testers used 7, 10 and 12-pound kettlebells as opposed to the traditionally high weights. Many had to modify certain moves (myself included), such as trying a smaller range of motion or stopping early if you couldn't execute another rep in good form. Others opted out of exercises that felt uncomfortable or too difficult and elected to practice some of the basic "clinic" moves during that segment instead.
What Our Testers Thought
Our testers all ranged in age, gender, weight and fitness level, but only a couple of us have ever had any kettlebell experience before. Most had never picked up a kettlebell, let alone received any real instruction on how to use it. I thought this variety in experience and fitness levels was important for this particular review.

"I did three weeks of the 'clinic,' and it was an intense workout – it felt like I reached the anaerobic level. When I participated in the next level—the full workout—it was too much for me to keep up with." – Teri, SparkPeople employee (ad sales) whose usual workouts include walking, Jazzercise and low-impact aerobics. She tried the DVD clinic and the Kettlebell Drills workout.

"The best part about these kettlebell DVDs is that it is 30 minutes well spent. It's a great workout that is challenging in a short amount of time. I think the exercises were interesting and changed frequently enough that I did not get bored. Without knowing his background, the instructor seemed to really know what he is talking about. I feel stronger after just a few workouts. The clinic and workouts were well balanced between having adequate instructions for beginners and moving fast enough for those familiar with kettlebells." – Rachel, SparkPeople employee (finance/accounting) whose usual workouts include running (up to half marathons), full body strength training with 12-pound dumbbells and jumping rope. She tried the DVD clinic and both the Kettlebell Drills and Kettlebell Kombos workouts.

"I enjoyed the kettlebell workouts. I don't have much experience with fitness DVDs, but I found them easy to follow. However, I would not recommend these DVDs to someone just starting a fitness program, because they might be a little difficult. Like many guys, I prefer weight training to cardio, but this DVD combined weight and cardio in a way that allowed me to enjoy both. Judging by my post-workout soreness, it also targeted muscle groups that my typical workouts miss. I would give the DVD and overall work out 4 out 5 stars." – Alex, SparkPeople employee (site programmer) who regularly cycles and works out with dumbbells and weight machines at the gym. He tried the DVD clinic and both the Kettlebell Drills and Kettlebell Kombos workouts.

"I really enjoyed the kettlebell clinic—it was a good workout for just an 'educational' session! I think Paul explained the moves clearly and I like that we tried each of them for 30 seconds. I was definitely sore after doing the clinic, but it was worth it! I thought kettlebells would be more about upper body strength, but Paul explains how to use your lower body to help balance the weight, which was really helpful as I don't have much upper body strength. My quads and glutes really felt it!" – Sarah, SparkPeople employee (marketing) whose workouts normally include walking and yoga. She tried the DVD clinic and both the Kettlebell Drills and Kettlebell Kombos workouts.

"I enjoyed learning something new and definitely felt like I got an extremely comprehensive workout. People new to kettlebells should be prepared to be sore for the first few days following the clinic, but even with that being said, I enjoyed the workout and felt like it targeted a number of areas for me that must have been getting overlooked, particularly my inner thighs and quads. The instructions were very clear even though he moved at a fast pace, and I definitely got a good aerobic workout at the same time." – Jeff, SparkPeople employee (ad operations) who usually works out on the treadmill, with free weights and weight machines, and the Wii Fit Plus. He tried the DVD clinic and the Kettlebell Drills workout.

"Overall I thought the DVDs were challenging, but also doable (and definitely something one would get better at over time). Most of the time I thought the instructions were easy to follow, though there are a few times where I ended up behind Paul's pace, trying to figure out what exactly the move was that he just did (some are fairly complex in choreography). The thing that made the workouts particularly challenging, to me, was the pace at which the instructor maintains throughout; it was hard keep up!" – Tim, SparkPeople employee (marketing) whose fitness routine regularly includes strength training (including kettlebells), circuit training and cardio as well as sports like basketball. He tried the DVD clinic and both the Kettlebell Drills and Kettlebell Kombos workouts.

Overall, Paul Katami's kettlebell DVDs are the best instruction I've seen on DVD to date. His combinations are fun, challenging and unique—and his workouts were extremely effective and intense in a short amount of time. If you have some kettlebell experience and are looking to challenge yourself in a new way, I would highly recommend his Kettlebell Drills DVD first, followed by the more intense Kettlebell Kombos later on. Even though we're done testing them, we have all agreed that our weekly kettlebell workout is here to stay!



We love our kettlebells! A few of our testers (left to right): Rachel, Paul, myself, Stepfanie and Alex.

You can find all of his kettlebell DVDs at amazon.com, collagevideo.com, or paulkatami.com.

Are you a fan of kettlebells? Have you tried them with a trainer or at home with a DVD?



You will earn

5

SparkPoints

Like what you read? Learn more

about SparkPeople,

or

sign up

for your free account today!
Got a story idea? Give us a shout!