We Tried It: Pasta with 20 Grams of Fiber!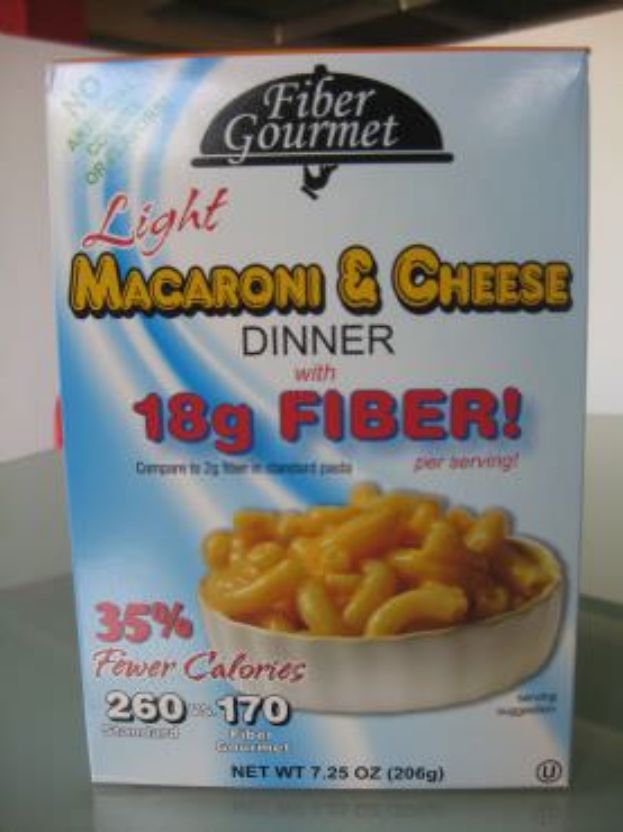 In honor of National Noodle Day, we're bringing you a review of some noodles you might not have seen on your supermarket shelves.

Let me first reveal three personal facts about myself: I'm incredibly skeptical, I'm mildly obsessed with fiber intake, and I haven't eaten regular pasta in at least two years. It's whole wheat or nothing in my house.

So when I heard about the company Fiber Gourmet and its high-fiber, low-calorie pasta, I didn't believe it. The pasta has 130 calories per 2-ounce serving, and a whopping 20 g of fiber (in the fettuccine). That's some serious fiber!

Considering that regular pasta would have about 210 calories and just a couple of grams of fiber at best, I was perplexed. How does Fiber Gourmet boost fiber without adding calories? Surely it must some strange unpronounceable ingredients.

I decided to serve a box of the 18 grams-of-fiber-a-serving macaroni and cheese to my boyfriend. As we rarely have macaroni and cheese of any kind--and certainly not the boxed kind--he was suspicious.

"What is this?" he asked, a puzzled look on his face. I think he expected the sauce to be vegan or made from squash or something (not such an unlikely possibility for me).

"It's macaroni and cheese," I replied. "Eat it. I made it for you."

He hesitantly took a bite. Then another bite.

"This is good," he said, still suspicious. I studied his face closely, wondering whether he could discern between this pasta and regular pasta.

He kept eating--and went back for another bowl.

Then I spilled the beans: "Guess how much fiber that pasta has," I began.

He put down his fork and rolled his eyes. "I knew there was a catch."

"Eighteen grams!" I exclaimed. "That's almost a day's worth of fiber in one serving."

"Then you eat it," he said.

So I did. I ate one bite, then another, then another. I, too, devoured an entire serving of the pasta as he ate his second bowl. It was just like the blue box variety I loved as a child, but I felt better knowing I was getting a dose of fiber along with my cheesy sauce.

I must say, I'm a believer. This stuff tastes just like white pasta (which to me tastes strange because I like the nutty taste of whole wheat pasta).


The ingredient list isn't scary: Durum semolina flour, modified wheat starch, wheat gluten, niacin, iron, thiamine mononitrate, riboflavin and folic acid. OK, just like regular pasta, plus some starch and added nutrients.

So how does Fiber Gourmet deliver 20 grams of fiber per serving? (I know what you're thinking. Won't all that fiber wreak havoc on your digestive system if you eat so much at one serving? I was fine the next day, but I eat a high-fiber diet. However, Fiber Gourmet says this kind of fiber won't hurt your stomach!)

Back to how Fiber Gourmet gets 20 grams of fiber in one serving of pasta. (Seriously, that's like drinking eight glasses of prune juice or eating a cup and a half of beans!)

According to the company's website, the pasta replaces flour with zero calorie fiber in the form of resistant starch, which though technically a starch is indigestible by the small intestines and is therefore classified as fiber.

Resistant starch is sometimes called the "third fiber" because it delivers some of the benefits of insoluble fiber (the kind that can't be digested, absorbs water and helps bulk up your stools) and some of the benefits of soluble fiber (the kind that's digestible, coats your intestines and helps reduce cholesterol absorption).


"Resistant starch has a taste and texture similar to standard starch, except that your enzymes aren't able to break it down and digest it. This causes resistant starch to show up as a fiber under laboratory analysis, and is why the FDA classifies it as fiber. It's the best of both worlds: it tastes like starch, but works like fiber.
"Your body is also able to tolerate resistant starch much better than other fibers. While most cellulose-based fibers produce gas and bloating, resistant starch is much more benign. If whole-grain foods hurt your stomach, you'll be surprised how painless the fiber in Fiber Gourmet products is."

Where can I get it?
For now, the pastas are mostly available online, though some retailers do carry it. (Contact the company for more information.) The prices are a bit higher than regular pasta but aren't astronomical.


The mac and cheese comes out to about $2.75 a box if you get the $16.49 six-pack; the short-cut fettuccine is about $2.49 a box if you get the 10-pack for $24.99.

Have you tried Fiber Gourmet pastas? Would you? How do you ensure you get the recommended 25-35 grams of fiber a day?




You will earn

5

SparkPoints

Like what you read? Learn more

about SparkPeople,

or

sign up

for your free account today!
Got a story idea? Give us a shout!