We Tried It: Kashi Pocket Breads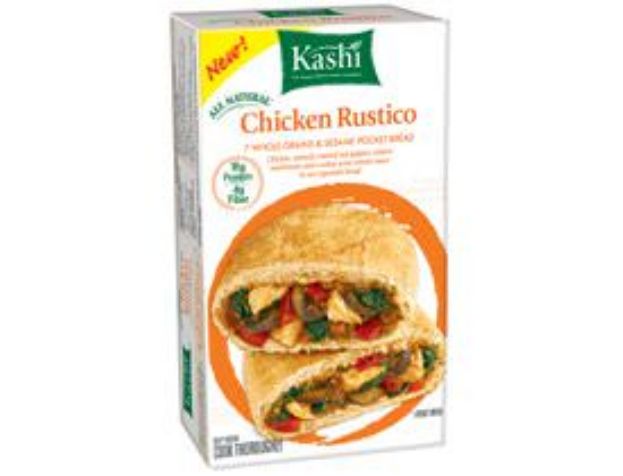 In college, my roommate and I kept pocket sandwiches in our dorm room freezer for late-night snacking. Though the serving size was one, there were two in a box, so we'd inevitably end up eating more than we should. (We never did think to share a box!) Unfortunately, even the lighter versions weren't all that great for us (not that we cared about what we ate at that point in our lives). I recently found a healthier version of our sophomore-year snacks--about eight years too late!

Kashi has a new line of frozen Pocket Breads that hit the spot when you're looking for a quick, filling savory snack.


What Kashi says:
"Made with Kashi's unique blend of Seven Whole Grains & Sesame plus flax seeds, each sandwich contains no trans fats or preservatives, and provides 21 grams of whole grains, four grams of fiber, between 10 and 15 grams of protein and 400 mgs of ALA Omega-3 fatty-acids in three delectable varieties:

Turkey Fiesta captures the Southwestern palate with turkey, roasted corn, red pepper strips, and red onion strips. The addition of black beans and a southwest sauce with a hint of jalapeno is perfect for those who love a meal with a kick.

Veggie Medley is an enticing vegetarian option filled with a colorful combination of roasted red bell peppers, onions, zucchini, mushrooms, yellow carrots, broccoli florets and sun-dried tomato. The vegetables are complemented by the addition of white beans and a balsamic vinegar and basil sauce.

Chicken Rustico is full of flavor in every bite, combining marinated garlic chicken, spinach, fire roasted red peppers, crimini mushrooms with parmesan cheese and a roasted garlic, white wine tomato sauce."


What we say:
Turkey Fiesta
"This pocket was very tasty and filling. The pocket browned while in the microwave, and had the texture and heartiness of whole grain. The southwest-style filling of turkey, black beans, corn, onions and peppers was true to the great-looking photo on the package. I was able to taste the tomatoes and cumin in the sauce without it overwhelming my enjoyment of the turkey and vegetables. I give this pocket two thumbs-up!"

Veggie Medley (see photo above)
"This was great! I was worried it would be very dry, but it was not dry at all. You could see all the veggies in the filling: peppers, mushrooms, carrots and broccoli. It reminded me of a savory, flavorful vegetable stew inside a pocket. The pocket was soft and chewy, not hard like it can sometimes be when you microwave meals like this. It's really small--I wish it was bigger for the price and calories. It could make a good snack, but definitely not filling enough on its own to be a meal in itself."

Chicken Rustico
"This pocket made a great after-workout snack. It had a hearty, chewy crust that was crispy but not dry. The chicken was flavorful, and there was plenty of spinach and mushrooms. The sauce kept everything moist but didn't drip everywhere. I liked this snack, and I'd eat it again. I didn't like that there is only one per box. I'd buy a larger box of these--or a variety pack. "

The pockets sell for $3.49 each.

Have you tried the Kashi Pocket Breads? What did you think?




You will earn

5

SparkPoints

Like what you read? Learn more

about SparkPeople,

or

sign up

for your free account today!
Got a story idea? Give us a shout!