We Tried It: Healthier Options at Dunkin' Donuts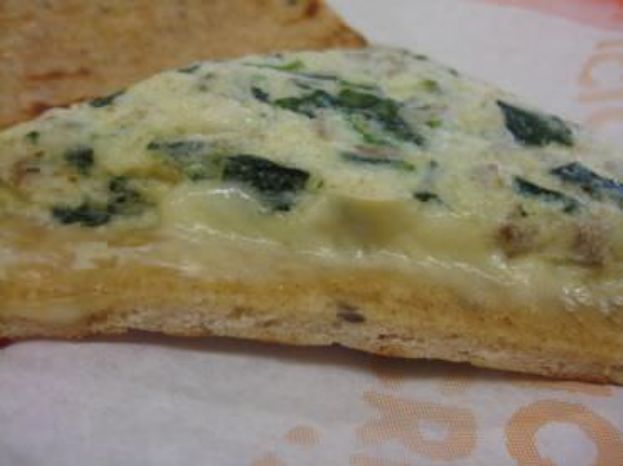 Earlier this summer, Dunkin' Donuts unveiled a new breakfast menu called the DDSMART menu.

According to the company, "Labeled with a distinctive new logo, DDSMART menu items include both new and existing Dunkin' Donuts food and beverages that meet at least one of the following criteria: 25% fewer calories; 25% less sugar, fat, saturated fat or sodium than comparable fare, and/or contain ingredients that are nutritionally beneficial."

We've heard raves about the new egg white flatbread sandwiches, so we thought we'd taste test these items and others from the DDSMART menu.

So what did we think?

We loved the flatbread sandwiches. Some other menu items didn't go over so well. I picked up an assortment before work, and--like many of you--made impulsive choices and paid for calorically.

Egg White Turkey Sausage Flatbread Sandwich
Egg whites, turkey sausage, spinach, reduced-fat mozzarella on multigrain bread
280 calories
6 g fat
2.5 g saturated fat
820 mg sodium
37 g carbs
3 g fiber
19 g protein
"This is good. I've eaten it before, and I'd eat it again. Yum."

"This tastes very healthy to me. I liked it. I can taste the spinach and the cheese. The egg whites are flavorful and moist. The bread is good, like toast but crunchier."

"I don't feel greasy and gross after eating this. I sometimes like to get Egg McMuffins, but they're so heavy--and then I smell like a McMuffin. This is a nice, lighter alternative."


Reduced fat blueberry muffin
400 calories
5 g fat
2 g saturated fat
490 mg sodium
78 g carbs
3 g fiber
8 g protein

"Tasted like a blueberry muffin to me but a little sweeter. I could probably only eat half of it because it was sweet, but still very good."

"Blueberry muffins are my favorite kind, but I felt that the sugar overpowered the blueberry. Still, as far as muffins go, this one isn't bad."

"This was really good, but 400 calories for a muffin? I would not eat this again. I knew it couldn't be all that healthy. It has a sugar crust."



Egg White Veggie Flatbread Sandwich
Egg whites with peppers, onions, mushrooms and reduced-fat cheddar cheese.
290 calories
9 g fat
4 g saturated fat
680 mg sodium
39 g carbs
3 g fiber
11 g protein
"It was good for a lower fat option. It tasted like a southwestern omelet but a little drier. I did like that if I was eating this on the run, it had no messy sauce and didn't fall apart on me, the flatbread held it together. I would eat this on the go for breakfast."

"This was pretty good. The bread isn't as moist as I'd like, but the eggs are delicious and the cheese is abundant. I taste all the vegetables, but the pepper is particularly pungent. I would eat this again."

"I liked this one. It was tasty and filling, but it wasn't heavy or greasy. I'm not a fan of doughnuts, so it's nice to have a savory option at Dunkin' Donuts."



Coffee Coolatta with Skim Milk (16 oz) Water, Skim Milk, and Coffee Coolatta Concentrate
170 calories
80 mg sodium
0 fat
41 g carbs
0 g fiber
40 g sugar
4 g protein
"Mmm, hazelnut. I like it. The only think I don't like is the brain freeze I got from drinking it too fast. Ha!"

"This is weird. I can't taste coffee. (I checked on it, and the Coolatta contains no coffee, just coffee extract. All I taste is sugar and hazelnut. I wouldn't waste 170 calories on this. I'd get a regular coffee. It has no calories!"

"This has 40 grams of sugar! I heard that and stopped after one sip. I'm pretty sure that's 3 tablespoons of sugar."



Reduced Calorie Berry Smoothie (16 oz. – small)
Yogurt, Reduced Sugar Berry Smoothie Base
(Medium has a whopping 370 calories and 3 g fat; the large has 490 calories and 4 g fat!)
250 calories
2 g fat
1 g saturated fat
160 mg sodium
49 g carbs
1 g carbs
41 g sugar
6 g protein
"Yuck, it tasted like artificial raspberry and left a bad aftertaste in my mouth. A little watery for a smoothie."

"This tasted a little fake to me. I think it's too creamy. I prefer just fruit and ice in my smoothie."

Multigrain bagel with reduced fat cream cheese
This seemingly light and healthy item is the highest calorie choice on the "DDSMART" menu.
500 calories (380 for the bagel)
15 g
7 g saturated fat
980 mg sodium
5 g fiber
75 g carbs
18 g protein

"This was a good choice, and I like that there is some fiber and more protein than the veggie flatbread sandwich. It's smaller than the usual takeout bagel, but it's still a good size."

"I didn't notice that the cream cheese was reduced fat. It was rich and creamy. I really liked this, but I wouldn't eat it very often."

"I can't believe there are 500 calories in this. I would much rather have the entire egg sandwich than just a bagel and cream cheese."

If you're at Dunkin' Donuts--or any other fast food joint—for breakfast, choose carefully. The egg white flatbreads are good choices, as is regular coffee. We've declared these our new favorite fast food breakfast!

As is turns out, you can have two glazed doughnuts for fewer calories (but more fat) than the muffin or the bagel and cream cheese. That bagel is a good reminder that "healthier," "reduced fat" and "lower in fat" doesn't necessary mean low in calories.

Have you tried the egg white flatbreads? What did you think?



You will earn

5

SparkPoints

Like what you read? Learn more

about SparkPeople,

or

sign up

for your free account today!
Got a story idea? Give us a shout!