We Tried It: Campbell's Select Harvest Light Soups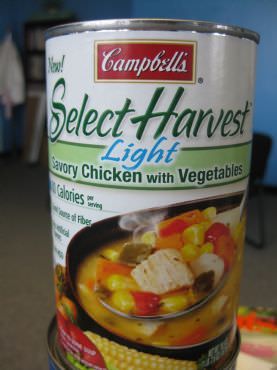 If you've watched TV in the past few weeks, you've likely seen the commercials for Campbell's Select Harvest soups. A pretty red-haired woman wears a blindfold and tastes two soups.

When she tastes the competitor's soups, she says she tastes sodium-something-something-ate and MSG. Campbell's tastes like 100% natural white meat chicken and spinach grown on a south-facing slope. (In another commercial, she tastes carrots from a particular farm and natural, lower-sodium sea salt from northern waters.)

This week we tried some of the Campbell's Select Harvest Light soups. (There's also a Select Harvest line and a Select Harvest Healthy Request line that's 98% fat free with lower sodium natural sea salt. Confusing, eh?)

What Campbell's says:
"Introducing new Campbell's Select Harvest soups, made with delicious ingredients like farm-grown vegetables, wholesome grains and 100% natural white meat chicken — with no artificial flavors or MSG. Savor the goodness."

What we say:
These soups taste good! The nutritional facts are stellar: In the Italian-Style Vegetable, there are just 50 calories a serving, no fat, 13 g carbs, 4 g fiber and 3 g of protein. But there are 480 mg sodium, or 20% of your daily recommended intake. (I ate the entire can for a whopping 100 calories.)

This soup was really filling, which surprised me. It's mostly a tomato-based broth, with plenty of vegetables. I saw chickpeas, kidney beans, mini pasta, green beans, spinach, celery, carrots, onion and tomatoes. While the veggies had the consistency you'd expect in canned soup (soft to the bite), they weren't mushy or slimy. They retained their bright colors—no muddy, undistinguishable vegetables here. It was a little salty but better than other tinned soups I've tried.




The Savory Chicken with Vegetables has comparable stats per 1-cup serving:
80 calories
1 g fat
480 mg sodium
15 g carbs
4 g fiber
5 g protein

We got them on sale for $1.69, "a savings of 90 cents," according to our grocery store.

We like that Campbell's has added a section called "In Case You Didn't Know" to the labels, which explains the ingredients that seem to contradict the claims of "no artificial flavors." Potassium Chloride, Cellulose Gel, Xanthum Gum, Cellulose Gum, Maltodextrin and Citric Acid are all defined, with their role in the soup explained.


Tips: Stick with the Light and Healthy Request versions, of which there are plenty to choose: Light Italian-Style Vegetable, Light Southwestern-Style Vegetable, Light Vegetable and Pasta, Light Vegetable Beef and Barley, Light Maryland-Style Crab, Light Savory Chicken with Vegetables, and Healthy Request Italian-Style Wedding, Mexican-Style Chicken Tortilla, Chicken with Egg Noodles, and Savory Chicken and Long Grain Rice.

Have you tried these soups? Is there a flavor you like? If you're not a fan of the Select Harvest Soups, which soups do you like?




You will earn

5

SparkPoints

Like what you read? Learn more

about SparkPeople,

or

sign up

for your free account today!
Got a story idea? Give us a shout!