We Ate It: VitaTop Muffin Tops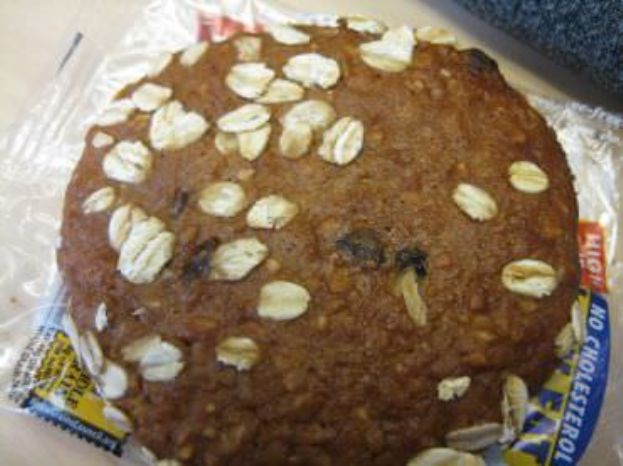 Did you ever see the Seinfeld episode with the muffin tops? They are the best part of the muffin, for sure! The folks at Vitalicious know that, and they've created lighter versions of almost every muffin imaginable.
Unlike the 400-calorie-a-pop giant muffins at your favorite coffee houses, these muffins are all about 100 calories, little to no fat, and contain at least 5 g of fiber.

We tried a sampler pack of the muffins.
What they say:
"VitaTop muffin tops have all of the healthy benefits of our delicious VitaMuffin- - now even more convenient to carry and eat on-the-run. The VitaTop, a "one-hand" satisfying snack food with the portability of a bar, is easy to eat anywhere, anytime. At your desk or on the road, these handy muffin tops fit conveniently into a purse, briefcase, work out bag, backpack and lunchbox."




What we say:
SuperSampler Pack (100 Calorie Brownies & 2-ounce Muffin Tops)
Deep & Velvety VitaBrownies
I had one of the brownies and it was good. It was nice to have a sweet that was lower in calories, high in fiber and tasted good. It was a bit dry but not so much so that I could not enjoy it!

Low Carb/Sugar Free Velvety Chocolate VitaTops
This is a good substitute for traditional chocolate sweets that might help quell the craving and won't wreck your diet.


Low Carb/Sugar Free Banana Nut VitaTops
I thought these were really good! Very moist, and I liked it a lot. These were like banana bread but a little heavier. I'd eat this again.

Double Chocolate Dream VitaTops
I tried the "double chocolate dream" – good chocolate flavor, really rich, would cure any chocolate craving. It was very dry (as you'd expect something like this to be). Overall, it was exactly what I'd expect out of a 100 calorie snack, and it gets two thumbs up.

Deep Chocolate VitaTops
This was definitely chocolatey. I liked it. It was small, but it was just enough to keep me full for the rest of afternoon. I'd probably eat this again.

Fudgy Peanut Butter Chip VitaTops
To die for! My complaints would be: the chips were only on top. However, overall, for less than 100 calories, this is one awesome snack.

Golden Corn VitaTops
I dunked this in some chili, and it was pretty good. I don't know if I'd eat it on its own, but it was a nice, low-calorie cornbread substitute!

CranBran VitaTops
This was a pretty good muffin. For a 100-calorie snack, it's a hit!

AppleBerryBran VitaTops
It was "berry" good. This has lots of fiber, which is a good thing. It was slightly dry, but that's OK because it's much healthier than the average muffin. I like that the muffins are made with some organic ingredients.

MultiBran VitaTops
I love bran muffins, but this was not what I expected. The texture was slightly more dense than a typical muffin. I thought it was very filling, which is good because it only had 100 calories! I wanted to slather this with jam or peanut butter. I think most people would like this. It's a great way to get more fiber.

BlueBran VitaTops
Although I can clearly see blueberries throughout this, I couldn't taste any blueberry flavor. The texture isn't bad--about what you'd expect a whole wheat muffin to be like. It's surprisingly filling for its small size and low calorie content. It isn't exactly good, but it isn't bad either. It's just "there." It has sort of a strange taste that I can't place. If I were to be blindfolded and then given this to eat, I would not know what I was eating. But the nutrition and ingredients aren't that bad, so I suppose that if you need a more tasty way to force yourself to eat more fiber and whole grains, you might enjoy this. I would not eat it again.




$35.99 for the sampler pack (2 of each muffin top, plus four brownies);
Sampler packs available online and individual muffins and samplers available in stores




You will earn

5

SparkPoints

Like what you read? Learn more

about SparkPeople,

or

sign up

for your free account today!
Got a story idea? Give us a shout!