We Ate It: Pizza Hut's 'The Natural' Pizza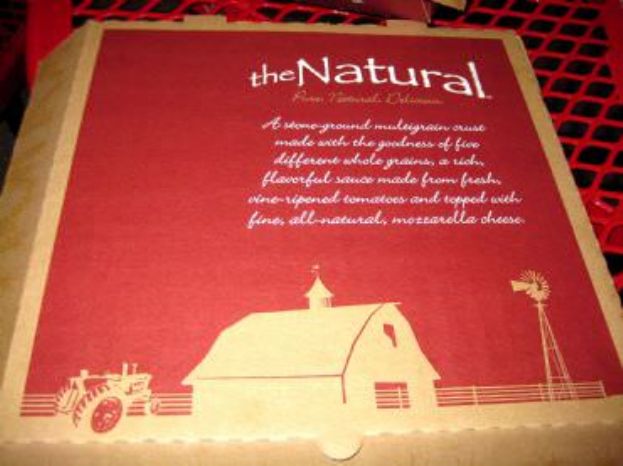 Have you seen the commercials for "The Natural" pizza from Pizza Hut? We did, and we couldn't wait to give it a try. Would there be a difference? Would this pizza be any lighter in calories or lower in fat? Would it be healthier in any way?

One Friday afternoon, we ordered four pizzas: a Natural and a regular half-pepperoni and half-sausage and a Natural and a regular cheese pizza.



What they say:

All-natural stone-ground multigrain crust

All-natural sauce from vine-ripened tomatoes*

All-natural mozzarella cheese

All-natural pepperoni and Italian sausage*

Can you tell which ones are the Naturals and which are the regulars? (Scroll to the end to find out!)

What we say:
Before we tried "The Natural", we had some questions: What does "natural" mean? If this pizza is "natural," are other pizzas unnatural?

According to the USDA, the word "natural" on meat and poultry products means: "A product containing no artificial ingredient or added color and is only minimally processed (a process which does not fundamentally alter the raw product) may be labeled natural. The label must explain the use of the term natural (such as - no added colorings or artificial ingredients; minimally processed.)"

In Pizza Hut's case, that means no nitrates (a type of preservative) in the meats, real mozzarella cheese on the Natural (apparently there are fillers or some processed cheese in the regular version), and no high-fructose corn syrup in the sauce.

The Natural is touted as being "all-natural," but the Pizza Hut homepage boasts that all of its meats are "natural" and free of nitrates. They also say all of the sauce is free of HFCS and made from tomatoes that are "vine-ripened." So what makes the Natural so special?

I called the Pizza Hut press line and got to the root of the confusion: All of Pizza Hut's pizzas use the same sauce, pepperoni and sausage. However, the Naturals use a crust that contains unenriched, unbleached wheat flour, and smaller amounts of whole wheat flour, barley, rye, oats and millet. The crust has 8 grams of whole grains and 2 grams of fiber, the same amount as a small slice of whole-wheat bread (the regular crust has just 1 gram of fiber). It also uses a different cheese than the other pizzas.

This pizza is not organic. Many people have been interpreting "natural" as organic." That just goes to show you how powerful marketing can be!

Enough with the nutrition already! Let's eat.

Here's what we thought:



Crust: The crust was better on the Natural pizzas. It wasn't as sweet and had a faintly nutty taste. It didn't distract from the pizza. The regular crust was saltier (thumbs-down) and was a little too chewy. (Photo is of multigrain crust; you can see a few specks of wheat/grains scattered throughout.)



Cheese: The Natural cheese was stringier, and it was greasier. We liked it better. It had more of a taste than the regular cheese.


Everything else was exactly the same. In fact, we all decided that we wouldn't have noticed the Natural pizza was different--and that's a good thing! We would buy the Natural pizza over the regular. The prices were almost the same, and we liked the crust enough to pay $2 extra.



The Natural box boasts that it is made with 75% recycled materials. No such claim is on the regular pizza box. Why aren't all the boxes made from the same material?


Aside from fiber, there was almost no difference in nutrition. If you want to save a few grams of fat and 80-100 calories a slice, go with the Pizza Hut Fit 'n Delicious line. (That line boasts more vegetables and lower-calorie meats like chicken and ham.)



The Naturals pizzas come in two versions: sausage and pepperoni. We asked for a plain cheese pizza, and you can also ask for any vegetables you'd like. (We'd like to see some new vegetable pizzas added to the Naturals line.)

*Same ingredients as regular pizzas at Pizza Hut.

Nutrition comparison:




Prices:
medium Natural Pepperoni, $9.99
medium Natural Rustica, $11.99
medium one-topping pizza, $9.99

Essentially, the Natural is a regular pizza with a multigrain crust. Have you tried them? Will you?

(The Naturals were on the right!)



You will earn

5

SparkPoints

Like what you read? Learn more

about SparkPeople,

or

sign up

for your free account today!
Got a story idea? Give us a shout!