We Ate It: NEW Flavors from Food Should Taste Good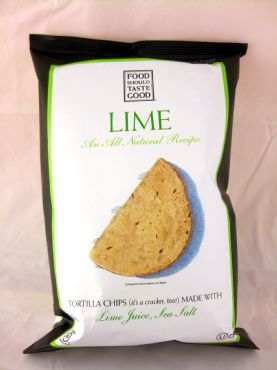 Earlier this year, we were introduced to Food Should Taste Good chips.

Back then, they had seven flavors: Multigrain, Olive, The Works, Buffalo, Sweet Potato, Jalapeno and Chocolate. Now, they've added four new flavors: Yellow Corn, Potato and Chive, Lime and Cinnamon.

Like with the other varieties, the flavor is in--not just on--the chip, so they're great on their own or with a healthy dip.

Food Should Taste Good happily shared samples at the Spark Your Life Convention in San Diego on May 2, and they sent some to the office for us to try, too.
We still love these chips!

What they say:
"With a brand name that says it all, FoodShouldTasteGood chips are made from the highest quality, all-natural ingredients baked into the chips. All chip varieties are gluten free, cholesterol free, have no trans fats and do not use genetically modified ingredients (GMOs). They are also certified Kosher, lower in sodium and are a good source of dietary fiber. The chips combine the crunchiness of a chip, the crispiness of a cracker, and the dippability of a tortilla chip."

What we say:
OK, they're chips, not broccoli, brown rice or even grilled chicken. We know that. Chips are a "sometimes" food not an "always" one. But when your chip craving hits, these are a great choice. They're tasty, the flavor is built in, and they're made from high-quality ingredients.

Here's what we thought about each flavor:



Yellow Corn:
These remind me of the tortilla chips you get at authentic Mexican restaurants. They're thick, they're flavorful, and they actually taste like corn, instead of salt and grease. They'll stand up to the thickest guacamole, and they won't go soggy in salsa.

I like the yellow corn chips. They taste better--more "corn-y"--than the regular tortilla chips. They don't break as easily, and they donít feel greasy.

Where can I buy these? I really liked these. Yes, I know it's a chip, but if I want tortilla chips, these are the ones I'll buy.



Potato and Chive:
The Potato and Chive flavor tastes like a cross between a potato, a cracker and a tortilla chip. The chives are strong but not too strong, and the corn and potato flavors balance well. They're crunchier than regular potato chips--more like a kettle chip but minus the excessive grease.

I like these chips. They're crunchy, well-flavored and tasty. Please, give me more.



Lime:
I sometimes buy another brand of lime chips. The other brand is saltier and tangier. These taste like real lime, and they're not as salty. That's probably better for my health, but I think I like the flavor of the others better.

These are really lime-y. I think they would be great with guacamole. I think they're rather tasty.



Cinnamon:
We saved the best review for last. We LOVED these. Do you remember those crispy fried cinnamon crisps from Taco Bell? These taste like those, only they're not as greasy, have 30 fewer calories, more protein and fiber and less sugar. (Surprisingly, they have the same amount of fat.)

I made the suggestion of eating these with about a teaspoon of almond butter for a 200-calorie snack. It was the perfect snack to tide me over through a Spinning class after work. Other people also tried them with almond butter and loved them.

I can't wait to try these with a butternut squash or other sweet soup. They're really good on their own. So often, cinnamon is overpowered by sugar. Here, there is a hint of sweetness, but the cinnamon is allowed to shine.



Nutrition info:
140 calories, 6-7 g fat, 3 g fiber for 10-14 chips depending on the flavor

$2.99 - $3.29 for 12-ounce bag (find a $1 off coupon on the website)

Available online and in stores. (They are now available at many national retailers! The new flavors are available at all Whole Foods stores and at select other retailers.)

Have you tried these chips? Would you?



You will earn

5

SparkPoints

Like what you read? Learn more

about SparkPeople,

or

sign up

for your free account today!
Got a story idea? Give us a shout!