We Ate It: Naturally Nutty Flavored Nut Butters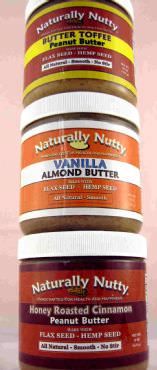 I'll just come right out and say it. We're nutty!

Peanut butter, almond butter, it doesn't matter… we love nut butters here. Nuts are full of fiber, heart-healthy fats and protein, and they're a quick, portable snack.

We recently reviewed some new nut butters that contain flax seed and a few other tasty ingredients. Right around the same time, we learned about another nut butter company that's fortifying nut butters.

This one is called Naturally Nutty, and it was started by--get this!--a SparkPeople member. Katie Kearney used the site to lose her baby weight, and in a way, SparkPeople helped motivate her to start her business!

She said:
"I started with SparkPeople just after my last child was born, six years ago. I knew that she was to be my last (I have three perfect children) and wanted to get back into the pre-child size! Scanning the internet for recipes and motivation, I came across SparkPeople. I loved the idea of being able to plug in what I ate in a meal, find out the calories that I had consumed and what I had left to take in that day.

Exercise has always been a huge part of our lives, but I needed a diet makeover! After each meal, I would log on to my computer and plug everything in. After a very short while I noticed that I was more conscious of what I put in my mouth, adding more fruits and vegetables and less of the filler foods.

I also found that training for a marathon, I needed more protein in my diet….which can prove to be difficult for a vegan. I also had that kids who, by this time, wanted to eat peanut butter but bucked the organic kind that I bought. Did I mention that I decided to make it even more difficult by purchasing only organic food for my family?

After thinking about this for a day or two, I realized that I could come up with a solution to my problems: create my own nut butters. I decided to use organic peanuts, add some organic/natural flavors along with the hemp seed and flax seed for those Omegas (the full spectrum of 3,6 and 9). I tested all different flavors on all of my children, my husband and my whole neighborhood! The rest is history."

About her company:
Made by a Mom for her kids, this is amazing natural nut butter in a variety of flavors, all made with organic flax and organic hemp seed. Containing wholesome and organic ingredients, each jar has been handcrafted with the following benefits:


Organic Flax Seed (Omega-3, Omega-6)

Organic Hemp Seed (Omega-3, Omega-6 and Omega-9)

American Grown Peanuts and Almonds

No Stir Formula - Minimal Oil Separation! (Peanut Butters)

12 Unique Flavors!


What we said:
Naturally Nutty's niche is flavored nut butters. Katie sent us three to try: Vanilla Almond Butter, Butter Toffee Peanut Butter, and Honey Roasted Cinnamon Peanut Butter.

They're all fortified with flax and hemp seed.

I put these three jars of nut butter in the fridge, and they were gone in a week!

We liked the flavored peanut butters on toast on their own, and with jelly. We dipped carrots into the vanilla almond butter and even topped oatmeal with it.

We imagined making baked goods with these or drizzling some atop ice cream. In sandwiches, on a spoon or atop a toaster waffle, this nut butter was quickly gobbled up by the office.
While many of us said we prefer plain ol' PB or AB for our PBJs, this is a nice change. It would make a great gift for a friend who likes nut butters.





Prices: $4.75-$9.99 depending on the flavor and size

Where to buy? At the Naturally Nutty online store

Have you tried a flavored nut butter? Would you?




You will earn

5

SparkPoints

Like what you read? Learn more

about SparkPeople,

or

sign up

for your free account today!
Got a story idea? Give us a shout!