We Ate It: Muffin and Pancake Mix from Fiber One and Bisquick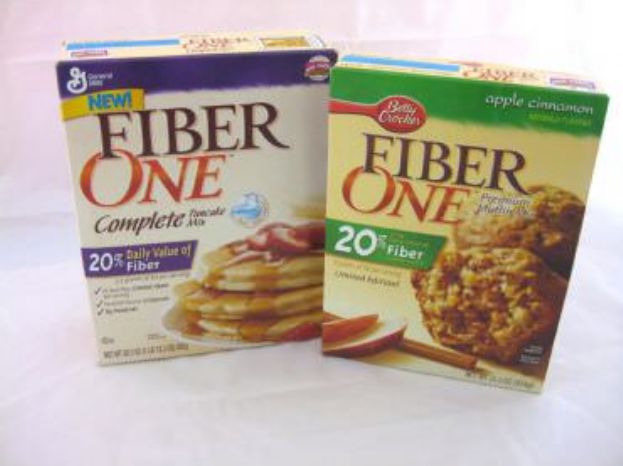 Recently, we received some new baking products to try: Fiber One Pancake Mix, Fiber One Muffin Mix, and Bisquick Healthy Heart mix.
We thought we'd give them a shot.

The Fiber One mixes each have 20% of your daily fiber recommendations, while the Bisquick has half the fat as the original.

Find out what we thought.

Fiber One Pancake and Waffle Mix ($3.49)
We made the Fiber One waffles last weekend. We all liked them a lot. They cooked up very crisp and nice in our waffle maker. We topped them with some strawberries, which went really well with the waffles. They had a rich taste. We used milk instead of water, so that may have helped. I felt very full after eating one and was full the whole morning.

(A photo of one of our "testers" enjoying his Fiber One waffle!)



1/2 c mix (makes 3 pancakes or 1 waffle)
180 calories
3.5 g fat
25 mg cholesterol
440 mg sodium
36 g carbs
5 g fiber
4 g sugar
6 g protein

Fiber One Muffin Mix ($3.29)
These were pretty good. They are a little heavier than the muffins I usually make, but I like that they contain 20% of my daily fiber intake for each one. They had a nice apple cinnamon taste, but next time I'd probably add some real apple and cinnamon to bump up the flavor. I would definitely try these again.

130 calories (1/2 cup mix makes one muffin)*
2.5 g fat
210 mg sodium
29 g carbs
5 g fiber
15 g sugar (the No. 1 ingredient is sugar!)
2 g protein
*Each finished muffin has 190 calories and 9 grams of fat.



Bisquick Healthy Heart ($3.49)
What they say:
A healthy alternative for your favorites, Bisquick Heart Smart Pancake and Baking Mix is an excellent source of calcium and is naturally low in cholesterol. It's low fat with 0% Trans Fat, earning the seal of the American Heart Association.

What we say:
I buy this at home all the time. When I make protein pancakes for my girls, this is what I use. They don't notice the difference and neither do I. It makes really good, fluffy pancakes, just the way we like them!

1/3 cup (makes 3 pancakes)
140 calories
2.5 g fat
0 mg cholesterol
430 mg sodium
27 g carbs
1 g fiber
3 g sugar
3 g protein

Original Bisquick: 20 more calories, twice as much fat (5 g), 90 mg more sodium, the same amount of fiber, 2 fewer grams of sugar, and the same amount of protein

Have you tried any of these products? Will you?








You will earn

5

SparkPoints

Like what you read? Learn more

about SparkPeople,

or

sign up

for your free account today!
Got a story idea? Give us a shout!