We Ate It: Custom-Made Energy Bars from YouBar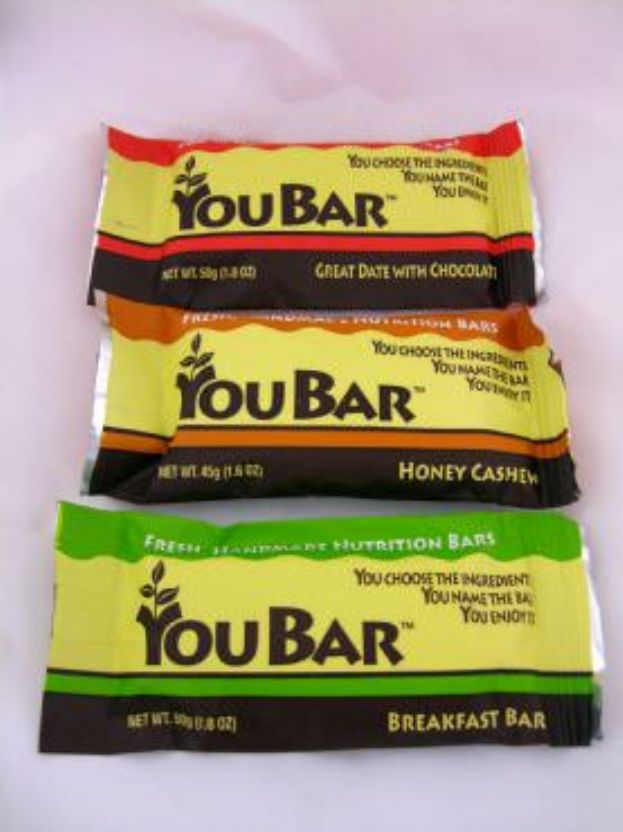 I am a BIG fan of bars. Energy bars, breakfast bars, granola bars--you name it, I like it! They're portable and great for eating before or after the gym, during a long afternoon meeting or on a road trip.

Recently I learned about YouBars, which are customized bars. I contacted the company and asked if we could sample some products. They let me design a bar for us to try (and you can, too!) and then sent along some of their more popular bars.
UPDATED: YouBar's co-owner just contacted me. He is offering dailySpark readers a 10% discount!

He wrote: "Thank you so much for the wonderful article about our company. We
have received quite a response from your readers.

I was reading over the comments on the article and I noticed that
people thought the bars were a little out of their price range. I
would like to extend a 10% discount to your readers. All they have to
do is type in "dailyspark" in the coupon code section of the shopping
cart page and they will receive the discount on the entire order."



What they say:
"After years of being enthusiastic consumers of commercially available nutrition bars, L.A. mom Ava and her USC business student son Anthony got fed up with buying mass-produced bars that reflected generic tastes.

"Ava wanted bars that weren't too sweet with loads of protein to fuel her days teaching snowboarding and bellydancing. Anthony, a marathon-running athlete, needed high carbs and no milk products (he's allergic). The nutrition bar craze went wild at the beginning of the new millennium, but the number of commercial bars Anthony and Ava (that's us!) could eat actually decreased....So we took the bar by the horns and began making our own nutrition bars at home. It was as though we'd died and gone to heaven, except for the dishes we had to clean! We finally had nutrition bars with the exact ingredients that we wanted free from preservatives and corn syrup, freshly made and as delicious as Mom Ava's fluffy wholegrain pancakes. And they never got boring either: smooth, crunchy, chewy, sweet and savoury to suit any mood!

"We began making customized nutrition bars for the rest of our family and friends' the response was great. (Dad didn't even mind the messy kitchen!) We learned we weren't the only ones fed up with eating mass produced bars. Almost everyone we knew lit up at the possibility of creating bars tailored to their own tastes and dietary dreams. And so You Bar was born.

"We've been making our own nutrition bars for over two years and now you can too. Try creating your own nutrition bar it's fun, easy, fresh and most importantly tastes like you want it to with the nutritional content that you choose. You are what you eat (as Nana used to say), so choose!"


What we say:
Our bars had the YouBar recommended base of almonds and dates, rice protein, almonds, walnuts, organic flaxseeds, dried blueberries, cocoa powder and agave nectar. My blend will be different from anyone else's!

You can include tons of ingredients: Start with a base, add nuts/seeds, protein powders, dried fruit/berries, grains/cereals, and seasonings like ginger, cinnamon, and coffee powder. You can even add infusions such as bee pollen, fiber or stevia. I had so much fun trying to pick out a

These bars are good. I really like them! I'm allergic to peanuts, so I like that the base is almonds. They remind me of LaraBars, which I LOVE. I love that I can make custom blends. I think these would be a cool birthday gift for a friend--or a neat favor for wedding guests.

They're higher in calories than a granola bar; I liken them to an after- or pre-workout protein bar. I think they taste delicious, like they are full of REAL, healthy ingredients.

It was actually really good. I was a little hesitant because sometimes I hate energy bars. But the consistency was good, not flaky and it filled me up. I like the fruit mixed in, it provided a moist refreshing taste. It was extremely filling, I ate the bar around 5:30 and was full until about 9. Good for energy and to keep your workouts going.

It tasted great, actually. My only complaint is it is a little small... and so sweet that it makes me want to eat more food now that I'm done! Maybe better for a snack than for breakfast. Now I know! In any case, I haven't had that style of bar before, but I like it.

These bars are a little pricey, but I think they are a neat product--and a delicious one. I would definitely eat these again, and I would recommend these to anyone with a food sensitivity and allergy.

Nutrition:
Nutrition will vary based on what you use in your bar. We had a lot of nuts and seeds, so our calories and fat are higher than the average granola or cereal bar.


Price: $38.87 (for 13 bars) plus $7.99 shipping
Where to buy? www.youbars.com



You will earn

5

SparkPoints

Like what you read? Learn more

about SparkPeople,

or

sign up

for your free account today!
Got a story idea? Give us a shout!