We Ate It: Bear Naked Granolas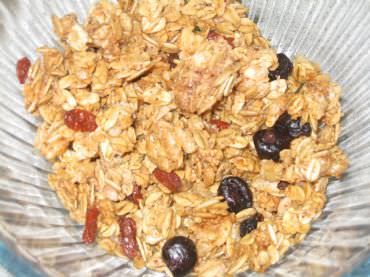 We love granola around here. Coach Nicole and I even make our own--and we've got a friendly rivalry going to see whose is best. (It's a tie for now!)

With extensive experience making and eating granola, we've become granola snobs (er, connoisseurs). We recently tried a few of the Bear Naked granolas to see if they lived up to our standards.
They did! We'll be stocking up on more flavors the next time we go grocery shopping.

We love these granolas. According to the company, the company name "reflects our passion and dedication to using ingredients that are all-natural and "bearly" processed." We can pronounce every ingredient used in the granola, and we learned about new fruits and grains, too.

Appalachian Trail Mix:


"Of course, this was naturally delicious. I actually feel healthier having eaten it, haha. It was the perfect blend of nuts, seeds, dried fruit and granola, with a great texture and flavor overall."

"I had to eat twice the recommended 1/4-cup serving size to feel like I really ate something and feel a little more full. But it's a great snack in general and I'd eat this again."


Heavenly Chocolate:


"This tastes like a crunchy no-bake cookie. For someone who has a peanut allergy, this granola satisfies the craving for the verboten treat. I'd like it with a big glass of milk."

"If this was the last chocolate I'd ever eat in my life, I'd die happy. Heavenly Chocolate is aptly named."





Bear Naked has added a new Native line. We tried them:

Yumberry Goji Currant granola:
Bear Naked says:
A surprising blend of everything from dried Goji berries and sweetened currants to brown rice syrup and Yumberry juice. It's easy to bring a touch of Asia home with these fruits native to the region. (A Yumberry is a fruit native to Asia. Read more about it here.


We say:
"This was delicious! It had a great texture and a surprising amount of dried fruits. The dried fruits were flavorful, but very chewy, which is how I like dried fruit. It tasted great both plain and with fruit/milk. I would definitely eat this again! It was filling, tasty, and healthy."

(No one else got to taste this bag. This tester ate the whole bag over a few days. She loved it that much!)




Mango Agave Almond granola:
Bear Naked says:
Go South of the Border with Mexico's own agave nectar and mangos. When mixed with ground flax seed, this granola provides protection against heart disease.



We say:
"I love the cinnamon-spiced granola. It's crispy, crunchy and delicious. The mango bits are super chewy—they're sweet and natural-tasting. The agave almonds have a smoky, salty sweetness. They're really intense and delicious. I love the whole almonds and large, dense bits of mango."

"Confession: The almonds were so delicious that I picked them all out and ate them. They were THAT good! (Bear Naked, if you're listening, package those almonds separately!) The rest of my co-workers were stuck with (delicious) almond-less granola."

"I ate the granola but didn't get any almonds (ahem). The granola was delicious, full of cinnamon and subtle sweetness. I wish I could have tried some of those irresistible almonds…"

Prices:
Bear Naked Granola (12 oz. Bag) - Original, Fit, and Protein lines $4.99
Bear Naked Granola (12 oz. Bag) - Native line $4.89
Bear Naked Trail Mix (5 oz. Bag) - $2.99
Have you tried Bear Naked granola? Which flavor do you like best?
Photos: taken by me of our Bear Naked granola






You will earn

5

SparkPoints

Like what you read? Learn more

about SparkPeople,

or

sign up

for your free account today!
Got a story idea? Give us a shout!