We Ate It: Amy's Multi-Grain Hot Cereal Bowl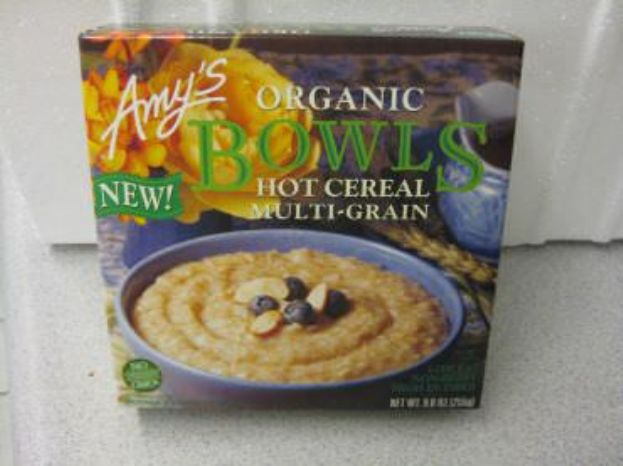 When I was a kid, my mom cooked hot cereal most winter mornings--the good kind, not the flavored stuff that came in packets. Rich, warm and filling, the cream of wheat, oatmeal and other "healthy" cereals tided me over until lunchtime.

These days, who has time to cook whole-grain cereal in the morning? Sometimes I soak barley overnight and eat it with yogurt and berries, but that's about as much effort as I can expend during the week.

Amy's makes it easy to get a filling, high-fiber breakfast.

The multi-grain cereal ($2.29 - $2.49) contains plenty of organic whole grains and seeds: cracked wheat, barley, corn, millet, steel-cut oats, rye, brown rice and flax seeds. There's even a grain that's new to me: triticale, which I've recently discovered is a rye-wheat hybrid that has less gluten and more protein than traditional wheat. (I've been eating quinoa and amaranth since before they were hip and trendy. I LOVE grains, so to find one I've never tried is exciting!) It's lightly sweetened with agave nectar and has the texture of Cream of Wheat.

When I shot a photo of the cereal, I was surprised that the variety of grains and seeds were still visible. Those brown flecks are flax seeds!


The cereal is creamy and smooth, but the grains still have a bit of a bite. It's sweet but not overwhelmingly so. The cereal was warm, filling and delicious. I ate this with a handful of blueberries (I added those after I took the photo), and I was full until lunch.

I'm forever nagging my boyfriend to eat breakfast. (Coffee, I tell him, doesn't count.) I think that a bowl like this, which he could microwave and eat at his desk, would appeal to him. I'll definitely pick up one of these again.

Nutrition info:
190 calories
1.5 g fat
300 mg sodium
40 g carbs
5 g fiber
12 g sugars
4 g protein

You'll like this cereal so much, I promise you'll swear off those packets of flavored oatmeal. Find a store that carries it, along with Steel Cut Oats, Oatmeal and Cream of Rice hot cereals!

In the mean time, Amy's has inspired me to hunt down triticale in the bulk bins section and experiment with it. Anyone ever try it? What do you do with it?





You will earn

5

SparkPoints

Like what you read? Learn more

about SparkPeople,

or

sign up

for your free account today!
Got a story idea? Give us a shout!