Vegetables and Veggie Snacks You値l Love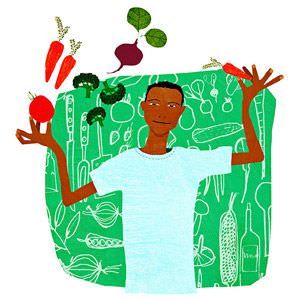 By Regina Ragone, R.D., Family Circle Magazine Food Director

Are you and the kids not getting your daily servings of veggies? We found super-healthy produce snacks and unusual new vegetables that'll have the whole family asking for seconds.

I probably don't need to tell you how important it is to eat your vegetables: low in calories, loaded with vitamins and fiber, they're the diet equivalent of a slam dunk. People who consume lots of fruits and veggies reduce their risk for chronic diseases, such as stroke, type 2 diabetes, heart disease, hypertension, and even some types of cancer. They also tend to be slimmer. So why, then, do only 8 percent of kids meet their RDA for vegetables and only 26 percent of the nation's adults dine on veggies three or more times a day? Taste, availability, and just lack of making it a habit. Start with the following strategies.




Eat Colorful Veggies
The 2010 Dietary Guidelines for Americans recommend you consume a variety of beans, peas, and dark green, red, and orange vegetables. Ideas:


Stash a few bags of 365 Everyday Value Organic Leafy Greens Blend in your freezer to saute with garlic and onions for a side to serve with chicken, fish, or beef.

Stock your fridge with some of Melissa's Peeled Baby Red Beets. These are not your mom's tasteless canned beets -- they're steamed and vacuum-sealed right after picking to preserve their fresh, naturally sweet flavor. Slice them onto greens with crumbled cheese and toasted walnuts for a delicious salad.

Toss a pack of Melissa's Six Bean Medley with vinaigrette.



Introduce Kids to Veggie Snacks
I'm a big believer in getting kids to enjoy vegetables in their natural state, but I'm also a realist. There are many snack options that will make munching vegetables between meals much more fun. Two staff favorites that'll stave off cravings for pretzels and chips are Crunchies Roasted Veggies and Rhythm Kale Chips (both available at Whole Foods). A fruit and veggie juice such as Apple & Eve's Apple Harvest (with butternut squash, beets, and carrots) is another way to win over the vegetable-averse.

Get the rest of Regina's great tips at FamilyCircle.com!

Are your children good veggie eaters? What are your best tips and tricks?

Provided photos



You will earn

5

SparkPoints

Like what you read? Learn more

about SparkPeople,

or

sign up

for your free account today!
Got a story idea? Give us a shout!