The Truth about Breast Cancer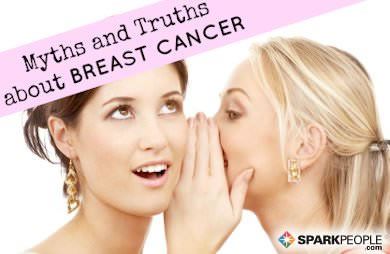 Whether you keep up with the daily news using an app or by watching TV, chances are you pay close attention to whatever pops up about breast cancer. And if you sometimes find yourself confused by what you read or hear, you're not alone. "Reports on breast cancer studies often lack balance or context, which may make it hard for a woman to know what it all means for her," says Lisa Schwartz, M.D., codirector of the Center for Medicine and the Media at The Dartmouth Institute for Health Policy and Clinical Practice in Hanover, New Hampshire. To help make sense of the latest headlines, we asked the pros to rate them for accuracy and to set the record straight. Their clear explanations and advice will empower you not just to understand but also to outsmart this perilous disease.

Mammograms Are Not Reducing Cancer Deaths

Not true! "The research showed screening prevents fewer deaths than we had hoped, but it still saves lives," says Laura Esserman, M.D., professor of surgery and radiology and director of the University of California, San Francisco, Carol Franc Buck Breast Care Center.

The fine print: The study found that mammography isn't doing all that great a job at finding the worst cancers—the frequency with which deadly late-stage cancers were found only declined by 8% over the past 30 years. It also found mammography may be doing too good a job at spotting things that might never harm you. In fact, the study's authors estimated that more than 1 million women in the past three decades may have undergone biopsies, surgery, radiation and/or chemotherapy for problems that would never have actually caused illness.

Your takeaway: Mammograms are still worthwhile, since they detect some dangerous cancers. And experts generally agree that annual screening makes sense for women with certain risk factors—those who have a personal or family history of breast cancer, or those between age 40 and 49 who have been told they have extremely dense breast tissue. But women who are less vulnerable will want to talk to their doctor about sticking to the U.S. Preventive Services Task Force guidelines, which recommend mammograms every other year, starting at age 50. This scaled-back mammo schedule reduces your chances of undergoing unnecessary biopsies and more by almost 20% without increasing your chances of ending up with advanced breast cancer, according to a large new study. The truth is, some cancers don't spread or they grow so slowly that they're actually harmless. "Today, if a screening reveals lower-risk lesions like calcifications that, at their very worst, could be a condition called ductal carcinoma in situ (DCIS), there's enough evidence for me to recommend waiting and watching," says Dr. Esserman. "In my experience most of these turn out to be nothing, and it's very rare for changes to occur that require a biopsy or surgery later on."

Lumpectomy Beats Mastectomy for Survival

True. Women with early-stage breast cancer who had a small portion of their breast removed did just as well—and in some cases, better—than those who had their entire breast removed, according to a study from the Duke Cancer Institute in Durham, North Carolina.

The fine print: The researchers tracked over 100,000 women with early-stage breast cancer for 14 years and compared the outcomes of those who had a lumpectomy and radiation with those who had a mastectomy alone. Among women age 50 and over, those who had the breast-conserving surgery were up to 13% less likely to die from the disease during the follow-up. For women who were under age 50, survival was the same whichever treatment they chose.

Your takeaway: "Don't assume you'll do better if you have more extensive surgery," says Usama Mahmood, M.D., assistant professor of radiation oncology at the University of Texas MD Anderson Cancer Center in Houston. He says mastectomy rates have been rising, especially in young women, possibly because of fears that a lumpectomy won't get all the cancer out. "But this study, which confirms the results of other research, should reassure women who want to choose breast-conserving treatment that it's very safe and effective," says Dr. Mahmood.
Thousands of Women Die from Breast Cancer Caused by Drinking

Not exactly. A recent National Cancer Institute study did find new evidence linking alcohol to breast cancer. However, the amount consumed makes a difference. "This headline exaggerates the alarm and causes harm by making all women who drink think they are to blame if they get the disease," says Dr. Schwartz.

The fine print: Analyzing U.S. mortality data and nationwide surveys of alcohol use, the researchers estimated about 15% of breast cancer deaths are tied to liquor. "We didn't find any level of drinking to be completely safe, but the greatest risks were in those who had the most—three drinks a day or more," notes lead study author David E. Nelson, M.D., director of the Cancer Prevention Fellowship Program at the National Cancer Institute. He says the exact mechanism for how alcohol might play a role in cancer isn't fully understood, although one theory is that acetaldehyde, a chemical by-product of your body breaking it down, may cause cells to mutate.

Your takeaway: If you drink, keep it light—to one serving a day or less. If you're diagnosed with the disease, you may wonder if it's dicey to have alcohol once in a while. The answer appears to be no: A new study found that women who continued to have three to six drinks a week after being diagnosed were no more likely to die of breast cancer or cardiovascular disease than those who didn't partake at all.

Click here for more information on breast cancer from Family Circle.


More from Family Circle:
What is your experience with cancer?




You will earn

5

SparkPoints

Like what you read? Learn more

about SparkPeople,

or

sign up

for your free account today!
Got a story idea? Give us a shout!