The Top 10 Recipes Tracked by SparkPeople Members in 2011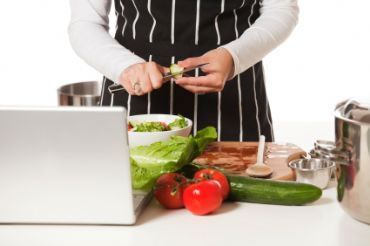 By this time of year, many of us are in a rut when it comes to healthy eating. (I know I am right about now.) Today's list of the most-tracked recipes from SparkRecipes.com is going to help you breathe new life into your meal plans. (Did you know you can always see the most-rated and most popular recipes on SparkRecipes.com?)

These 10 recipes below have been tracked more than 230,000 times total in the last year by people just like you who were looking for something delicious and tasty to add to their meal plans.

The list yielded some surprises (like the #1 recipe is a vegetarian one!) and many recipes that have become classics on the site. Unless noted, the recipes are from SparkPeople.com experts and partners.

Vegetarian Chili
Cut out the fat by leaving out the meat. This thick stew is perfect on top of a baked potato. For a thinner soup, add water.
CALORIES: 141.3 | FAT: 2.9g | PROTEIN: 7.2g | CARBS: 23g | FIBER: 7.6g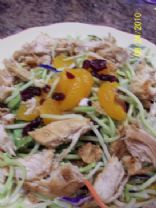 Asian Chicken Salad
This healthy, hearty salad is packed full of fruit AND vegetables.

CALORIES: 126.6 | FAT: 0.9g | PROTEIN: 10.9g | CARBS: 19.8g | FIBER: 4g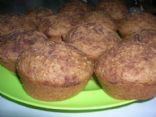 Applesauce Oatmeal Muffins
A yummy way to start the day with very little fat and lots of flavor! (By JOJOMKE)
CALORIES: 93.5 | FAT: 0.5g | PROTEIN: 2.9g | CARBS: 20.5g | FIBER: 1.7g




Salad Greens With Cranberry Vinaigrette
CALORIES: 48 | FAT: 2.7g | PROTEIN: 1.3g | CARBS: 5.7g | FIBER: 1.6 g




Chicken Marsala
Wine, lemons, and mushrooms flavor this chicken recipe the lower salt and lower fat way.
CALORIES: 282.9 | FAT: 5.8g | PROTEIN: 42.8g | CARBS: 10.2g | FIBER: 0.5 g




Broiled Tilapia Parmesan
Delicious and quick! (by RACHIELOO)
CALORIES: 177.2 | FAT: 10.3g | PROTEIN: 18.7g | CARBS: 1.8g | FIBER: 0g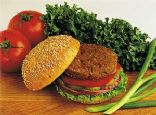 Vegan Lentil Burgers
A tasty burger patty that's high in fiber and folate and easy to prepare. Serve on a whole wheat bun with your favorite toppings. (by DENIBREITENBACH)
CALORIES: 127.6 | FAT: 1.5g | PROTEIN: 5.2g | CARBS: 24.2g | FIBER: 4.8g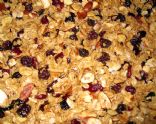 Low-fat Maple Granola
Start your day with this hearty vitamin-rich granola.
CALORIES: 352.4 | FAT: 8.4g | PROTEIN: 11.9g | CARBS: 59.9g | FIBER: 8g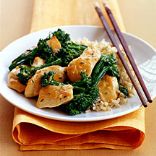 Garlic-Spiked Broccoli and Mushrooms with Rosemary

CALORIES: 56.1 | FAT: 2.7g | PROTEIN: 3.9g | CARBS: 6.6g | FIBER: 3.2g




Portobello Burgers
Serve in place of a steak or with lettuce and tomato on toasted whole-grain buns.

CALORIES: 71.6 | FAT: 5.5g | PROTEIN: 3.2g | CARBS: 4.5g | FIBER: 1.3 g

BONUS: Let's take a peek at the next 10 most-tracked recipes, too!

Want more healthy recipes from Chef Meg, me and fellow SparkPeople members? Be sure to subscribe to SparkPeople's Recipe of the Day email. Click here to sign up!

Did you know SparkRecipes is now on Facebook? Click here to "Like" us!

Find more delicious, healthy recipes "The SparkPeople Cookbook"? Chef Meg cut the fat but kept the flavor!




You will earn

5

SparkPoints

Like what you read? Learn more

about SparkPeople,

or

sign up

for your free account today!
Got a story idea? Give us a shout!