The Spark is Creating Quite a Stir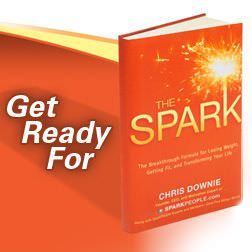 As you already know, "The Spark" is available for preorder. SparkPeople members have been abuzz about that big news for weeks, and now the rest of the world is in on our secret! Check out what healthy living experts are saying about "The Spark."

From Hungry Girl to Dietgirl, doctors to dietitians, "The Spark" already has an impressive list of fans.





There are plenty of other reasons to order your copy ahead of time:

In addition to a FREE, exclusive, sneak peek 10-minute workout from the forthcoming "The Spark: Fit, Firmed & Fired Up DVD," you'll get 1,000 SparkPoints, a special icon to display on your SparkPage and membership in "The Spark" SparkTeam. Plus, you also have the opportunity to win prizes:


By ordering early, you have more chances to win weekly prizes, including iPods, gift certificates to the SparkPeople store, fitness products and more. The giveaways begin October 1 (a week from today) and run through January 1, and winners will be announced on The Spark SparkTeam! And, some winners will be chosen to share their Success Stories and healthy living tips on the dailySpark.


In addition, once the book launches on January 5, you will have access to a FREE, EXCLUSIVE Online Bonus Book Program that includes:


SparkPoints tracker with a chance to win prizes!

New content, recipes and workouts from "The Spark"

Downloadable tools, trackers and 28-Day Program Journal



"The Spark" is for you, whether you're just starting out or you're ready to take your program to a whole new level! Encourage your family and friends to purchase it, too! This might be the most important thing you can ever do to help Spread the Spark.

What you'll find in "The Spark":

"The Spark" is a 28-day program that distills the best of SparkPeople's tips and advice into a simple, fun, easy to follow program–all new and available only in this book!

A special workout program created by Coach Nicole, featuring SparkPeople's 10-minute exercise solution to help you fit in 10 minutes a day!

Delicious SparkDiet meal plans and a mix-and-match meal system that lets you eat more delicious foods that keep you satisfied while losing weight

The Spark's special formula–a breakthrough combination of strategies that will lead to the end of dieting, lasting weight loss and better health

This book is for you, whether you're just starting out or are ready to take your program to a whole new level!



Visit the new site and reserve your copy today! (You can read a sample chapter and see an outline of the book!)

Are you going to preorder a copy of "The Spark: The 28-Day Breakthrough Plan for Losing Weight, Getting Fit, and Transforming Your Life"? I ordered mine last week, and though I've seen a sneak peek, I can't wait to read it! I plan to order more copies for my family, too. Are you excited to read the book?

Oh, and if you order early, you'll receive double SparkPoints for your order–1,000 when you preorder and 1,000 when the book launches!





You will earn

5

SparkPoints

Like what you read? Learn more

about SparkPeople,

or

sign up

for your free account today!
Got a story idea? Give us a shout!