The Best Cleaning Tips for Every Room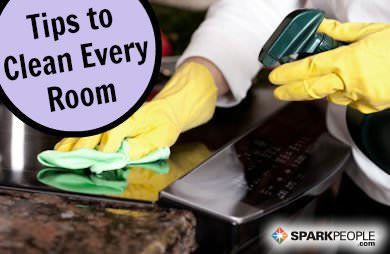 Spray, swipe and sponge your way to a spotless house in no time with these helpful strategies.

SCOUR POWER

Oven:Tackle those charred drips and baked-on blobs.

Racks: Lay them down on newspaper or, even better, place racks inside a large plastic garbage bag and spray with a nontoxic oven cleaner. Let sit, then scrub with a scouring pad, rinse well and dry.

Interior: Zap splatters by running your oven's self-cleaning cycle. If you don't have the feature, Debra Johnson, training manager at Merry Maids, suggests applying a fume-free oven cleaner (like Easy-Off). Give the solution about two hours to do its job, then wipe away the greasy debris with rags or paper towels. Follow with a scouring pad, if needed, and a once-over with a microfiber cloth.

Prevention Plan: Place nonstick oven liners on the bottom of the oven to catch spills. To clean, remove the sheet and rinse -- burned food will lift right off.

HOT STUFF

Range: It's time to think beyond grates and burners.

Exterior: The only way to get rid of sticky cooking residue on the sides of a freestanding range is to first pull the appliance away from the wall. Jan Dougherty, author of The Lost Art of House Cleaning (Outskirts Press), suggests giving it a thorough wipe down with a spray cleaner and scrub sponge.

Top: Eliminate stubborn, encrusted drips with a rubber spatula or a no-scratch scouring pad and hot, soapy water.

Prevention Plan: To stay on top of greasy knobs, drip pans and grates, Dougherty advises putting them all through the scrub cycle of the dishwasher once a week.

COOL TIPS

Refrigerator: Give the fridge a major going over.

Condenser Coils: For safety, always unplug before tackling spots in the rear and under appliances. Some models have condenser coils behind a removable grill on the front. Snap it off and gently vacuum or use a long thin coil brush. Slowly move the fridge away from the wall, vacuum coils in the back, if applicable, then damp mop the floor.

Exterior: Wipe down all sides with a damp cloth and a degreasing agent like Krud Kutter before sliding the appliance back into place.

Top: For the stubborn, sticky film that collects here, Johnson applies hot distilled vinegar in water with a microfiber cloth. Buff dry with a second microfiber.

Prevention Plan: Frequently sweep and vacuum the kitchen floor to minimize crumbs and dust collecting under the fridge.

CHILL FACTOR

Air Conditioners: Eliminate dirt and debris inside and out.

Filter: Before turning on the window unit for the season, pop the front grill off and remove the filter. Clean it with a vacuum brush, says Dave Quandt of American Home Shield, then rinse the filter under a faucet until water runs clear. Air-dry before reinstalling.

Frame: Carefully vacuum inside grills to nab dust. Wash the outside with dish soap, using a sponge paintbrush to swipe vents.

Ducts: Remove the back of the unit and clean with an air conditioner coil cleaner and small brush.

Prevention Plan: Vacuum window unit filters every week or so -- and replace yearly.

Click here for more cleaning tips from Family Circle.

More from Family Circle:

What is your best tip for keeping every room clean?





You will earn

5

SparkPoints

Like what you read? Learn more

about SparkPeople,

or

sign up

for your free account today!
Got a story idea? Give us a shout!