The 7 Best Heart-Healthy Tips for Your Age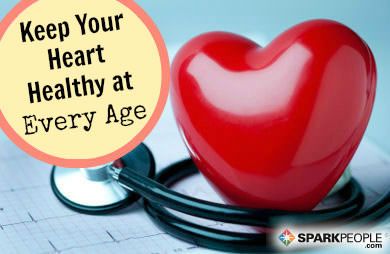 You probably weren't thinking about your ticker in your 20s—really, who does?—so now's the decade to start following some cardiac rules.

Do: Find a workout you love (at least for 30 minutes a day) to keep your weight in the

normal range

and your blood pressure in check.

Don't: Smoke, indulge in fast food, or skimp on zzzs.

"The more tired you are, the likelier you are to make poor food choices," says Sarah Samaan, MD, a cardiologist at The Heart Hospital Baylor Plano in Plano, Texas, and author of Best Practices for a Healthy Heart.

Look into the Past

"I commonly see patients who say 'I'm healthy, I don't smoke, I'm thin, but my father had a heart attack at 40,' " reveals Chris Magovern, MD, a cardiothoracic surgeon at Morristown Medical Center in Morristown, New Jersey. "When you have a relative who died suddenly, this is a major warning sign to discuss with your doctor." If you're not sure about your family health history, start drafting one for yourself—and your kids.

Spot Secret Stressors

Sure, juggling carpooling duties and credit card bills can tense you up. But don't forget more subtle sources of pressure that need taming, like preparing your household for a big snowstorm or being ignored by a store employee. Whether you turn to massage or a manager, find positive ways to avoid or get rid of

anxiety

. Stress sparks the release of the hormones cortisol (which increases

blood sugar levels

) and adrenaline (which can raise your blood pressure).

Pay Attention to All Symptoms

When she was 36, Kathy Doyle experienced constant migraines after the death of her mom and the birth of her third child. Then one day she was sitting in her car and felt a pain as if she had been shot in the back of her head. "After that I felt like my left side melted away," says the stroke survivor from Little Egg Harbor, New Jersey. Doyle had written off her migraines as stress, but they can up your risk of stroke. "I should have called the doctor right away," she laments. Stroke rates have recently risen dramatically for young women. Know the signs, including sudden numbness (especially on one side of the body), confusion, trouble seeing, and dizziness.

Sip a Blueberry Smoothie

To whip one up, place 1/2 cup fresh or frozen blueberries, 1 banana, 1/2 cup plain Greek yogurt and 2 ice cubes in a blender and pulse, suggests Bonnie Taub-Dix, RDN, a New York-based nutrition expert and author of Read It Before You Eat It. Blueberries may help reduce heart attack risk, regularly eating yogurt can decrease your chances of developing high blood pressure, and potassium-rich bananas slash hypertension and stroke risk.

Try a One-Minute Fix

Floss. "There's a definite link between the health of your gums and heart attack and stroke risk that scientists are working to explain," says Tracy Stevens, MD, a cardiologist at Saint Luke's Mid America Heart Institute in Kansas City, Missouri. Until then, play it safe with good dental habits.

Click here for more health-heart tips from Family Circle.

More from Family Circle:
Are you taking steps to keep your heart healthy?




You will earn

5

SparkPoints

Like what you read? Learn more

about SparkPeople,

or

sign up

for your free account today!
Got a story idea? Give us a shout!