The 10 Worst Foods of the Year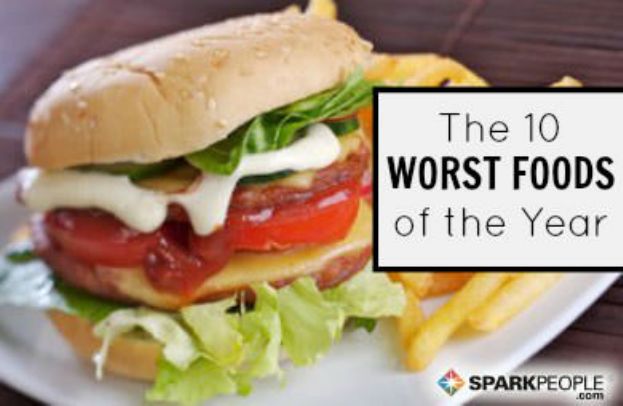 If 2009 was the year of cutting back, 2010 was the year of adding on, at least when it came to food. The year's top catch phrase: More cheese, please!

On menus from Taco Bell to the Cheesecake Factory, cheese was piled on, in several varieties. Melted, fried, sandwiched, stuffed and slathered on anything and everything, it's safe to say that, if you're eating these foods, you're meeting your dairy quota.

We've rounded up the worst new foods of the year and compiled some fun fitness facts to help put these caloric monstrosities in perspective!






McDonald's McRib

500 calories
26 g fat
10 g saturated fat
980 mg sodium

They say: "Join the club. The club who loves the flavorful pork and tangy barbeque sauce of our favorite sandwich. We're a discriminating group who don't mind getting sticky."

We say: It's baaaacccckkk (or at least it was)! After a 16-year hiatus, the much-loved pork patty made its grand return to menu. Thank goodness it was only for a brief time. Our bellies are cheering its departure!

The damage: To undo one McRib, you* would have to spend 148 minutes McJumping around, professing your love for this processed pork sandwich!




KFC Double Down

540 calories
32 g fat
10 g saturated fat
1,380 mg sodium

They say: "The new KFC Double Down sandwich is real! This one-of-a-kind sandwich features two thick and juicy boneless white meat chicken filets (Original Recipe or Grilled), two pieces of bacon, two melted slices of Monterey Jack and pepper jack cheese and Colonel's Sauce. This product is so meaty, there's no room for a bun!"

We say: "The Double Down comes in two versions – Original Recipe or Grilled and the nutrition information is below."

We call this the double don't. The low-carb trend is passé, so why ditch the bun for two chicken breasts? This seems like something that a child might create if left alone in the kitchen. We double dare you not to try it!

The damage: 90 minutes of the Chicken Dance to undo one Double Down.




Taco Bell's XXL Chalupa

650 calories
39 g fat
9 g saturated fat
1,300 mg sodium

They say: "An XXL-sized crispy Chalupa shell packed with seasoned ground beef, crispy lettuce, fiesta salsa, a blend of three cheeses–cheddar, pepper jack and mozzarella–and nacho cheese sauce, red strips and topped with reduced-fat sour cream."

We say: After reading the description of this oversized, deep-fried taco creation, we laughed. It's topped with "reduced-fat sour cream." Does anyone else find that last-ditch effort to save calories and fat humorous?

The damage: a run from Nestor in San Diego to the actual border (about 6.5 miles at a 10-minute mile pace)!

NO PHOTO AVAILABLE

Cheesecake Factory Cheese Crunch Burger

1,000+ estimated calories

They say: "American and Cheddar Cheese, Crunchy Potato Crisps, Lettuce, Tomato, Grilled Onions, Pickles and Secret Sauce."

We say: The Cheesecake Factory's menu is thicker than many novels, and the restaurant does not disclose nutrition info. Portions are massive. Burgers are called "glamburgers" there, but the menu doesn't offer much info--and the sauce is a secret. Sometimes silence speaks louder than words.

The damage: 220 minutes of belly dancing to keep this off your gut!




IHOP Cinna-Stack Pancakes

1,010 calories
51 g fat
15 g saturated fat
1,920 mg sodium
35 g sugar

They say: "A stack of four fluffy buttermilk pancakes layered with a luscious cinnamon roll filling, drizzled with rich cream cheese icing and topped with whipped topping."

We say: The emphasis on "cake" with these pancakes--they're sweet enough to make Willy Wonka cringe! (There's about 2 1/2 tablespoons!) Plus, there's more than a tablespoon of salt! That's without any added breakfast meat, which can add on up to 180 calories, 16 g fat, 6 g saturated fat, and 290 mg sodium. This meal will leave your head spinning from the sugar high!

The damage: burn off your sugar high by IHOP-ping for 85 minutes.




Olive Garden Lasagna Fritta

1,030 calories
63 g fat
21 g saturated fat
1,590 mg sodium

They say: "Parmesan-breaded lasagna pieces, fried and served over alfredo sauce, topped with parmesan cheese and marinara sauce."

We say: Fritta means fried. Lasagna is an already decadent dish, with layers of cheese, noodles and sauce. Now it's coated in more cheese, fried and smothered in Alfredo sauce. How much more can we do to this lasagna? (This is an appetizer, by the way!)

The damage: 333 minutes of tending to your own garden!




Denny's Fried Cheese Melt Sandwich

1,260 calories
63 g fat
21 g saturated fat
3,010 mg sodium

They say: "Grilled cheese with a twist. Four fried mozzarella sticks and melted American cheese grilled between two slices of sourdough bread. Served with wavy-cut French fries and a side of marinara sauce."

We say: "The Fried Cheese Melt Sandwich is on the $4 value menu, but we don't see much nutritional value in it. There's not a vegetable in sight aside from French fries and a side of marinara sauce, and it has more sodium and saturated fat than we should eat in a day."

The damage: Get comfortable on the treadmill. You could be there for 6 1/2 hours! (Bet you wish you'd skipped the French fries now!)




Burger King Ultimate Breakfast Platter

1,310 calories
72 g fat
26 g saturated fat
2,490 mg sodium

They say: "The BK Ultimate Breakfast Platter lives up to its name with scrambled eggs, crispy hash browns, sizzling sausage, a warm, flaky biscuit, and three fluffy pancakes with syrup. Anything less, and it wouldn't deserve to be called the 'ultimate.' "

We say: Good rule of thumb: Platters are for serving food to many people, not for one person to use as a plate. While this meal has all your breakfast cravings covered: sweet, salty, meaty, crispy, and fluffy, it also has enough calories to sustain someone for a day. It also has more than a day's worth of salt and saturated fat.

The damage: You'll need to work an entire 8-hour shift at a busy restaurant serving up breakfast platters to burn this off!




Friendly's Grilled Cheese Burger Melt

1,500 calories
79 g fat
38g saturated fat
2,090 mg sodium

They say: "A Big Beef burger between two hot grilled cheese sandwiches, with lettuce, tomato and mayo. Tasting is believing."

We say: A real triple threat… to your arteries! Essentially this is three sandwiches in one. And it's served with fries, which add 330 calories, 14 g fat, 160 mg sodium.

The damage: Get friendly with the elliptical. You'll spend almost three hours on it!




Applebee's Provolone-Stuffed Meatballs with Fettuccine

1,580 calories
98 g fat
46 g saturated fat
3,940 mg sodium

They say: Nothing. The name and photo says it all for this grand prize "winner."

We say: This dish is on the 2 for $20 menu, which gets you one appetizer and two entrees for $20. All of the appetizers have at least one fried component, so you can add on another couple hundred calories to this meal. There's nothing green on the plate, but you'll get two days' worth of saturated fat, plus a day and a half's worth of salt. Some value!

The damage: You and your dining companion should hit the courts after dinner if you can move. You'll be playing tennis for four hours!

When you're away from home, it's not impossible to make healthy choices and still indulge yourself. Check out our Dining Out Guide, along with the blog series Food on the Run and Diet Friendly Dining.

Have you tried any of these foods? What did you think? Would you try any of them?

* calories burned based on a 5'4" woman who weighs 140 pounds





You will earn

5

SparkPoints

Like what you read? Learn more

about SparkPeople,

or

sign up

for your free account today!
Got a story idea? Give us a shout!