The 10 Healthiest Menu Items of 2011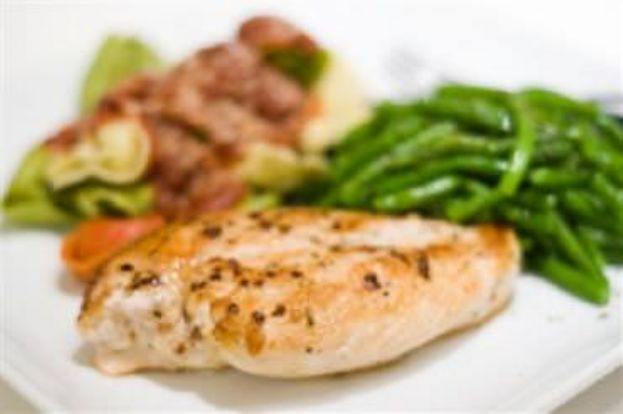 We have seen many restaurants update their menus this year to provide patrons with healthier options. The new Kids Live Well campaign provides families with healthier choices when eating away from home to help kids maintain a healthy weight. While some reports suggest the new healthy options aren't popular, many restaurant chains aren't giving up and are striving to be on board with the First Lady's anti-obesity campaign.

Throughout 2011, we have highlighted some of the healthier fast food and casual dining options in our Food on the Run and Diet Friendly Dining reviews. Here are 10 of the healthiest menu options we've seen this year:









Starbucks Chicken & Hummus Bistro Box
Calories – 270
Fat – 8 grams
Sodium – 520 mg
Carbohydrate – 29 grams
Fiber – 6 grams
Protein – 16 grams

What They Say: The new Bistro Box options make it easy to enjoy fast, deliciously wholesome foods while on the go.

What We Say: The wheat pita, fresh cucumber, carrot sticks, and grape tomatoes with hummus and grilled chicken do provide a nutrient-rich meal away from home. We really like that this option contains a sodium level that easily fits in many meal plans. One negative is that not all Starbucks locations offer lunch while others only offer a few of the new box options so this one might not always be available.








IHOP Simple & Fit Spinach, Mushroom & Tomato Omelette with Fresh Fruit
Calories – 330
Fat – 12 grams
Sodium – 690 mg
Carbohydrate – 31 grams
Fiber – 5 grams
Protein – 29 grams

What They Say: This nutritionally-conscious update of an American breakfast favorite makes it easy to eat out when you are trying to eat right.

What We Say: This protein rich omelet, made with egg substitute, is filled with fresh spinach, mushrooms, onions and Swiss cheese with diced tomatoes on top to offer a nutrient-rich breakfast with a reasonable sodium content. The fresh fruit side creates a well-balanced breakfast that will stick with you all morning long. To minimize sodium, remember to request "no added salt" when ordering.






Applebee's Asiago Peppercorn Steak with Herb Potatoes and Seasonal Vegetables
Calories – 380
Fat – 14 grams
Sodium – 1,520 mg
Carbohydrate – 25 grams
Fiber – 5 grams
Protein – 44 grams

What They Say: A classic 7 oz. sirloin, grilled and topped with cracked peppercorns and melted Asiago cheese served with steamed herb potatoes and seasonal vegetables provides an unbelievably great tasting meal.

What We Say: Though it's a step in the right direction, this meal still has a day's worth of salt! If you're watching your sodium intake, choose another option. But at under 400 calories--with plenty of protein and iron--this meal is a big plus for this casual dining restaurant.







McDonald's Hamburger Happy Meal with Apple Slices and Low-fat Milk
Calories – 390
Fat – 11 grams
Sodium – 650 mg
Carbohydrate – 51 grams
Fiber – 2 grams
Protein – 20 grams

What They Say: With busy family lives, finding the balance between grabbing a quick bite and choosing a meal can be a challenge. The new, healthier Happy Meal can help by providing more nutritious options than ever before.

What We Say: Although any food can be incorporated into a healthy diet in moderation, offering a Happy Meal without fried foods and a serving of a fruit and milk is the healthiest meal possible. These new meals that focus on fruit and milk help families take small steps to new lifestyle choices.











Cheesecake Factory SkinnyLicious Grilled Chicken
Calories – 560
Fat – 2 grams saturated
Sodium – 1,252 mg
Carbohydrate – 20 grams

What They Say: A lightly pounded and charbroiled chicken breast topped with a tomato and arugula salad and parmesan. Add a nice garnish of steamed white rice and asparagus and you have a health conscious meal.

What We Say: Large portion sizes at this restaurant are the norm, but with this dish they have maximized the nutrition. By pounding the meat so it is thinner, they create a plate-size meal without the plate-size calories. Add the fiber-focused topper that lends a bruschetta flavor and you get great taste for the right portion and calorie size where you wouldn't expect to find it. This high sodium meal might not be right for everyone, but you can lower the impact slightly by asking for "no added salt" when ordering.







Denny's Fit Slam Breakfast
Calories – 390
Fat – 12 grams
Sodium – 850 mg
Carbohydrate – 46 grams
Fiber – 5 grams
Protein – 27 grams

What They Say: This complete breakfast combines scrambled egg whites with fresh spinach and grape tomatoes with two turkey bacon strips, English muffin and a side of seasonal fruit.

What We Say: Fresh spinach, grape tomatoes, and egg whites--key ingredients in this breakfast--are staples in many healthy restaurant breakfast options these days. They provide appealing nutrition, color, texture, and taste. This meal has a moderate amount of sodium and fat, making it suitable for a variety of individuals' needs. It is a protein-rich breakfast that will stick with you all morning long without breaking your calorie bank.









T.G.I. Friday's Spinach Florentine Flatbread
Calories – 410
Fat – 23 grams
Sodium – 1,280 mg
Carbohydrate – 31 grams
Fiber – 3 grams
Protein – 19 grams

What They Say: This Right Portion, Right Price menu option provides a great tasting creamy spinach and artichoke heart spread over an over-baked crispy flatbread. Topped with a bruschetta mix of diced tomatoes, garlic and chopped basil and you get a great tasting appetizer.

What We Say: Although intended to be an appetizer, this flatbread makes a great calorie-conscious entrée option. Add a side of seasonal fruit to round out your meal (and add a boost of potassium), and drink plenty of water to balance out the high sodium content.







Red Lobster LightHouse Rock Lobster with Fresh Broccoli and Garden Salad with Balsamic Vinaigrette
Calories – 305
Fat – 10 grams
Sodium – 985 mg
Carbohydrate – 23 grams

What They Say: This smart choice is naturally low in fat and a good source of heart-healthy Omega-3 fatty acids as well as a delicious meal that fits into a healthy lifestyle.

What We Say: This is one of many LightHouse options that offer nutrient-rich and calorie-conscious meals away from home. The restaurant's Smart Meal Calculator provides an easy way to plan ahead to find the right combinations for you that are less than 500 calories and 15-20 grams of fat.








Bob Evans Fit From the Farm Apple-Cranberry Spinach Salad with Reduced-fat Raspberry Dressing
Calories – 372
Fat – 14 grams
Sodium – 437 mg
Carbohydrate – 48 grams
Fiber – 6 grams
Protein – 15 grams

What They Say: Enjoy a bed of fresh baby spinach topped with slow-roasted chicken, crisp apples, sweet dried cranberries, and honey-roasted pecans without ruining your healthy eating efforts.

What We Say: This salad, as well as many of the other Fit from the Farm items, helps you meet your recommended meal guidelines. Finding a complete restaurant meal with less than 500 mg of sodium is difficult. For those who are sodium sensitive, this is one of your better options when eating away from home--and it's low in calories with a moderate amount of fat.








Carl's Jr. Teriyaki Turkey Burger
Calories – 470
Fat – 14 grams
Sodium – 1,120 mg
Carbohydrate – 55 grams
Fiber – 3 grams
Protein – 32 grams

What They Say: Few regional chains have tried including turkey burgers on the menu until now. Now you can enjoy a charbroiled turkey burger with grilled pineapple, teriyaki glaze, Swiss cheese, red onion, lettuce, and tomato on a honey wheat bun.

What We Say: Calorie-wise, turkey burgers are a better choice than other burgers, with almost half the calories. However, if you're watching your sodium, you'll want to skip this one. The burger and the teriyaki sauce contain a great deal of salt.
While restaurants still have a long way to go, these better-for-you options are a step in the right direction. We hope other eateries are taking note and planning to make 2012 their healthiest year ever.

Which restaurant chain would you like to see update their menus in the New Year?






You will earn

5

SparkPoints

Like what you read? Learn more

about SparkPeople,

or

sign up

for your free account today!
Got a story idea? Give us a shout!