Summer Brain Boosters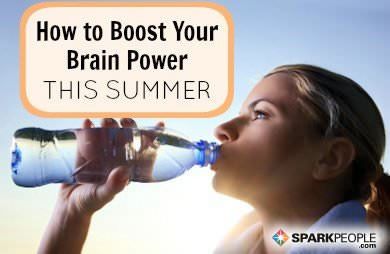 Chow down at the same restaurant every date night? Jog the same route? Mixing it up could keep you younger—and sharper. "New surroundings and experiences can stimulate new ways of thinking, which keeps your brain young and vibrant," says Marie Pasinski, M.D., staff neurologist at Massachusetts General Hospital and author of Beautiful Brain, Beautiful You.

Play Games

The next time you're bored by the pool, break out a board game or deck of cards. Exercising your mind with a game that requires brainpower, like chess or bridge, is more than just fun, says Louis Matzel, Ph.D., professor of behavioral science at Rutgers University. "These types of games are inherently challenging, while at the same time they tax your working memory," he says.

Whip Up Some Guac

The perfect summer dip is more than just a yummy accompaniment for your favorite chips. Guacamole is a great source of vitamin E, which research by Martha Clare Morris, Sc.D., director of the section on nutrition and nutritional epidemiology in the department of internal medicine at Rush University in Chicago, says may ward off Alzheimer's disease.

Get Out of Town

Traveling, especially abroad where English isn't spoken, can make you smarter. "There is a great deal of recent research demonstrating that bilingualism enhances cognitive function," says Judith Kroll, Ph.D., professor of psychology, linguistics, and women's studies, and director, center for language science at Pennsylvania State University.

Go Nuts

Not only are they the perfect snack for a summer road trip (hello, feel-full protein!), nuts also keep your mind sharp. Almonds and cashews are rich in magnesium (a handful gives you 20 percent of your daily requirement), which was found to improve learning and memory in mice, according to research published in the journal Neuron. In another study at New York State Institute for Basic Research in Developmental Disabilities, mice that ate the equivalent of one ounce of walnuts showed improvement in learning, memory, emotional regulation and motor coordination compared with those who went nut-free.

Click here for more summer brain boosters from Family Circle.

More from Family Circle: What activities are you doing this summer to keep your brain sharp?




You will earn

5

SparkPoints

Like what you read? Learn more

about SparkPeople,

or

sign up

for your free account today!
Got a story idea? Give us a shout!