10 Single-Serving Sweet Treats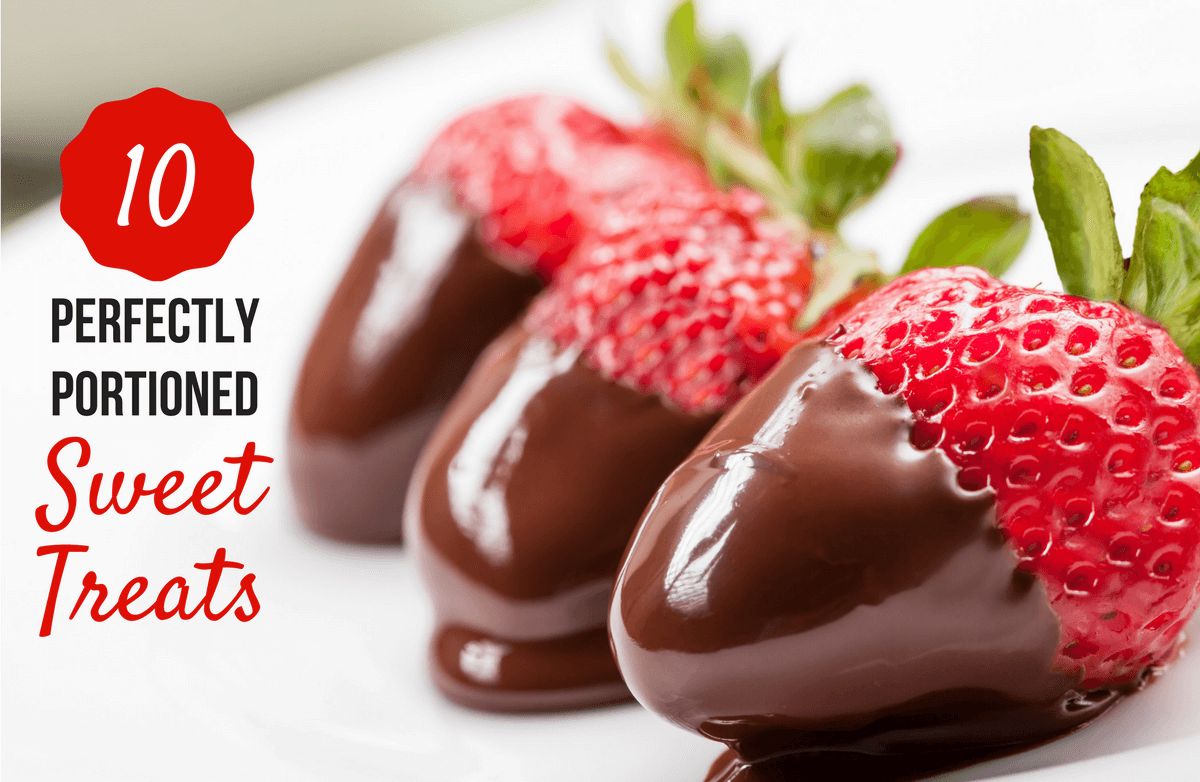 If I could choose what to take with me to the proverbial desert island, sweet treats would be right up there on my list. One of the reasons I exercise so consistently is so that I have the option to enjoy them with family, when eating out or for spontaneous celebrations. At the same time, I refuse to cook large quantities of desserts, mainly because I end up throwing them out to avoid temptation. One strategy I find useful is to prepare single-serving desserts that satisfy the urge, but without circumventing my nutrition plan. Enjoy these fun, tasty and petitely portioned treats.

Single-Serving Chocolate Cake: Satisfy your chocolate craving with this yummy chocolate cake.

CALORIES: 117.7 | FAT: 2.4g | PROTEIN: 2.4g | CARBS: 25.6g | FIBER: 2.8g



Strawberry Cheesecake Shake: Enjoy this high-protein dessert that includes a serving of fruit.

CALORIES: 240.7 | FAT: 2.7g | PROTEIN: 19.4g | CARBS: 36.4g | FIBER: 6.3


Peanut Butter Cup Shake: This milkshake tastes like peanut butter cups, and packs some serious protein.

CALORIES: 261.6 | FAT: 10.4g | PROTEIN: 10.4g | CARBS: 37.3g | FIBER: 2.3g



Cheesecake for One: This perfectly portioned treat will satisfy your craving without breaking the calorie bank.



CALORIES: 190.2 | FAT: 2.4g | PROTEIN: 10.6g | CARBS: 28.8g | FIBER: 0.3g




Apple Crisp:

This easy-to-prepare dessert delivers the savory tastes of fall.



CALORIES: 230.9 | FAT: 7.2g | PROTEIN: 3.4g | CARBS: 42.9g | FIBER: 7.4g



Banana Cream Bread Pudding: Tastes just like banana cream pie, but without all the fat.

CALORIES: 185.3 | FAT: 1.4g | PROTEIN: 10.7g | CARBS: 42.7g | FIBER: 10.7g



Chocolate Sauce:

Whip up this quick chocolate syrup and enjoy with fresh fruit. Strawberries and dried coconut are my favorite.



CALORIES: 72.4 | FAT: 0.7g | PROTEIN: 1.1g | CARBS: 18.9g | FIBER: 1.8g

Chocolate Chip Cookie: Enjoy this one decent-sized cookie right out of the oven.

CALORIES: 185.8 | FAT: 8g | PROTEIN: 2.3g | CARBS: 26.6g | FIBER: 0.4g


Cobbler: This cake-type cobbler can be made with any fruit, fresh or frozen.

CALORIES: 163.1 | FAT: 4.7g | PROTEIN: 3.9g | CARBS: 30.9g | FIBER: 5.7g



Vegan Single Serving Protein Brownie: This generously sized brownie contains no added fat or refined sugars.

CALORIES: 68.9 | FAT: 1.7g | PROTEIN: 7g | CARBS: 9.5g | FIBER: 2.8g


What single-serving desserts do you make?

Order your copy of "The SparkPeople Cookbook" today.




You will earn

5

SparkPoints

Like what you read? Learn more

about SparkPeople,

or

sign up

for your free account today!
Got a story idea? Give us a shout!