Reward Hard Work With 25 Goal Gifts Under $25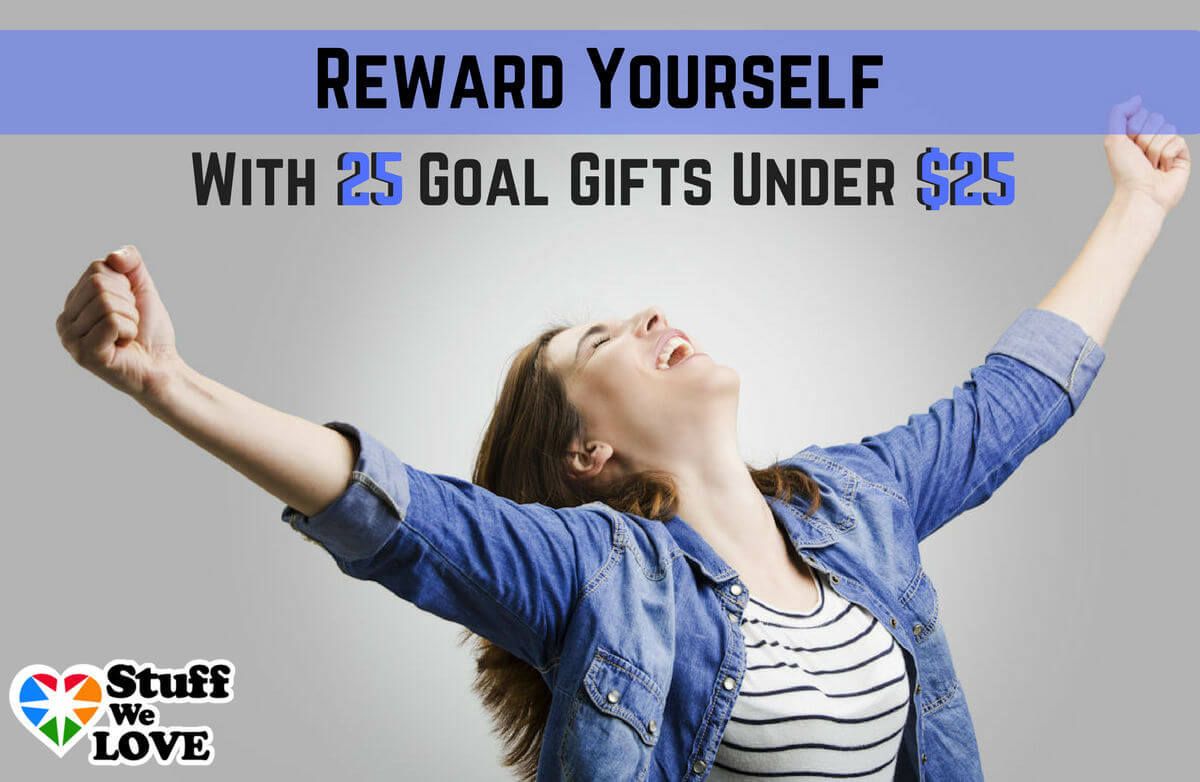 The process of losing weight is riddled with thousands of deliberate decisions to do and be better. You consciously start your day with a healthy mindset that helps you eat that bowl of overnight oats for breakfast, say "no" to a high-fat lunch with coworkers, avert your eyes from the dish of chocolates staring at you from your coworker's desk and drive straight home to prepare a healthy meal for yourself or your family. You try to stick closely to your exercise schedule, stay properly hydrated and get enough sleep.

Getting healthy often feels like a lot of effort with little reward along the way. Sure, the ultimate reward is somewhere in the distance, when you finally get to your goal weight or bring your cholesterol numbers down to acceptable levels, but what about the little wins?

Saying "no" to sugar and alcohol for a week straight? Win. Losing the first couple of pounds? Win. Putting your snug-fitting jeans on without the herculean effort sometimes brought forth by squeezing into said jeans? Win. Buying a new workout shirt one size smaller? Win. Win. Win.

For those little wins, you deserve to treat yourself to little gifts that won't break your budget. Go ahead and indulge in a small token of self-appreciation. You earned it.

1. This silver barbell and initial necklace lets others know you rock. (Etsy, $17)



Photo courtesy of kimsjewelry.

2. Nothing beats a manicure or pedicure to keep those nails perky after all the work you've been putting them through. (Spafinder Wellness, prices vary)

3. Dress up your ears in cute little earrings without having to worry about them getting caught on the gym equipment. (HONEYCAT, $18)



Photo courtesy of Amazon.

4. Relax and unwind the old-fashioned way, with this month's copy of a new health and fitness magazine. (Amazon, prices vary)

5. Soak in a luxurious bath after a long day in an effervescent bath filled with essential oils that are sure to take away the day's aches and pains. (Lifetime Bath Bombs, $18.77)

6. A motivational mug that reminds you just how freaking awesome you are. (Heaven of Mugs, $11.99)



Photo courtesy of Amazon.

7. Brighten your lips and your day for six solid hours of continuous coverage with a bright liquid lipstick. (Sephora, $16)

8. Sweat in style and keep those stray hairs out of your face with fun, sparkly headbands from Sweaty Bands (Sweaty Bands, $11.48)

9. A hilarious how-to book full of inspiration, advice and a swear word here and there. (Amazon, $9.64)



Photo courtesy of Amazon.

10. These days, everyone is slipping on black leggings for heading just about everywhere, from the couch to the grocery. Why not buy this in bulk? (American Casual, $24.99)

11. Profess your love of tacos and hot sauce with this quirky, mismatched set of earrings. (Uncommon Goods, $20)



Photo courtesy of UncommonGoods.

12. Keep your feet from slipping at your next barre class with these cute toeless socks with grippy dots. (Free People, $16)

13. Reward your efforts with a good read. Any of these best sellers will make you glad you reached your goal.

14. Adorn your sparkling water or other fun drinks and get a good laugh with Cody, Mitch, Brad or any of the other drinking buddies perched atop your glass. (NPW, $10.32)



Photo courtesy of Amazon.

15. Take progress selfies in style with your own custom cell phone wallet case. (Zazzle, starting at $21.95)

16. Repair your skin after a job well done with the decadent scent of avocado, olive and basil in this skin revitalizing lotion. (Crabtree & Evelyn, $24)



Photo courtesy of Crabtree & Evelyn.

17. Feel like a glamour queen every time you toss on this colorful new infinity scarf. (Scarfland, $13.99)

18. Put HGTV to task and learn how to make your own, modern furniture with salvaged items. (Amazon, $14.44)

19. Be real with yourself and everyone at the gym with this funny and truthful tank. (Etsy, $16)


Photo courtesy of ShirtsFromShinola.

20. Stop wishing for a quick, healthy breakfast and go get it with this awesome 250-watt blender. (Oster, $24.94, prices vary by color)

21. Wow your friends with your musical knowledge and maybe learn a thing or two with this fun Music IQ game. (Uncommon Goods, $20)



Photo courtesy of UncommonGoods.

22. Your workout playlists will sound so much better with a pair of Bluetooth headphones. (AELEC, $24.98)

23. Change up your gym game by trying a new kind of fitness class in your area. Check out Groupon for a good deal. (Groupon, prices vary)

24. Finally show off all those awesome Instagram photos of personal progress or healthy meals you've made with a cute little mini book. (Shutterfly, starting at $19.99)



Photo courtesy of Shutterfly.

25. Bring the outdoors in in the most adorable way with an air plant that sits right in its own little glass terrarium. (1-800-FLOWERS, $19.99)

What goal gifts have you purchased for yourself or others?

We hope you love these products as much as we do! SparkPeople may collect a small percentage of

revenue

from the links on this page.



You will earn

5

SparkPoints

Like what you read? Learn more

about SparkPeople,

or

sign up

for your free account today!
Got a story idea? Give us a shout!