Read the First Reviews of 'The Spark Solution'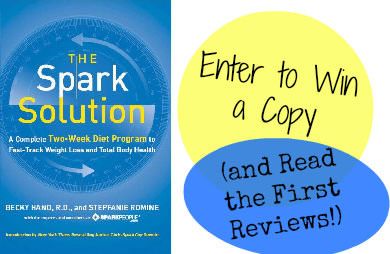 As you've likely seen and heard by now, SparkPeople wrote another book--and it comes out next week, May 7! We are pretty excited about it, but don't take our word for it – read what some long-time SparkPeople members who received advance copies are saying about The Spark Solution.

"This isn't a diet like other diets. It doesn't promise to shed pounds with little effort, or 'burn fat' more than others. It's about teaching you to make healthy choices for life. Teaching you to think about what you're putting in your body, and eat for energy. It's about mindfulness. This is a handholding introduction to healthy living, and after you finish the (two week) plan, it arms you with the tools and resources to keep moving forward." --DRAGONCHILDE, My new secret weapon!

"After reading the material my first initial reaction was two thumbs up. Bravo! I would consider this new book to be more of a survival guide rather than 'just another diet book.' If you are just starting out or trying to get your Spark back after a downturn in your journey, this book is for you! I highly recommend this book to anyone who is looking to build or rebuild a solid foundation for their journey that will carry them through." --ON2VICTORY, My Review of The Spark Solution

"I love this book. It's life changing. It should be shouted from the mountaintops! In the first 2 weeks I lost 4 pounds! I love how the book talks in language we can relate to. It is like the authors are sitting right there with you, speaking directly to YOU." –NIGHTSKYSTAR, Review of The Spark Solution!

"I would recommend this book to anyone trying to lose weight. I'm a big fan of baby steps and changing your lifestyle. After all, that's what helped me lose over 200 pounds.
My very favorite aspect of this book is its ability to list real simple changes, recipes, and workouts that a real person can do. It isn't about having that one last big meal, becoming perfect and getting on the wagon to cook and workout for hours on end. It's about taking healthy choices and making them a part of your life." ~INDYGIRL, "The Spark Solution..." Book Review

"This is very good stuff to know, whether you need to lose weight or not. Living healthy is for everyone! It is a book that anyone can follow and get results with, but especially if you are just beginning the program, or if you need a shake-up because you are on a plateau." –CASSIOEPIA, THE SPARK SOLUTION

Read more member reviews of The Spark Solution.

Why waste time experimenting with weight-loss tactics that don't work? With The Spark Solution, you will receive an easy to follow two-week plan that helps you jump-start your weight loss and set yourself up for long-term success. Whether you want to lose 10, 50, or 100 pounds, this book will set you up for a lifetime of healthy living by helping change the way you think about weight loss and setting goals that you'll stick with.

With The Spark Solution, you'll get:

A two-week daily plan that includes tips from successful members, daily reflections, Spark Swap suggestions for healthier meals, and exercises that fit into your busy schedule.
14 days of 1,500-calorie eating plans, with three easy, delicious meals a day plus two snacks--packed with foods that will keep you satisfied while helping you burn calories

A program based on what worked for our most successful members--and what didn't work for those who gave up early on
A custom workout plan from Coach Nicole that helps you maximize your efforts--without spending hours in the gym

Dozens of delicious and filling ALL-NEW SparkSwaps recipes (created by Chef Meg) that are ready in 30 minutes or less

Daily motivation to keep your enthusiasm high, tips from people who've lost weight and kept it off, plus the latest research in nutrition and goal setting distilled into simple actions that will help you reconsider how you think about healthy living
The Spark Solution will be releasing on May 7 in both hardcover and e-book versions, but you can get over $45 in FREE gifts (including 500 SparkPoints) by pre-ordering your copy today! (Hurry--time is running out to get these gifts.)





You will earn

5

SparkPoints

Like what you read? Learn more

about SparkPeople,

or

sign up

for your free account today!
Got a story idea? Give us a shout!