Pumpkin: Fresh vs. Canned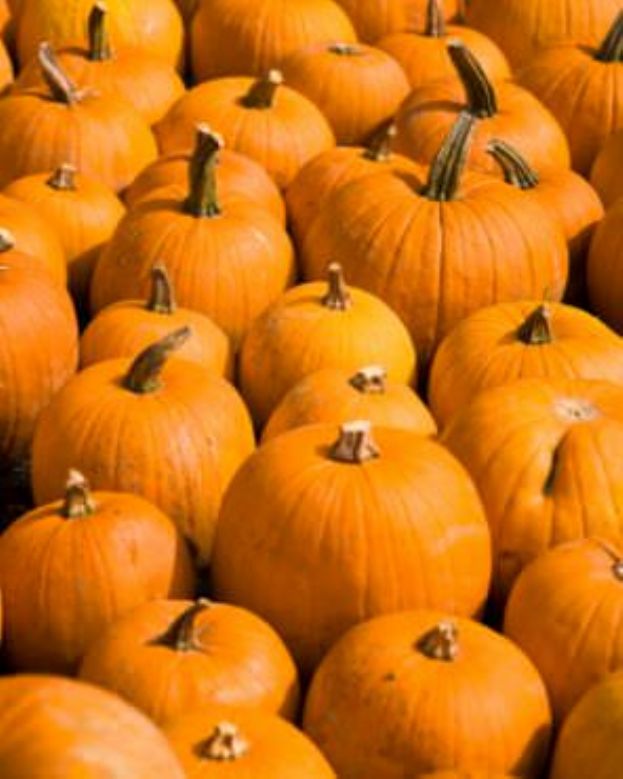 This time of year, pumpkins are aplenty. In lattes, breads, bagels, and even cream cheese, that globular orange squash makes an appearance. As soon as the first cool wind blows away the memories of summer, people race to the supermarkets for cans of pumpkin purée and hit the pumpkin patch for the real deal. In many homes, the fresh pumpkins are relegated to decoration, but not in mine.

Despite the extra work, I usually prefer the taste of fresh over canned pumpkin. Each fall, I buy a few sugar pumpkins and roast, purée and cook down the flesh to use throughout the winter. (Note: With squash--and that goes for pumpkins, zucchini, and others--bigger doesn't mean better. The larger most squash get, the less flavor and more stringy fiber they have. Large pumpkins are great for winning state fair ribbons and decorating your front porch; small sugar or pie variety pumpkins are the ones you want to eat.)

Sometimes I do reach for canned, but that's not always possible, as pumpkin lovers learned last year during a nationwide shortage.

To save yourself time and energy, reach for canned, but if you're interested in learning how to process fresh pumpkin--and where it really makes a difference, read on.

When should you choose

canned pumpkin

?

In any recipe that…


requires a strong pumpkin flavor.


doesn't need any extra moisture.


isn't cooked.


Chef Meg recommends canned pumpkin for most baked goods, as that's what have been used when the recipes were tested. She experimented with fresh vs. canned recently, and she said that a 2 pound pumpkin yielded about a cup of usable pumpkin purée, but it was a bit watery.



Canned pumpkin

is great in baked goods. It contains less water, has a deep, almost roasted taste, and contains no added sugar or salt (be sure to look for 100% pure pumpkin on the label).

A blogger friend of mine thinks the combination of pumpkin and yogurt is the bee's knees, and I would agree that, for yogurt,

canned pumpkin

is better than fresh.

If you're a fan of the pumpkin syrup found at most coffeehouses, you can make your own using

canned pumpkin

. (Find great recipes here and here.)

And when it comes to smoothies,

canned pumpkin

is best. (Try freezing it in ice cube trays before popping it into your blender.)

So what about fresh?

Fresh pumpkin is great:


in savory recipes.


in recipes that can benefit from the added water.


if you prefer a milder pumpkin taste.


if you want more texture.


So how do you roast a pumpkin?

3 Ways: Oven, Microwave, Steamer

I'm only going to share directions for the first two because most recipes don't need any extra water.

Roasting a Pumpkin:
Preheat oven to 375 degrees Fahrenheit.

Use a sharp knife to cut the pumpkin in half. Remove the stem and scoop out the seeds (see below for details on processing the seeds).

Place both halves face down in a baking dish and cover with foil.

Bake until tender, about 75-90 minutes.

I prefer to cool the pumpkins cut side down on a rack so the excess water can drain off.

Note: If I am going to use cubed rather than puréed pumpkin in a recipe (such as risotto or a curry), I slice the pumpkin along each rib, then roast the ribs. Once cooked and cooled, I trim away the skin, then cube the pumpkin flesh.

Microwaving a Pumpkin:

Prepare the pumpkin as you would to bake it, but pierce the skin with a fork.

Place the pumpkin halves in a microwave-safe dish.

Microwave on high until the flesh is tender (about 6 minutes per pound), and turn the pumpkin every few minutes.

Cool as directed above.

To create pumpkin purée:

Use a spoon to remove the cooked pumpkin from the skin. Discard the skin, and place the pumpkin flesh in a strainer lined with paper towels or lint-free towels. Weight it down to allow the excess water to drain off. Allow to sit for a few hours or overnight (refrigerate if you're going to drain it more than an hour), then purée.

Place the pumpkin in a food processor and purée until smooth, or transfer in small batches to a blender.

Store in the refrigerator for up to five days, or freeze for up to a year. I like to freeze in ice cube trays, then pop the frozen cubes into a bag.

Note: For that rich, canned pumpkin taste, you can cook down the pumpkin purée over medium-low heat until it has thickened and turned darker in color.



How to Turn Pumpkin "Guts" into a Tasty Treat
Place the guts in a large bowl in the sink. Fill the bowl with water, and start to separate the seeds from the guts. I like to massage them between my fingers, which seems to work well to loosen the seeds. Skim off the guts as you go along, but DO NOT put them down your garbage disposal. (They'll clog it! I learned this the hard way.)

Once the guts are gone, give the seeds a rinse, and toss them with your favorite spices. I like smoked paprika, chili powder, cumin, and cinnamon. Spread in a single layer on a baking sheet and roast for about 25 minutes at 325 degrees Fahrenheit, stirring the seeds halfway through.

What is your favorite way to use pumpkin? Do you prefer it in sweet or savory dishes?

Need a new pumpkin recipe? Try one of these! I love to make pumpkin gnocchi, but I'm still perfecting my recipe. I'll share it soon! (By the way, I'm still on a campaign to save the pumpkins!)



You will earn

5

SparkPoints

Like what you read? Learn more

about SparkPeople,

or

sign up

for your free account today!
Got a story idea? Give us a shout!