Products That Take the Guesswork out of Portion Control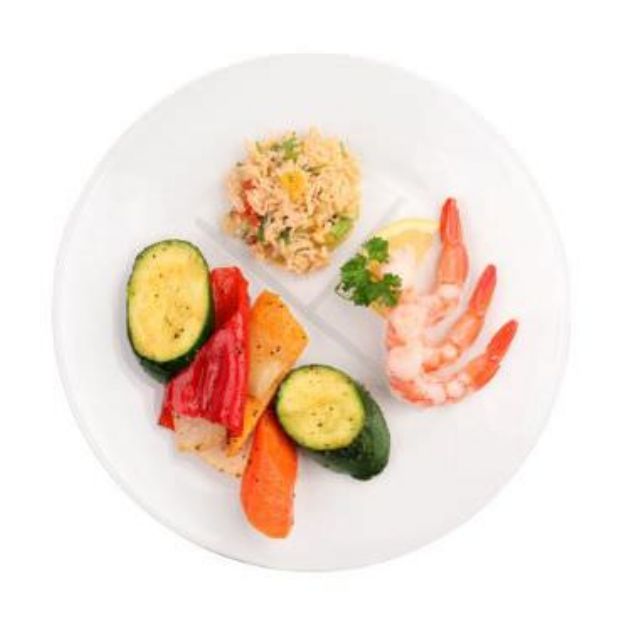 By Beth Donovan (~INDYGIRL)

I didn't lose 145 pounds overnight. It took many baby steps to change my lifestyle. Why a lifestyle change instead of a diet? I've now kept over 100 pounds off for over 3 years and lost even more. Diets never did that for me. Two baby steps I took to change my lifestyle were paying attention to my portions and the types of food I ate.

I read avidly on SparkPeople to find out just how much of each food was considered healthy to eat as a meal and as a portion. I also had to re-teach myself what to eat. It wasn't a matter of simply swapping out fried potato chips for baked ones. Growing up in the Midwest, I was brought up on a big piece of meat, some kind of potatoes and corn, peas or other starchy vegetable for a meal. Now I eat a big serving of vegetables and fruits and smaller servings of meat and grain.

So what would be an easy way to get your portions and your proper meal components without much thought? Nobody wants to get out the measuring cups, spoons, etc and start measuring things in front of their friends, especially at a restaurant or a home dinner party. Sometimes dieting is a discreet thing for whatever reason. Sometimes you're just in a hurry and want to get a portion controlled, healthy meal put together fast.




WINE-TRAX has the perfect solution! This company has developed some beautifully designed dinnerware that takes the guesswork out of what to eat and how much. First there is the beautiful clear design that goes with anything. The pattern is etched glass that simply looks like a design, but signifies portions of certain foods in the amounts they should be eaten. The plate, for example, is divided into three sections, one large section for fruits and vegetables, and two smaller sections for protein and grains. Basically, the plate is the "Healthy eating guide," as well as the portion controller.




The bowls have rings around them signifying 1/3, 2/3, and 1 cup, but these rings look like beautifully etched lines, rather than measuring marks. The bowl comes with a re-sealable plastic lid for saving snacks for later. The glasses are appropriate for anything from wine to milk and measure 4, 6, and 8 ounces. Just like the bowls, they have etched rings around them showing the user just how much they are drinking, thus allowing them to drink exactly how much they want. I enjoy the elegance mixed with practicality of these dishes. I personally received a free set of the dishes and I love them. They make meal planning very simple, dinner parties very pretty, and can be thrown straight into the dishwasher for cleaning. They are working wonderfully to help me tighten up my portions and eat better. I do plan to buy a full table setting in the future so my family and guests can eat healthfully with me.

You can find these products at Wine-trax.com

Glasses are 2 for $28.50.

Bowls are 2 for $30.00.

3 Piece Place Settings are $42.00 each.




Measure Up bowls are another very handy portion control eating tool. These bowls are white ceramic and have raised numbers and measurements on the inside placed very discretely. These are great for cereal, chili, soups, spaghetti, and anything else you would normally measure out into as bowl. They are not elegant, but are very practical and do not give away that the user is on a diet and measuring their food when using the dishes. Unlike WINE-TRAX, these bowls do not have lines suggesting which foods to eat in what quantities. I did, however, purchase a few and found they help with portion control.

You can find these at Measure Up Bowls

Classic Measure Up Bowl is $19.99 (measures up to two cups)

Small Measure Up Bowl is $13.99 (measures up to one cup)

Combination of Both is $29.99




The most cost effective by far has to be the Fit & Fresh sold in the SparkPeople Store. These are also very practical, as they can be taken anywhere. The sets of Fit & Fresh come with big containers and small containers that have measurement markings on them. They come with ice pack rings that fit in the colorful lids that cover the containers. They are extremely versatile, in that you can eat measured amounts straight from them at mealtime, pack portion controlled meals in them, pack leftovers in them, and freeze individual meals in them, and they always look festive and clean easily in the dishwasher. The cost per piece is much lower than that of any other portion control item out there on the internet that I found and would use. These do not suggest proper foods to eat, like WINE-TRAX, nor are they dinner party material, but they are picnic and lunch bag worthy and great for someone who is already familiar with healthy meal components. Not only did I buy one set, but two because of their versatility.

You can find these products right in the SparkPeople Store.

You can find the Smart Portion Prep Kit for $26.99 and the Meal on the Go Combo Kit for $19.99.

From elegant and discrete to casual and colorful, there are tools out there to help with portion control. Portion control is a crucial step to learning to eat healthier. Choose your style and mix it up. The point is to have the right tools on hand to change your eating habits to healthy ones for good. These tools may be able to help.





You will earn

5

SparkPoints

Like what you read? Learn more

about SparkPeople,

or

sign up

for your free account today!
Got a story idea? Give us a shout!