Poll: Would You Eat Deep Fried Butter?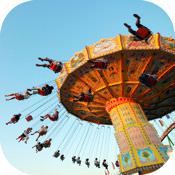 As many of you know, I live in the great state of Texas. However September is the one time of year I am almost embarrassed to say where I am from.

Why September, you may ask? This is when the great State Fair of Texas opens the gates to some of the wackiest and most processed foods one will ever come across. Each year the entries for new food vending treats to be sold and served during the fair become more bizarre by the minute and this year is no exception. It's as if the more wacky the food, the more publicity is gained for the fair.

This year's entries include of all things deep fried butter, deep fried pecan pie, deep fried peaches and cream, and deep fried peanut butter cup macaroons. And this is no joke. Many foods that are now commonly found at state fairs around the country have their humble beginnings in Texas.

Many of us are fully aware of fried Twinkies, fried Snickers, and fried OREOS. But have you ever heard of a fried banana split, Texas fried Cookie dough and yes, even fried Coke? And if you are curious as to how one fries Coke--it is actually a Coke-flavored dough that is deep fried and smothered in a Coke-flavored syrup, topped whipped cream and cinnamon, all for a whopping 830 calories, or the equivalent of me having to run well over 8 miles just to burn off the calories.

With Texas having one of the highest obesity rates in the nation, not to mention having the city of Arlington being named in Men's Health Magazine as the fast food addicts capital, one would think that we could offer healthier options at the fair.

There comes a time when the novelty is long gone and it is time to move on to healthier choices. These foods certainly fit the bill of Dr. David Kessler's food description in his book The End of Overeating. Taking Control of the Insatiable American Appetite of fat, on sugar, on salt, on fat, etc.

My challenge to my state and to fair officials is to offer healthier choices and enough with the fried foods. And trust me, you will NEVER see me eating deep fried butter, no matter how hungry I get even if it comes with a free deep fried Coke!

Have you ever tried any of these foods at your fair? Would you be willing to try these foods just to see how they taste? If you have tried them, how did you like them? Were they worth the calories?




You will earn

5

SparkPoints

Like what you read? Learn more

about SparkPeople,

or

sign up

for your free account today!
Got a story idea? Give us a shout!