Poll: Why Do You Really Want to Lose Weight?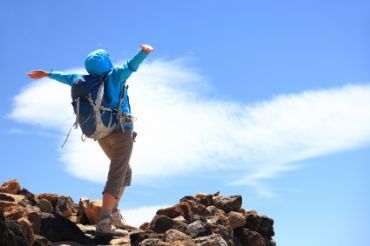 Getting fit. Eating better. Losing weight. All the hard work and sacrifice that goes into those three "little" things can be overwhelming. It can be difficult to stick with these habits for the long haul. While appearance alone is motivation enough for some, it's not a motivator for me. I need something bigger: a compelling reason to stick with it, and a higher motivator. If I didn't have a "big picture" goal, the TV and tub of ice cream would win way too often.

Do you have a higher calling? A call to action? A reason behind your goals to lose weight and get healthier? Or do you just have goals for no good reason?

Last weekend, I checked something off my bucket list. With 11 other teammates (most of whom were other SparkPeople members!), I completed the 200-mile Hood to Coast relay in Oregon, a feat that took us over 31 hours to complete. With little to no sleep for over 48 hours, I ran between 5 and 6.5 miles three times in that short window (as did my teammates). Now if torturing yourself and making your body hate you sounds like fun, then I'd call this fun (haha). I didn't do it for fun. I did it for the adventure—and simply to prove to myself that I could do it. Completing Hood to Coast was an experience that I wanted to have, one that took planning, training, budgeting, and a lot of willpower to keep going when my body wanted to stop. I did it, and I'm proud of myself. It's an experience that I'll never forget, from the people I met to the views of the countryside as I ran, to the overwhelming emotion and feeling of accomplishment that rushed through me as I approached the finish line. As I reflect with the event still fresh in my mind, it makes me feel grateful and appreciative of my healthy, fit body. Without consistent exercise and healthy habits, I would never have an experience like this. Much like my hike to the bottom of the Grand Canyon last year, it made me reflect on my choices and my lifestyle.

Exercising, eating right and managing my weight—these are not the real goals. Sure, they are "goals" and they take planning and determination to sustain over the long haul. But the REAL goal is something bigger. The real goal is exercising, eating right and managing my weight so that I can… [FILL IN THE BLANK]. These are simply the means to achieving greater things in life, from crazy sleepless running relays to hiking one of the most beautiful places in the world, to even more basic things like getting around easily, traveling, riding a rollercoaster, being able to run around and play with my future kids (and even-more-future) grandkids. Exercising, eating right and managing my weight are not the real goal—they are the tools to living the life I want—one that is fun and long and happy and full of adventures and memories that I'll never forget. These are the "big picture" goals—the real reasons I do what I do.

When you keep your big picture goals in mind, it makes getting off the couch and prioritizing your healthy habits that much easier. Write them down. Think about them. Remember them. Next time you don't feel like exercising, remind yourself "I exercise so that I can [reach your big picture goal]." When you feel your willpower to make healthy choices lagging, say, "I'm doing this so that I can [reach this bigger goal]." That is why you do what you do—and that is what will get you through.

What are some of your "big picture" goals? How do you keep them in mind?



You will earn

5

SparkPoints

Like what you read? Learn more

about SparkPeople,

or

sign up

for your free account today!
Got a story idea? Give us a shout!