Poll: What's the First Thing You Look for on a Nutrition Label?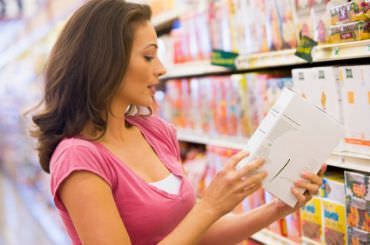 When you're trying to eat healthier or lose weight, reading nutrition labels is a must. With all the numbers, percentages and details, what's really the most important?

A recent report shared the top five nutrients consumers look for when they study nutrition labels: total calories, total fat, calories from fat, sugars and sodium. The report also lists which five nutrients consumers are trying to avoid (such as trans fats) and the ones they're interested in eating more of (such as whole grains).

This led me to wonder: What nutrients do you look at first when studying a nutrition facts label?

I do read nutrition labels, but not all the time, to be honest. Mostly, I look at the ingredients lists to see exactly what is in the product and in what order (since labels must list ingredients in descending order based on weight). This way, I can tell right away if sugar, fat, trans fats (hydrogenated oils), refined grains and other things I don't want in my food are there before I even look at the numbers. For me, ingredients are more important than the numbers on the label, but I will skim those, too.

While I do not pay attention to calories (I'm not trying to lose weight), I do look at protein (as a vegetarian, I'm always trying to maximize it), fiber, total fat, sodium, and sugars on the label. Although I don't count calories, if two foods I'm comparing have a similar breakdown of these other nutrients, I will often pick the lower calorie option.

I also look at serving size so I have an idea of how much I'd need to eat to reach the particular numbers listed and whether that's worthwhile—and realistic. If a serving of cereal is listed as 3/4 cup, I know I'll have to at least double the nutrients listed since that is too small of a serving for me.

Although I read nutrition labels when considering new foods to buy, I almost never go back and read the labels of the foods I buy regularly and eat often. However, I've learned the hard way that a food manufacturer can change the ingredients list (and therefore the nutrition profile of the food) without ever changing the look of their packaging. So it's a good idea to double check the labels of your favorite foods every so often to be aware of any changes that do take place. Get tips on how to read a nutrition facts label.

How about you? What's the first thing you look for when reading a nutrition facts label? Is it because you want to maximize that nutrient or minimize it?




You will earn

5

SparkPoints

Like what you read? Learn more

about SparkPeople,

or

sign up

for your free account today!
Got a story idea? Give us a shout!