Poll: What Do You Think about Energy Gels and Supplements?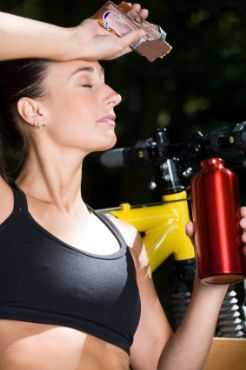 I just finished the October issue of Fitness, which had a great article on Alternative Energy: Do Energy Gels and Supplements Really Work? It's a question we get on the Message Boards all the time. And while I'm not the one to ask about nutrition (I'll leave that to Tanya and Becky!), I do want to hear your opinion on the subject.

According to the article, the supplement and sports nutrition market is growing--and women are a big part of that:


"Thirty-year-old Patricia Murphy stumbles bleary-eyed into her kitchen at 5:30 in the morning. The Boston attorney groggily opens a cabinet and reaches for an arsenal of supplements lining the bottom shelf: four large canisters of protein powder, a small tub of green granules, individual packets of recovery drink concentrate, and a large pill bottle holding wafer snacks that regulate blood sugar. Reaching past the fruit basket -- empty of produce but brimming with Hammer Gels, Clif Shot Bloks, Sport Beans, and PowerBars -- Patricia grabs her Isagenix protein additive and mixes herself a shake, which she drinks on her way to the Sports Club/LA, where she'll work out for the next hour."


This article made me curious: Are you a fan of these supplements? If you use them, how much do you exercise each week? Do you use these products at every workout?

I'm no fan of food with ingredients I can't pronounce, but long workouts during yoga teacher training this spring and summer left me extra thirsty and tired. It's hard to chug water or eat too close to a yoga workout, so I often relied on coconut water and Luna Moons to fuel me before and between sessions. (I ate a healthy snack or meal as soon as I could!) These products seemed more natural than others on the market.

I'm not a hard-core athlete. In an ideal week, I run three times (between 3-5 miles these days), take two yoga classes and throw in a Spinning class and a few at-home yoga sessions, plus sporadic strength training. I eat a balanced diet, hydrate well, get a good night's sleep and avoid caffeine, so I don't think I need anything else to help my "performance." I really don't use them too much now, though I do choose coconut water as an occasional beverage because I like the taste.

I've noticed more and more people saying that they use sports drinks, gels and chews during workouts.




Like our own experts, the article advised:
trying to meet nutritional requirements the old-fashioned way first: a healthy diet and a daily multivitamin. Another safe bet? Getting plenty of omega-3 fatty acids, either through food (eating fish like salmon twice a week) or a supplement (1,000 to 2,000 milligrams daily).
So tell me: Do you rehydrate with something other than water? Chew on gummies and goos during a workout? Chug protein shakes for breakfast? Gnaw on bars as a snack? What good, bad and ugly products are out there? (I've asked a nutrition expert to write a guest blog post on this subject, so if you have any questions, post them in the comments and I'll pass them along.)



You will earn

5

SparkPoints

Like what you read? Learn more

about SparkPeople,

or

sign up

for your free account today!
Got a story idea? Give us a shout!