Poll: Are Menu Descriptions 'Food Porn' or Just Good Marketing?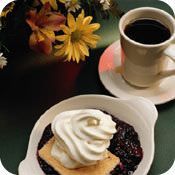 You see them all over the place.

Enticing photos of beautifully prepared foods and treats, complete with descriptions designed to make your mouth water. Even the cheaper chain restaurants get in on the act. You've seen the TV ads showing those great-looking burgers that look like they're fresh off your backyard grill and overflowing with fresh, nutritious veggies. And you've probably seen the real thing, which often looks much more like something someone accidentally stepped on, but wrapped up and tossed in your take out bag anyway.

And then there's those restaurant menus, with nice glossy pictures and seductive descriptions of the menu items. Take, for example, this description of the Chocolate Chip Paradise Pie, from the menu at Chili's restaurant: "We start with a warm, chewy bar layered with chocolate chips, walnuts and coconut. Topped with vanilla ice cream and drizzled with hot fudge and caramel."

I don't know about you, but that one would be pretty tough for me to resist. Unless I happened to read the nutrition information on the company website: one slice has 1,590 calories, 76 grams of fat, 37 grams of saturated fat, and 950 grams of sodium.

What's going on here? Is this just effective marketing, the sort of thing we should expect from any business? Or is there a problem here?


It's interesting that the Chocolate Chip Paradise Pie was the featured item in this month's Nutrition Action Healthletter, published by the Center for Science in the Public Interest. It appeared in the FOOD PORN column, a regular feature of the Healthletter.

I kind of like the concept of "food porn" they came up with--it seems to capture the essence of the problem here.

It's one thing for these kinds of products to exist. We're all adults, we know that ads are often deceptive or manipulative. And we can decide for ourselves what we want to eat, as long as the information about what we're putting in our mouths is available. If a restaurant can make money selling a dessert with almost a whole day's worth of calories, and more than a day's worth of saturated fat in it, who's to say they shouldn't do that?

But does that make it right to actively pitch these products by either making them look better in the ads than they ever will in real life, or presenting an enticing photo and description while burying the nutrition info in small type somewhere else?

What do you say? Is this reasonable marketing, or is it "food porn"?






You will earn

5

SparkPoints

Like what you read? Learn more

about SparkPeople,

or

sign up

for your free account today!
Got a story idea? Give us a shout!