Poll: Would You Be Willing to Work Out on the Job?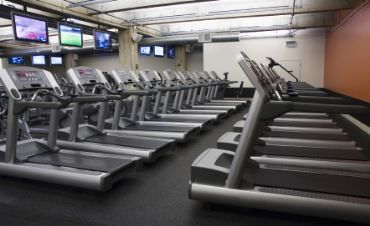 In this fast-paced world, where added conveniences still leave many of us with little time in our day to devote to exercise, companies across the country are starting to stand up and take heed to help their employees get fit. After all, with the rising rate of diseases such as cancer and Type II diabetes, not to mention the staggering health care premiums many of these employers must dish out, companies are getting quite creative on how to tackle their employee's health issues.

According to a recent study, if we do not change the path we are on, health care costs are expected to double every 10 years, leaving many employers with few choices but to cut jobs, reduce coverage, charge the employees more for the added cost, or sadly eliminate coverage all together--if they haven't already done so.

Wellness programs have been around for many years; however, many companies in recent years have started to offer financial incentives to their employees to get fit and healthy. For example several years ago, IBM paid $150 to each employee who quit smoking, $150 for those who exercised at least three times a week, in addition to monetary incentives to lose weight, according to news reports.

Even state governments, such as Alabama, are starting to feel the financial pinch of the rising health care costs. As a result, if a state employee fails to get fit within a year's time, he/she will be charged $25 per month for insurance, which is now covered at no cost to the employee.

So how do companies deal with healthcare issues?

Many larger companies are now offering top of the line gym facilities on campus for employee use, while other companies have elected to contract with local gyms to offer discounted memberships for their employees and families. A number of companies have also started offering flu shots, blood pressure checks, as well as cholesterol screens, and healthy lifestyle tips. While these may seem like unnecessary costs, studies show that companies providing such services incur less employee absenteeism, higher employee productivity, and a greater sense of well-being amongst their employees.

According to the February 2008 issue of Men's Health magazine some of the country's fittest companies include: Google, Nike, Genentech, and some surprises, Pepsico (the parent company of Pepsi) and Chick-fil-A. What these and the other 10 companies featured in this survey all have in common are onsite workout facilities, cafeterias promoting healthy food choices, incentives for being in shape, a means to monitor cholesterol levels and blood pressure, as well as programs to help their employees quit smoking and lose weight. Having access to such great facilities should leave no valid excuse unturned.

Just two years ago, it was reported that for every $1 spent on wellness programs, $3 in healthcare costs could be saved by the company. This is a huge savings when you are talking about companies with thousands of employees. However, with the current economic state of affairs, it is too soon to know if companies will continue with these programs, or cut them out completely to save money.

Do you work for a company that provides incentives to be healthy and fit? Do you believe in rewarding employees who choose to embrace healthy habits? Would being offered incentives to get healthy and fit encourage you to start?




You will earn

5

SparkPoints

Like what you read? Learn more

about SparkPeople,

or

sign up

for your free account today!
Got a story idea? Give us a shout!