Poll: Have You Ever Taken a Water Aerobics Class?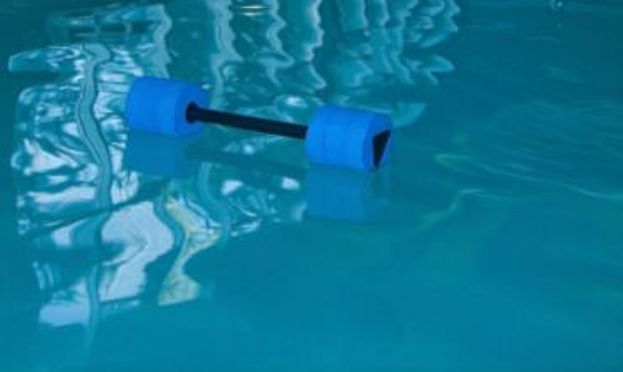 Three summers ago, I ventured into the world of water aerobics. This was one class I was certain I could do well in and if not, no one would notice or so I thought. Never having had the grace or the agility to feel comfortable in a step aerobics class, I decided to take the leap and see where this class would lead me.

So I donned my swimsuit and hit the pool on a cool Monday morning in May when the outdoor pool officially opened at my gym. While I was one of the younger participants in the class, I found the ladies and gentlemen in the class to be full of vim and vigor. They welcomed me with open arms and were eager to share what equipment I would need. I gathered up the noodle, the webbed gloves, elastic bands and weights and then slowly inched my way into the very cold water of the pool. I kept thinking that the water was way too cold to exercise in, but I later found out why. YOU WORK HARD and don't even realize it.

The instructor, Alexis, was full of energy as the disco tunes from back in my day echoed across the pool. We started with a nice warm-up of jogging in place for approximately five minutes and that's when the fun began. We moved from the rocking horse to side steps with the elastic bands wrapped around our ankles then on to jumping jacks. We were then instructed in the great art of backs to bellies. This exercise involves floating on your back and then bringing your knees to your chest and flipping over to your belly. Something that looked quite easy when someone else was doing it became quite the challenge for me. I think it took me almost 2 weeks of classes to finally master this technique.

Soon afterward, we jogged from one end of the pool as we raced to the other side high-fiving our classmates along the way. This was followed by bicep curls with weights that merely floated on the water before class but now felt like cinder blocks as we worked hard to keep them below the surface of the water. I spent so much time laughing that I truly did not believe the workout I had spent the better part of an hour participating in gave me much benefit. That was until the next day when I discovered muscles I never knew could hurt after just 'playing in the water.'

Each summer since, I have ventured back outside to visit old friends I see only three months out of the year, but what fun it is. So now that May is here, I am looking forward to getting back to the pool. And the next time anyone tells you they take water aerobics, I beg you not to snicker until you give it a shot, it is much harder than it looks—trust me.

Have you ever taken a water aerobics class? If not, would you consider taking one? What would be the reason not to?




You will earn

5

SparkPoints

Like what you read? Learn more

about SparkPeople,

or

sign up

for your free account today!
Got a story idea? Give us a shout!