Poll: Do You Work Out with Your Significant Other?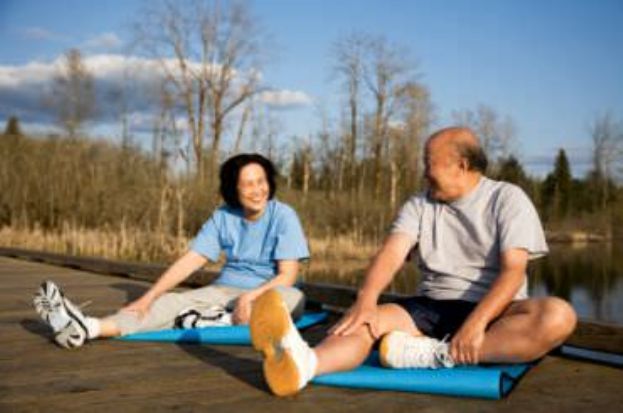 Last week, I was catching up on my emails newsletters, one of which I get from Shape magazine. Within it, a short slideshow of celebrity couples who work out together caught my eye. (Who knows whether these photos were capturing actual workouts or simply "active" time the couples were spending together—there is a difference!—but I digress.) While the famous duos captured on film varied in location, age and level of stardom, the activities they all did together were very similar—lots of running, walking and hiking.

This led me to wonder: Do you ever work out with your significant other or is that just something celebrities do?

My fiancé and I have been together for more than five years now and from the beginning, exercise has been an important part of both of our lives—as it was even before we met. This means that while we can sometimes go to the gym together, we're usually doing our own thing while we're there. While I prefer running and Pilates, he's much more into strength training and skimps on the cardio. Most often, we are exercising, but in totally different places and at different times of day. While we encourage each other to balance out or workouts—I tell him cardio is important and he makes sure I don't neglect weight training—we don't typically "work out" together by doing the same routine or exercises. However, we do try to be active together in other ways: hitting the trails for a hike, walking the dog, riding our bikes, working in the yard and garden, and occasionally running a race together.

Still, I'm happy that we can both share a passion for fitness, even if we don't share workout time. After all, fitting healthy habits into your busy life can cause you to make tough choices, often sacrificing time away from your friends and loved ones. Hitting the gym instead of watching TV with your partner or choosing to cook a meal at home instead of dining out with friends aren't always an easy choices to make. The more you can try to involve your significant other, family and friends in your healthy lifestyle, the easier it will be to make the right choices each day.

How about you: Do you ever exercise with your significant other (or family or friends)? If not, do you prefer it that way or do you wish he or she would be more involved in your workouts?




You will earn

5

SparkPoints

Like what you read? Learn more

about SparkPeople,

or

sign up

for your free account today!
Got a story idea? Give us a shout!