Which Helps You Shop Healthier: Pushing a Cart or Carrying a Basket?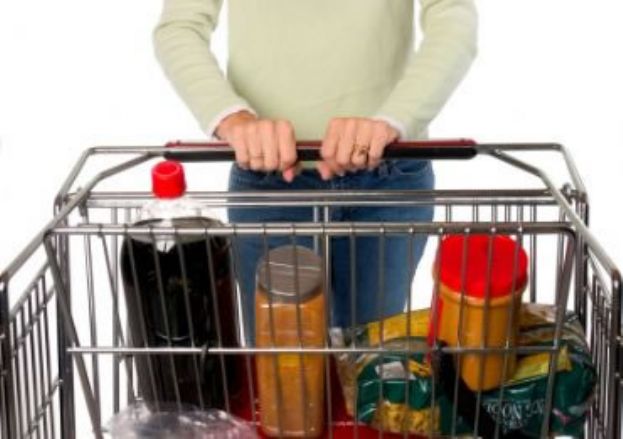 When it comes to healthy eating and weight loss, does the method you use to cart—or carry—your food around the supermarket really make a difference?

I hadn't thought about it much until I heard about an observational study published recently in the Journal of Market Research. Researchers observed 136 people grocery shopping and found that those who used a grocery cart were more than three times as likely to choose healthy items versus unhealthy ones.

The explanation behind these findings gets a little interesting. Researchers theorize that bodily sensations—like holding the weight of a shopping basket—can influence your thoughts and emotions. They believe that the act of flexing your muscles to holding a basket influences people to choose instant gratification—like junk food. And that for some reason, pushing a cart with the arms extended or lengthened, has the opposite effect.

I'm not sure that I agree with this small study or the theory behind what the researchers observed, so I wanted to ask, which do YOU think results in healthier shopping habits: pushing a cart or carrying a basket?

Personally, I shop with a basket 90% of the time. Since I only ever shop for one or two, I don't need as much food as a family might. But I also often purchase food from multiple locations, which means I never fill up a cart in a one-stop-shop sort of place. I start my weekend buying fresh vegetables and fruit (and sometimes some bread or eggs) at the farmer's market (with nothing but my own cloth bags to carry my food). Then I go to the grocery store where I use a basket. Very occasionally, we'll use a cart if our house is really low on food or we hadn't been to the store for a long period of time.

But my experience is that shopping with a basket helps me shop smarter. I can only fit into the basket what I need—the healthy foods on my grocery list. But if I have a cart, I can fill it will all kinds of impulse buys that might catch my eye, and I can also overbuy on food in general simply because I have the space for it. Not only can that result in food waste, but it also means there is a lot more food—and calories—in my house at any given time.

So overall, I disagree with these study results based on my own experience. I think a small basket allows you to stick to the essentials and doesn't leave room for extras or impulses like chips, soda, ice cream or other snack foods. No room for those means they don't make it to your house or into your belly. On top of that, I think a little extra "work" for my food is a good thing. I love to carry the basket through the store, and I never let my husband carry the groceries out to the car. I won't use a cart then either—I prefer to lift all the bags and flex my muscles a little more. Every little bit counts, right?

It's not that I've ever thought about this until now, or even that I use a basket on purpose to avoid buying other food, but now that I'm reflecting on it, it seems to result in that outcome—and I think that's a good thing. I won't be switching to a cart because of the suggestions of this small study (which also has some design flaws).

I realize that how others shop for groceries (with a basket or cart) may differ from what they think is ideal for making healthy choices though. Maybe you think a basket is better but you have to buy food for a large family, literally cart your kids through the store with you, or have difficulty carrying the basket. But what do you think actually results in the healthier habits, pushing a cart or carrying a small basket?
What do you thinks results in healthier shopping habits?



You will earn

5

SparkPoints

Like what you read? Learn more

about SparkPeople,

or

sign up

for your free account today!
Got a story idea? Give us a shout!