Poll: Do You Eat by the Clock or Your Own Hunger Signals?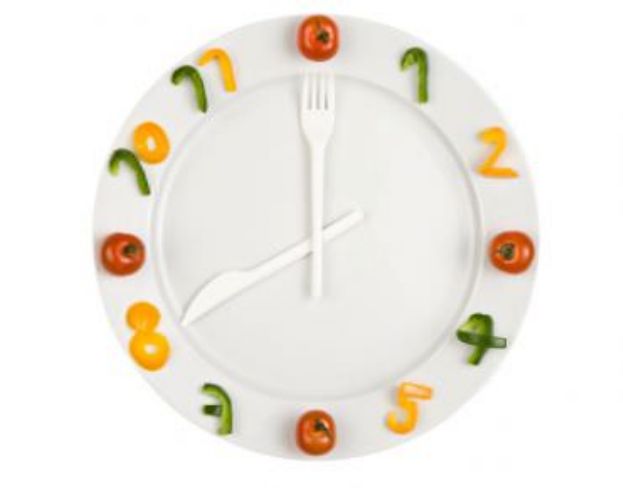 In a weight-obsessed world with no shortage of diets, food products and meal plans to choose from, it can be hard to know how to eat. Should you eat low-carb, no-carb, or only complex carbs? Are more snacks better than none at all? Are mini meals throughout the day really better than three solid squares? It can be overwhelming to think about it all, and we haven't even gotten into specific foods, nutrient breakdowns or calories.

Recently, I've been feeling extra hungry. (No, I'm not pregnant. Why does everyone always say that?) I'll eat breakfast and then a couple hours later feel ravenous. Or I'll eat my midday snack and be counting down the hours until lunchtime (is 11 too early?). This led me to wonder: Do you eat on a schedule or when you're hungry??

Some diet plans recommend eating every 2-4 hours in order to prevent hunger and drops in blood sugar. Others discourage snacking between meals, but may encourage eating at regular intervals. Me? I don't subscribe to an eating schedule per se, although I try not to go too long between meals since getting extra hungry can lead to overeating.

I've blogged before about my previous restriction diets and prior problems with disordered eating and even my weight. I'm doing well these days and no longer obsess about food, body size or exercise. But it wasn't always that way. One of the things that helped me overcome these rampant thoughts and unhealthy behaviors was a concept known as intuitive eating (and the book by the same name, written by Evelyn Tribole and Elyse Resch, which I highly recommend). People who practice intuitive eating focus on their body's signals of hunger and fullness—eating when they're hungry, regardless if they just ate breakfast 1 hour ago or if "lunchtime" is 2 hours away. Intuitive eaters also stop when they feel satisfied, not too full. The opposite holds true though, too. If you're at a dinner party but not feeling hungry, you honor your body and simply do not eat until you feel ready. Behind this is the belief that our bodies are perfectly capable of self-regulating hunger and satisfaction (if we let them) and can therefore maintain a healthy weight naturally. Granted, the weight your body is comfortable maintaining might not be the same as your personal ideal or what a BMI chart recommends. But this simple practice is what helped me shed the extra pounds I gained in college (very, very slowly), keep it off for several years and counting and, more importantly, resume a healthy relationship with food.

Because I've been hungry more, I've been eating more—a lot more, it seems! I haven't noticed any changes in how my clothes fit, but I am going to continue listening to my body instead of a clock. While this works for me, I know it's not the perfect solution for everyone. Many people find great success with timing out their meals. Some simply can't distinguish between true physical hunger and emotional hunger. Some need to time their meals for health and medical reasons. Others do a combination of both—including me, sometimes.

What works for you: Do you eat when you're hungry, when the clock says it's time for a meal or snack, or a combination of both? Have you ever tried eating intuitively?




You will earn

5

SparkPoints

Like what you read? Learn more

about SparkPeople,

or

sign up

for your free account today!
Got a story idea? Give us a shout!