'Operation Beautiful' Book Giveaway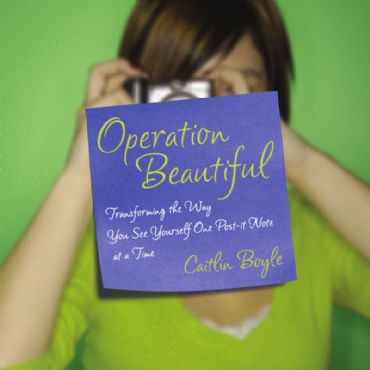 I'm not a person who lives life with regrets. If you live life looking back over your shoulder, you'll end up crashing head-on into your future. "Mistakes" are lessons, a chance to experience the repercussions of a decision and not repeat them. I make my life an adventure. (Hmm, I wonder where I've heard that before?) That said, if I could have a do-over--just one--I know what I'd do: I would take back the 13 years I battled an eating disorder and use them to cultivate my talents.

I would tell that little girl who thought the world valued her body and her beauty more than her kindness and her intelligence that she would someday feel confident and strong. I would tell her that strength and confidence are more beautiful than a thin figure. I would encourage her to run, dance, move, meditate--do anything to relieve the stress and anxiety that plagued her--except for the fasting, binging and purging to which she resorted. I would tell her that she would travel the world and find happiness, that there were others out there who felt the same way she did, that she would someday soon escape the small town life that stifled her.

I would tell her she was loved.

I can't do any of those things, but I can nurture and love the 29-year-old woman I've become. I can honor the past and remember it so that I never repeat it. I can share what I've learned with all of you, and with my three younger sisters, ages 27, 16, and 7.

And I can commit random acts of self-esteem.

I first heard about--and wrote about--www.OperationBeautiful.com last summer. Between then and now, so much has changed for the site and for its founder, Caitlin Boyle.

She landed a book deal, and the Operation Beautiful book launches today! The dailySpark is one of five blogs selected to be part of Caitlin and Operation Beautiful's Virtual Book Tour. We're also going to give away a copy of the book.






What is it? According to Caitlin, "Operation Beautiful is a viral community effort to increase self-confidence and stop negative self-talk. Operation Beautiful has nothing to do with how much you weigh; it's about who you are intrinsically as a person--and that is BEAUTIFUL!"

I read an advanced copy of the book a few months ago, and here's what I said about it (you can read my comments on the book jacket):


"Operation Beautiful is tea and sympathy, a kick in the pants, and a pep talk from a trusted friend all in one. Caitlin walks the walk and expertly weaves her own deep-held secrets in with life-changing stories of women from all around the world…should be mandatory reading for women everywhere."


Congratulations to Caitlin! (Caitlin is a HUGE fan of SparkPeople and freelances for SparkSavings.com!) She'll make her Today Show debut on Thursday during the 10 a.m. hour. I'll be tuning in--how about you?

To enter the giveaway, click here. The usual rules apply. We'll choose a winner on August 6, 2010, after 9 a.m. EST.

In the meantime, tell me what you would say to yourself or do to yourself, if you could go back to your lowest point in life. Would you offer advice? Would you shake younger you by the shoulders? Give him/her a hug, a kick in the pants, or a shoulder to cry on? Since we can't do any of that, what WILL you do/are you doing to help others? Will you leave an Operation Beautiful note somewhere today?



You will earn

5

SparkPoints

Like what you read? Learn more

about SparkPeople,

or

sign up

for your free account today!