Just Did It: My Trip to Vancouver with Nike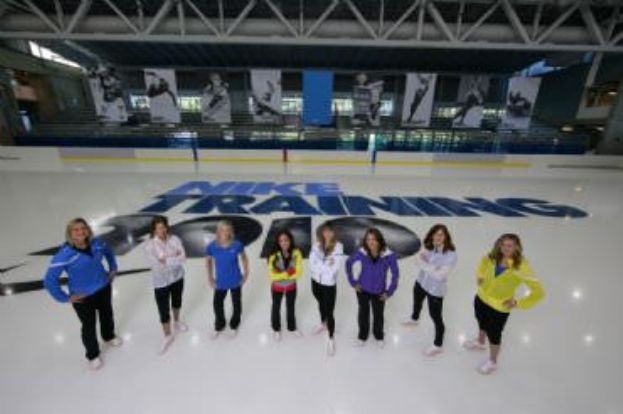 As I told you last week, I spent about 48 hours in Vancouver, Canada, with the Nike Women's Training Spring 2010 Media Summit.

The trip was great fun, and I thank Nike for very generously hosting me the entire time I was there. In addition to meeting amazingly inspiring Nike athletes and Olympic hopefuls (they're in the photo Nike provided that's above), I got a sneak peek of Nike's innovations in women's shoes and apparel for 2010--and did a butt-kicking workout with Nike trainers. Plus, I met 30 other writers and editors in the fields of fashion and fitness.

While I had a wonderful time, and I was hard at work the entire time (OK, most of the time) I was there. In the coming weeks and months, I'll be sharing interviews with the athletes, videos of their workouts, plus a sneak peek at the Nike Zoom Fly Sister One+ shoes, set to launch on Jan. 1, 2010. But first, take a look at the timeline of my trip.

Tuesday, Oct. 6

Cincinnati, 4:00 a.m. I awake, too excited to sleep. It's an hour before my alarm, but my body doesn't care. I am awake. And I am going to Vancouver! I decide to do some yoga to get in a workout before the chaos of travel begins.

4:45 a.m. I finish the "rocket" routine I learned in teacher training. It's an energizing 45-minute routine--complete with a handstand (against the wall for me) and the splits. 6:50 a.m. I'm off to Seattle, then Vancouver.

5:30 p.m. Cincinnati time, 2:30 p.m. Vancouver time. I arrive at the airport, where I interpret for a French couple whose immigration agent doesn't speak a word of French. (Note the irony of the American interpreting in a bilingual country!)




3-6 p.m. After checking in at the swanky Loden Hotel, I wander the city with Samia, another Nike Summit attendee. We walked all the way to Chinatown and back, getting in about 120 minutes of pretty good-paced walking.

7 p.m. Head to the penthouse of the Loden for a meet and greet with the other bloggers, writers and editors. The food is great, only rivaled by the company and the view. (I'm a bad blogger, but I was so tired and hungry that I forgot to take photos--except for dessert!)




11 p.m. Fall into bed and a deep sleep. It's now 2 a.m. back home!

Wednesday, Oct. 7
6:30 a.m. A wake-up call, followed by 10 minutes of yoga, a few minutes on Twitter and email, then it's off for a day of presentations and interviews with the Nike athletes.

9 a.m.-5:30 p.m. Arrive at the curling center (our home base for the morning) and listen to Martin Lotti, Women's Training Global Creative Director, talk about the sweet shoes all the athletes are rocking (and that we'll all be working out in the next day). The Nike Zoom Fly Sister One+ are super light, with a sole that's been cut by a laser to make it twice as easy to move in any direction than previous versions. Last year's line was pretty lightweight, but they cut another 1.2 ounces from this year's.




We watch as athletes Julia Mancuso (Alpine skiing), Ellery Hollingsworth (snowboarding), Keauna McLaughlin (pairs figure skating), and Katherine Reutter (short-track speed skating) show us how they train off the ice. (The photos are in the order they're mentioned.)




Then we head to the rink, where Angela Ruggiero (women's hockey) and Keauna and her partner, Rockne Brubaker, show off their skills on the ice.

(I'll post my videos next week!)




After lunch, we club into the buses and head to the Richmond Olympic Oval for a tour, a bit of history and more demos, plus interviews with the athletes!

Some of the highlights:

The Richmond Oval, which will house long-track speed skating and the anti-doping lab, is open to the public and has a beautiful ceiling made from reclaimed wood that was destroyed by the pine beetle. It is LEED-certified and sits along the Fraser River. I didn't get too many pictures of the facility itself, but it's really neat!


Jennifer Rodriguez is attempting an Olympic comeback in long-track speed skating. At 33, she has two bronze medals from the Salt Lake City Olympics, and now she's returning for her fourth Olympic Games. Her comeback story is amazing, and I can't wait for you to read her full interview in a few weeks!




7 p.m. We head to dinner in Yaletown, a hip and walkable area of Vancouver.

11 p.m. I fall into a deep sleep, but not before checking out the shoes and workout gear Nike has left in our rooms. What a long day! But there's even more tomorrow.

Thursday, Oct. 8
6 a.m. Another early wake-up call, with a bit of yoga (10 minutes) and a big bowl of steel-cut oats with fruit. I need the fuel for the workout we're about to do!

9 a.m. We board buses and head back to the curling center for a presentation by Nike's apparel team. Then we start our workouts with Nike's trainers. An hour later, I'm dripping with sweat, my arms and legs are shaking, and we're back on the buses, heading to the hotel and--at noon--the airport.




11:45 p.m. (8:45 p.m. Vancouver) I land in Cincinnati. My bag is still in Chicago, but that's OK. It was a great trip, but all I want now is a good night's sleep.

As I said, I'll be posting interviews with the athletes and details about that grueling workout soon. I met some wonderful people, including Samia from HighSnobette.com, Katie from Girls Life, Tish from FitBottomedGirls.com (she's in the photo with me above), Kate from Fit-Ink.com, and Margarita from Vitamin G on Glamour.com. I also met editors at writers from some really cool magazines and blogs. Thanks, Nike!

Have you ever been to Vancouver? Do you like the Winter Olympics? What is your favorite winter sport? Do you have any questions about the trip?



You will earn

5

SparkPoints

Like what you read? Learn more

about SparkPeople,

or

sign up

for your free account today!
Got a story idea? Give us a shout!