In the News: U.S. Not Feeling as Fishy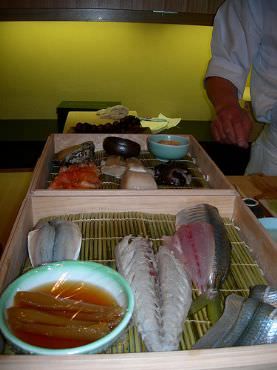 Though experts tell us we should be eating more fish and seafood, we're actually eating less, according to a study by the National Oceanic and Atmospheric Administration. Americans are eating about 16.3 pounds of fish and shellfish per capita each year, or about 5 ounces a week, down one percent from 2006.
The American Heart Association recommends at least two servings of fish and seafood a week as part of a heart-healthy diet.

We ate 60 pounds of chicken per capita back in 2005, according to the U.S. Poultry and Egg Association, a number that's surely rising. And the 4.9 billion pounds of fish and shellfish that Americans consumed last year is dwarfed by how much beef we put away in 2006: 28.1 billion pounds.

Fish has health benefits that are hard to ignore, according to experts. Rich in Omega-3 fatty acids, fish has been shown to reduce abnormal heart rhythms, decrease "bad" cholesterol levels, prevent plaque from building up in arteries and slightly lower blood pressure. In addition, fish is low in saturated fats, relatively low in calories, and quick cooking.

Want to guess who eats more fish and shellfish than Americans (ranked third in overall consumption)? Japan. (China is the No. 1 consumer.) The Japanese also boast the world's longest average lifespan.

So why aren't you eating more fish?

It's expensive.
Fish can be expensive, but there are plenty of affordable seafood options. Canned tuna, salmon or crab are cheaper than their fresh counterparts and easier to prepare. Tinned sardines, anchovies, mackerel (my personal favorite!) and herring are rich in Omega-3's, and a little of these potent fish go a long way. Watch for sales and stock up on frozen seafood. This week, a local grocery store had 12-ounce bags of cod and mahi-mahi for $4.99 in the freezer section, plus tuna and salmon fillets for $6.99 a pound. Remember that a serving of fish (or meat) is just 2-3 ounces, which is about the size of a deck of cards. To feed a family of four, you only need 8-12 ounces.

I don't like the taste of fish.
Start out with mild white-fleshed fish, such as cod, halibut, pollock, or the wildly popular tilapia. Though lower in Omega-3's than darker, oily fish, white fish is also incredibly low in calories and full of vitamins and minerals. You'll soon discover that white-fleshed fish is the real "chicken of the sea."

It's versatile, neutral in flavor and easy to cook.

Try fish the next time you go out to dinner. Ask your server for recommendations. After a sampling fish away from home a few times, you might feel brave enough to cook it at home.

The first time I tried salmon was at my grandmother's house. She baked some frozen salmon steaks alongside buttered rice and steamed broccoli. Slimy, bland, pale and full of pin bones, the fish was awful. I barely got through the meal. The next time I had salmon was at a Japanese restaurant. I was nervous that I wouldn't like it, but my salmon teriyaki was flavorful, and the fish I had long loathed was actually full of flavor when cooked correctly.

Thank goodness I gave salmon a second chance, because the rich cold water fish is now one of my favorites.

I don't know how to cook it.
If you can broil a chicken breast or steam vegetables, you can cook fish. A few tips:

Fish changes color, from translucent to opaque, when it cooks. Shrimp changes from grayish-blue to pink when cooked.
Sprinkle fish fillets with your favorite herbs (try rosemary, oregano,dill or tarragon), then place them on top of your vegetables in the steamer. You'll seal in moisture. (Still nervous about cooking fish? Pick up a seafood steamer kit at the grocery store.)
Try dredging fish in a bit of cornmeal, then sautéing it in some olive oil.
Toss shrimp in with some vegetables for a quick stir-fry. They cook in mere minutes. (As soon as they're pink and the tail curls towards the head, they're done.)
When you're broiling thicker cuts of fish, you can see it change color from the top down. If the fish is thinner, you'll see the edges start to crisp. If you're sautéing fish, it will change color from the bottom up.


For plenty of quick, delicious fish recipes, click here.

I'm worried about the safety of eating fish.
It's true. Some fish are safer to eat than others, because of contamination from mercury, PCBs or other heavy metals. If you're worried for any reason about which fish to eat, check out the Monterey Bay Aquarium's Seafood Watch Guide.

My favorite fish dish is broiled salmon with a bit of lemon, salt and pepper. Like my Gramma, I serve it with steamed broccoli (dolled up with a bit of lemon juice). For special occasions, I serve nut-crusted fish fillets.

How often do you eat fish? How do you cook it?


Photo: taken at a Tokyo healthy sushi bar, 2006



You will earn

5

SparkPoints

Like what you read? Learn more

about SparkPeople,

or

sign up

for your free account today!
Got a story idea? Give us a shout!